By rental car from Tel Aviv to the Dead Sea
Today's Tel Aviv is easy to drive with a rental car and almost nothing reminds us of the fact that the city was once only the inconspicuous suburb of the former port city of Jaffa, where colorful boats flooded comfortably on the water. Meanwhile, modern, glittering skyscrapers are based on Bauhaus-style buildings and countless start-ups breathe life into Israel's second-largest city day and night. Don't hesitate to rent a car in Tel Aviv for an unforgettable adventure and compare with Car RentalCheck before you start your trip the offers of all car rental companies in Tel Aviv, choose your car, book online and start your vacation in Israel relaxed.
Car hire at the airport or downtown Tel Aviv
Of course, you can also find a rental car in Tel Aviv during the high season at one of the car rental companies in the city center. However, if you don't want to lose valuable travel time, you are well-advised to look for a suitable rental car in the run-up to your trip. If you feel fit enough after a short flight when you arrive at Ben Gurion Airport (TLV), you should also take a look at the rental car offer there, as you may not only benefit from a cheaper offer, but you may also be able to choose the car that suits your requirements from a larger fleet of vehicles.
Israel's hot summer - events and activities
Israel's summer is one thing for sure - hot! It's hot every day. The temperatures starting from May to the end of September are almost always around 30 degrees Celcius during the day. Of course, there are many opportunities to sunbathe on the city's beaches and pools and enjoy the freedom of the liberal city in the Middle East. But besides swimming, you should not miss these cool events and activities!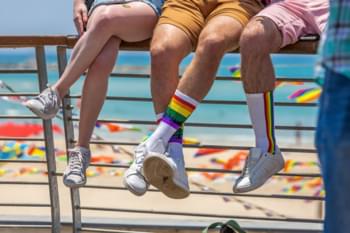 Every year at the end of June or the beginning of July the "White Night Festival" organized by the Tel-Aviv-Jaffa Municipality takes place. Almost all streets are filled with residents and tourists during the night. All cultural and commercial facilities are open all night long. There are also many special events and performances. For film lovers, the Tel Aviv Cinematheque offers a series of annual events "Docaviv", the city's international documentary film festival. It takes place every year in May. For all LGBT and Allies, Tel Aviv Pride is, of course, a must-go! During one of the biggest events for all queer people, political messages for more tolerance and diversity are sent out. Besides these events, the exciting city offers many other cultural activities and exciting nightlife in summer.
Do I need an international driver's license to drive for my rental car in Tel Aviv?
Clearly, yes, because a national driving licence from your home country is unfortunately not recognised in Tel Aviv. For this reason, you should have your home municipality issue an international driving licence early enough, i. e. at least eight weeks before the start of your trip, so that you are mobile when you arrive in Israel.
These speed limits apply in Israel and Tel Aviv.
Location Maximum speed
Inner-city 50 km/h
Road 80 km/h
Motorway 100 km/h
Tel Aviv quite well-mannered on well-maintained roads. You shouldn't drink alcohol here either if you want to get behind the wheel, because Israel has a 0.0 alcohol limit at which the police officers don't understand any fun. It is also worth taking a look at the equipment of your rental car, as Israel also has a warning triangle, first-aid kit, and fire extinguisher. However, anyone who leaves the city centre between November and March is required to switch on the dipped headlights of their rental car outside of town.
What to do in case of a breakdown?
Even though most of the rental cars in Tel Aviv are in good condition, there may be a breakdown. But a punctured tire or a hole in the radiator doesn't have to upset you. First of all, contact the phone numbers provided by your car rental company for quick assistance and if, contrary to expectations, you should not be able to reach anyone at all or if you are stuck in a confusing place, you can also contact the breakdown service of the Israeli automobile club by phone on 03- 56 41 111 111.
Best travel times for Tel Aviv
Because of its geographic composition, you will encounter several climate zones in Israel. While the north of the country is characterised by hot summers with high humidity, the south has a dry subtropical climate. But be careful, if you don't want to freeze, especially in Tel Aviv you should avoid the months from December to the end of March because at 7°C it can not only get very cold but also very rainy. In spring and autumn, on the other hand, most travelers are likely to feel at ease, as it is not too hot to go on a journey of discovery with a rental car in the country.
Activities for everyone in Tel Aviv
A total of 70 km2 covers the Tel Aviv area, which can hardly be discovered on foot. By rental car, on the other hand, you will quickly reach the sea in the morning to walk down the 13 km long beach or stroll along the promenade and take a walk in Hayarkon Park. In the evening, on the other hand, you don't have to look at the clock in the trendy clubs of the city and can dance until the early morning hours if you like.
These highlights definitely belong on your to-do list in Tel Aviv:
the old town of Jaffa
the Tayelet promenade
the Palmach Museum
the Museum of Art
the Jitzchak Rabin Centre
the old harbour district of Tel Aviv