Discover St. Gallen and Eastern Switzerland with a rental car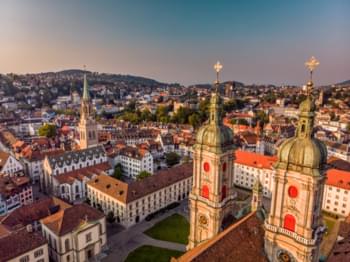 St. Gallen today is considered the cultural and economic center of Eastern Switzerland. The city is conveniently located and is considered the gateway to Appenzellerland, therefore the ideal starting point to explore this unique region in the east of Switzerland with a rental car. The city of St. Gallen gives its name to the eastern Swiss canton of St. Gallen. The city has about 80.000 inhabitants and is located on the Steinach, a river that flows into Lake Constance. St. Gallen got its name from the wandering monk Gallus, which is why it is also called Gallus City. With a local rental car, you can tour this at any time of the year charming area on your own and at your own pace. With Driveboo you can easily compare the offers of car rental companies in St. Gallen and book a rental car for St. Gallen online.
Discovering sights of St. Gallen by rental car in autumn and winter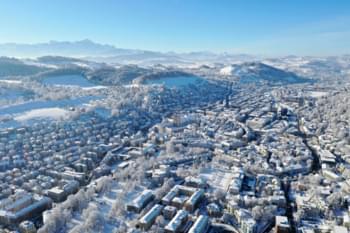 The old town of St. Gallen extends north of the monastery district in the area of Spisergasse and Multergasse with its numerous stores. The Collegiate Church of St.Gallen (today's cathedral, also known as the Dom by locals) is a work of the late Baroque period. Founded in 719, the abbey library is one of the oldest and most beautiful libraries in the world and one of the only early medieval monastic libraries with a surviving book collection. The St. Laurenzenkirche is, next to the cathedral, the most important church in the city, from the tower you have a magnificent view over the city. The permanent exhibition in the Textile Museum looks at the historical development of the textile industry in eastern Switzerland and its involvement in world markets. Until the end of World War I, St. Gallen embroidery represented the most important sector of Swiss exports.
Where is the best place to find a rental car in St. Gallen?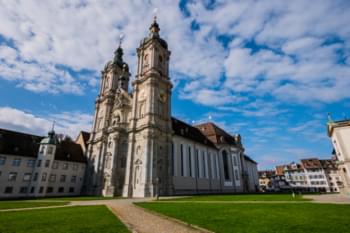 The trains of regional, national and international connections stop at the main station in St. Gallen. St. Gallen is on Switzerland's main east-west route served by Intercity trains via Zurich to Geneva. International rail connections are routed to Munich. Direct regional connections exist along Lake Constance from Schaffhausen to Chur and from there to the skiing and hiking areas in the canton of Grisons and as a direct connection over to Lucerne. The nearest international airport is the Zurich Airport (ZRH), the largest airport in Switzerland, about 70km from St. Gallen and accessible in about 1 hour by train or car. Other nearby options to arrive by air are the airport St. Gallen-Altenrhein (ACH) and the airport Friedrichshafen Bodensee-Airport (FDH). At Friedrichshafen airport you can take a bus to the lake and get from there by ferry to Romanshorn, where you will find directly the train station and get easily to St. Gallen by train.
Is there a toll in Switzerland?
Yes, domestic and foreign vehicles require a vignette, a sticker that is affixed to the windshield. It is required for driving on freeways and motorway-like roads with white-green signage. It is valid in the year printed on it, as well as in December of the previous year and January of the following year, for a total of 14 months.
Do I need a vignette for the rental car?
Don't worry, their car rental company has already taken care of it and put the sticker on their rental car. So you don't need to buy a vignette. Please note that there are other toll tunnels and car transfers within Switzerland that are not covered by the vignette or freeway toll.

General traffic information for driving a rental car in Switzerland
Most traffic rules in Switzerland are similar to those in Germany or the EU. But some regulations are a bit different.
Fuel stations on highways and in larger towns are usually open continuously. All others are usually open from 7 am to 8 pm. Outside opening hours, self-service machines can be used to fill up with CHF 10, 20 or 50. Credit cards (mostly Mastercard, Visa) as well as the bank card (with Maestro or V PAY symbol) can also be used.
Serious traffic violations, alcohol offenses and speeding are punishable by especially high fines and penalties (imprisonment, suspension of driving license, vehicle confiscation). Foreigners are usually required to pay the fine on the spot. Note that if you speed and are flashed, the car could be confiscated by the police in the worst case right away.
Dipped headlights (or alternatively daytime running lights) must be used on all roads during the day all year round.
Mandatory speed limits in Switzerland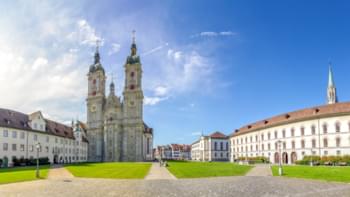 Interurban: 50 km/h (sometimes 60 km/h)
Out of town: 80 km/h
Car roads*: 100 km/h
Highway: 120 km/h
*Marked with a green sign and a white car on it!
Parking regulations in Switzerland
Yellow crosses with yellow connecting lines at the edge of the road indicate a parking ban and yellow lines mean no stopping. Out of town parking is prohibited on main roads. The official parking areas are all marked and in most cases chargeable. In blue parking zones, you are allowed to park for a maximum of one hour and must put a parking disc under the windshield as proof. In white parking zones, you are usually allowed to park for a limited time only and you have to pay for it. In yellow parking zones, you are usually not allowed to park at all, as they are private or business parking lots. On red marked zones you are allowed to park free of charge for a maximum of 15 hours, but you will probably find these parking zones very rarely.
What to expect in St. Gallen?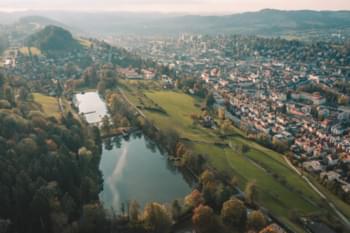 The manageable metropolis of eastern Switzerland between Lake Constance and Appenzellerland has a charming old town steeped in history. The origins of the city of St. Gallen date back to the 7th century. It grew up around the monastery of St. Gallen and slowly grew into a city in the 10th century. The city is interesting for tourists because of the abbey district with cathedral and abbey library is UNESCO World Heritage Site. The colorfully painted oriel windows are typical. St. Gallen is also known for its embroideries. These can be seen today in the St. Gallen Textile Museum, which is dedicated to the history of the textile industry in eastern Switzerland.
Climate all year round in St. Gallen