Rental car South Australia: Explore Australia's nature on your own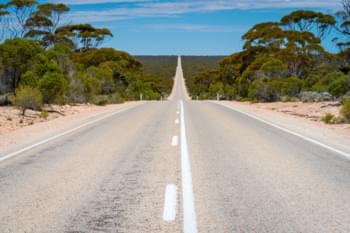 Unterwegs in South Australia
Are you interested in a road trip with a rental car through South Australia? Then let's get going! Book a suitable rental car with Driveboo.com and look forward to an exciting time in South Australia. Visit the capital of South Australia, Adelaide, with your rental car and discover the most beautiful highlights. As you will always be flexible with a car, you don't have to rely on Australia's public transport. This allows you to set your own pace for your journey through South Australia. Depending on your plans for southern Australia, you can rent an SUV, a minivan or a small car. In this way the car will be ideally adapted to your needs.
About South Australia
Capital: Adelaide
Australia's fourth-largest federal state
Population: 1,730,000 inhabitants
Area: 983.480 square kilometers
The largest cities: Adelaide, Mount Gambier, Gawler, Whyalla
What are the options for my rental car?
INSURANCE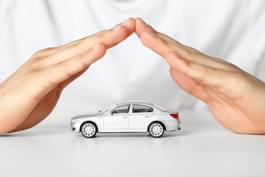 With the right insurance through South Australia
Even if you drive very carefully and safely, damage may occur to the rental car. To ensure that you can continue your journey without stress, we recommend that you take out fully comprehensive insurance without excess. In the event of damage, you will have to advance the costs. However, you will be reimbursed by your insurance company after your arrival back home. Simply submit the relevant receipts when you return from South Australia.
One-way rental
For those who want to do a road trip in Australia with a rental car, the one-way rental might be the best option. This means that you can pick up your rental car at the location of your choice and return it conveniently to another location. This is particularly useful if you are heading for Melbourne, Brisbane, Perth or Sydney.
Additional driver
What does the additional driver option actually mean? If you specify another person as an additional driver when booking, you can take turns driving the rental car. Distances in Australia are often very long. If only one person drives the rental car, this can be quite exhausting. So that the driver can sit back and relax, too, you can simply hand over the steering wheel to the additional driver.
VEHICLE MODEL AND EQUIPMENT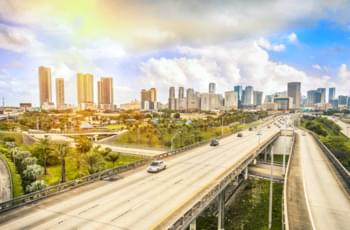 By small car through the big city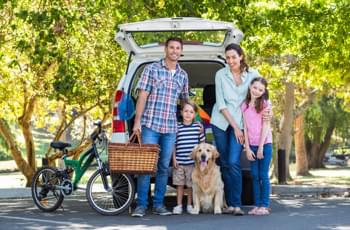 Enough space in the minivan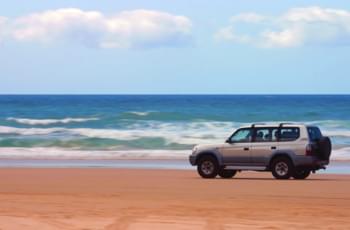 Safe journey with the SUV
Do you travel to South Australia with friends or family and have a lot of luggage? Then it's best to rent a minivan. In this minivan you should have no space problems. If you want to drive a lot through the terrain, you can rent an SUV. In this way you will never get stuck. If, on the other hand, you need a rental car for the city, we recommend a small car. It is manoeuvrable and fits into even the smallest parking space. As you can see, everyone will find what they are looking for on Driveboo.com. If you want to adapt the car even more to your wishes, you can also select the options all-wheel drive, air conditioning or automatic.
Rent a car and discover Adelaide
South Australia's capital Adelaide has something to offer for every taste. If you like to go to festivals, visit the Glenelg Jazz Festival or the Adelaide Festival of Arts. Do you like to go to markets? Then don't miss the Adelaide Central Market. Here you'll find everything your heart desires in a large market hall: fruit, vegetables, seafood and much more. For culture lovers, the Adelaide Town Hall and the Tandanya National Aboriginal Cultural Institute are recommended. Children won't get bored in Adelaide either. Simply drive to Adelaide Zoo by rental car, picnic at Adelaide Botanic Garden or enjoy a day on the beach. Here fun is guaranteed for the whole family.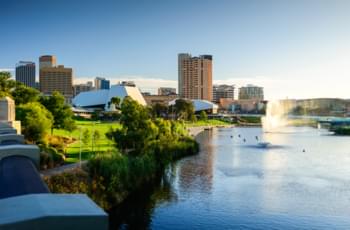 View of Adelaide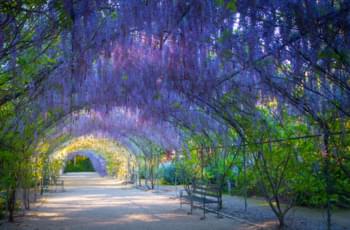 Botanical Garden
What should I not miss in South Australia?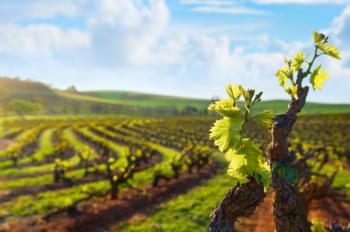 Vines in Barossa Valley
When renting a car in South Australia, you should definitely drive to the Barossa Valley. It is Australia's most famous wine-growing region. Here you can do a wine tasting and visit the villages of the region. For nature lovers, there's also the Heysen Trail and Flinders Chase National Park. It is located on Kangaroo Island south of Adelaide. Explore a variety of animal species and enjoy the scenery. Lake Eyre is an unreal oasis about 700 km north of Adelaide. It is the largest salt lake in Australia, but is rarely filled with water. A blatant opposite is Blue Lake - a crater lake. Blue Lake is the most famous highlight of Mount Gambier and should be on your list when travelling through South Australia by rental car.
Road trip Australia: Discover the most popular cities
Melbourne
Melbourne is the capital of the Australian state of Victoria and offers plenty of leisure and sightseeing. Melbourne is also called "the most livable city in the world". If you are in Melbourne by rental car, you can drive flexibly to all your desired destinations. Visit the Shot Tower Museum or relax on Brighton Beach. In the evening, there are plenty of restaurants and bars waiting for you.
Sydney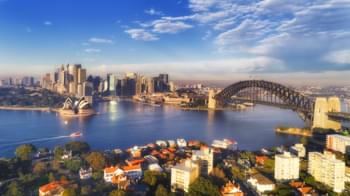 View of Sydney
If you're travelling to Sydney by rental car, don't miss the following highlights:
Sydney Harbour Bridge
Opera house
Bondi Beach
Darling Harbour
Port Jackson
Brisbane
Brisbane is the capital of the Australian state of Queensland and should not be missed on a road trip by rental car. Visit the city's top attractions, including the Story Bridge, South Bank and Gallery of Modern Art. Action heroes can even climb the Story Bridge and enjoy a magnificent view of Brisbane from above.