Rent a car at Samos International Airport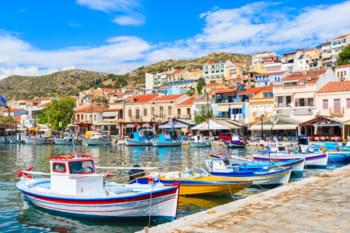 Port of Samos
Do you land at Samos International Airport (SMI) and want to explore the island paradise Samos directly with your own rental car? Then you make a good decision if you reserve your rental car early at one of the few car rental companies at the airport. Compare the rental cars and their terms and conditions of the car rental companies at Samos Airport with Driveboo.com before you start your journey and opt for a sleek compact car or a spacious SUV to be able to enjoy the most beautiful time of the year from the very beginning.
Travel to Samos via the airport in winter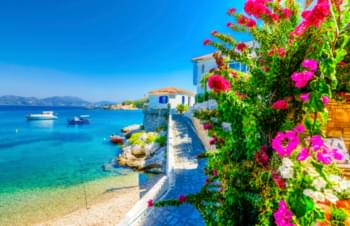 Even in winter you can find cheap direct flights to Samos. An attractive alternative is the stopover in Athens. If you want to explore the Greek mainland first, you can also opt for a ferry. These are also available with a comfortable sleeping cabin for booking. Upon arrival, we recommend a cheap rental car to explore this diverse island during your winter vacation. Cheap car rentals for Samos can be found on our portal, of course. We cooperate with all car rental companies located at the airport.
Advantages of picking up your rental car at Samos Airport:
Independence from tour groups
Flexible travel planning
Money and time savings in contrast to package holidays
Excitement and action
Where is the car rental pick-up station at Samos International Airport?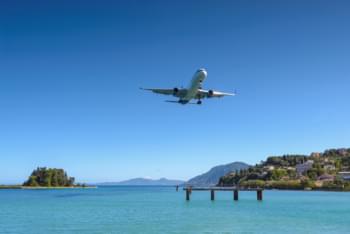 With only about 400,000 passenger check-ins per year, the airport, which opened in 1963, is not one of the largest airports in Greece, so you will find your way around the small terminal very quickly and reach the car rental counters in no time. If you have decided to rent a car from one of the car rental companies that does not have a counter in the airport, then you have the option of reaching the car rental company by shuttle bus, although some car rental companies will also provide you with the rental car at the airport or pick you up personally.
Which car rental companies are available at Samos Airport?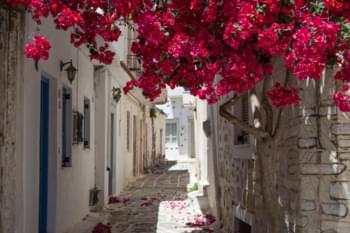 At the moment three of the internationally active car rental companies are located at Samos International Airport, which is why it is a great advantage if you have already booked your rental car for Samos online from home, so that you do not leave the airport without a vehicle during the high season. The following car rental companies maintain a counter at the airport:
Samos Airport - General Information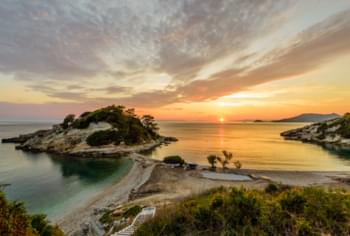 Entering Samos Airport with pronounced hunger pangs is a rather bad idea, as unfortunately the restaurant offerings are currently limited to an "Ontime Coffee & More" offering. At least you can still spend a little time in one of the duty-free stores and get carried away buying a few odds and ends. However, the airport scores with its free internet, so you will definitely succeed in bridging the time until departure.
Where is the nearest gas station at Samos Airport?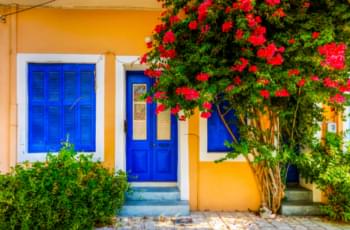 Fortunately, you will find quite a few gas stations on Samos, but unfortunately not at the airport, so you are well advised to choose a rental car with a fair refueling arrangement, so that you do not have to look for a gas station directly after your arrival. The two closest Silk Oil gas stations can be found by heading towards Chora, although you should keep in mind that most gas stations on Samos are not open around the clock, so if you have an early or late departure, you should fill up as early as possible.
Rental car at Samos Airport: Great round trip possibilities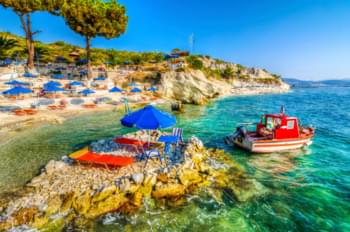 With only about 69 inhabitants per square kilometer, Samos, with a total size of just over 477 km², is not really one of the densely populated islands of the Aegean, so if you go on a round trip along the coast with your rental car, you will find many lonely picturesque bays and stretches of land where you can enjoy wonderful sunsets.
But also a hike in the green hinterland of the island rich in ancient architecture is a special experience, in which nature and culture-loving travelers should have their joy.
Should you plan a round trip across the island with your rental car, then it is best to take a little time to be able to give your undivided attention to the sights of the island, such as the Logothétis Castle in Pythagorion or the Cave of Pythagoras and the Tunnel of Eupalinios as well as the Monastery of Megali PanagiaIhre in Koumaradei.