Car rentals in Panama: Most popular car rental destinations
Rental car Panama: "Oh, how beautiful is Panama"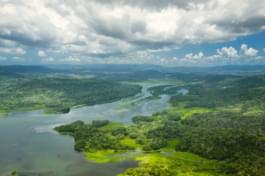 Panama Canal
Compare the offers of car rental companies in Panama and discover the country of the world famous Panama Canal on your own. Discover Panama from a whole new angle with a rental car. You will be pleasantly surprised at how many sights the country has to offer. With a rental car you can, for example, drive from Panama City to the sea or discover the mountains.
With the right rental car your trip through Panama will definitely be unforgettable!
What airports are there in Panama?
In Panama there are the following airports. If you already book a rental car in advance via our portal, you can pick up your desired vehicle directly after your arrival in Panama. In this way, you are flexible from the first minute and can start your holiday stress-free.
These are the places of interest in Panama
Get behind the wheel of your rental car and explore the highlights of Panama on your own.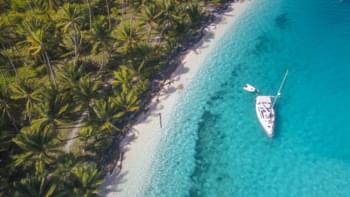 Discover lonely beaches in Panama
The Caribbean islands of San Blas make dreams come true: miles of sandy beaches and untouched nature are waiting to be discovered by you. Those who like diving will be speechless by the many coral reefs and colorful fish.
Look forward to a relaxing time at some of the most beautiful beaches you have ever seen.
Don't miss the following beaches:
Portobelo is a small town on the Caribbean coast of Panama. Drive by rental car to the Iglesia de San Felipe, to Portobelo National Park and visit the beach Playa Blanca. There is no time for boredom in Portobelo!
Also drive to these highlights by rental car during your holiday in Panama:
Panama Canal
Volcán Barú
Lake Gatún
Panamá la Vieja
Contadora Island
Panama City: A financial metropolis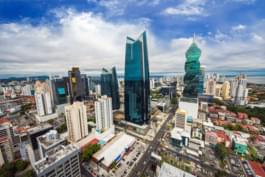 Skyline of Panama City
Panama is a small country, which at the same time has a great variety of sights to offer. The capital Panama City is the financial metropolis of Latin America. Many international companies handle their financial transactions through banks in the city. Due to its international flair, the "Financial District" of Panama is worth a trip by rental car. You can also simply walk through Panama City and discover the various highlights on foot. After a long day you can enjoy a drink at one of the bars.
Driveboo tip:
Do you have any questions about booking a rental car? Then don't hesitate to contact our service team!