Car rentals in New Zealand: Most popular car rental destinations
Discover New Zealand's unforgettable scenery by rental car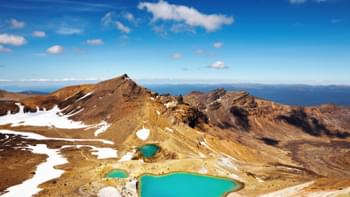 Landscape in New Zealand
Go on an adventurous road trip in New Zealand with a rental car! New Zealand is located southeast of Australia and is an island state. In addition to large mountain ranges, volcanoes, forests and beaches, you can reach the locations of the film "The Lord of the Rings" in New Zealand by rental car. Also the big cities Wellington, Auckland and Christchurch are worth a detour by rental car. Rent a car in Auckland and explore the surrounding area. New Zealand's national parks and cities have a lot to offer.
All about car rental in New Zealand
In New Zealand we work together with all well-known car rental companies. Simply rent a car for your holiday online in our price comparison. Pick it up at one of these airports upon arrival in New Zealand: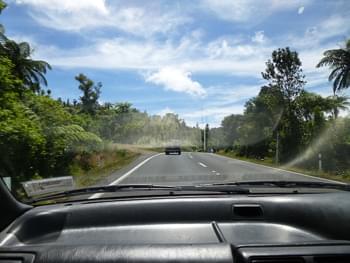 New Zealand by rental car
With a rental car you can reach any destination in New Zealand flexibly and independently. The main roads are the State Highways, which cover the South and North Island. For the Outback of New Zealand it is advisable to use a jeep as a rental car. With a rental car you can visit places that are not visited by excursion buses and thus customize your trip.
The big cities are connected by motorways. There is a speed limit of 100 km/h, which you should observe when driving a rental car.
Driveboo tip:
Keep in mind that New Zealand has left-hand traffic! If you are not practiced in this, you can try it on less frequented roads beforehand.
Can I rent an automatic car in New Zealand?
Yes, you can. it is possible to rent a car with automatic transmission in New Zealand. This makes it easier for inexperienced drivers in particular to get used to the left-hand traffic, as they don't have to concentrate on shifting with their left hand and can devote their full attention to traffic. Compare different offers with automatic gearshift on our website Driveboo by simply selecting the appropriate filter "Automatic" under Vehicle Characteristics. Now only offers with automatic transmission will be displayed and compared with each other.
Further filter options for your rental car
In addition, you can filter your car search for rental cars with different properties. For example, you can select a vehicle category that meets your requirements. You can also select the number of seats, the included services such as fuel options, a navigation device, additional driver, etc., as well as insurance benefits. You can search for specific suppliers and select your pick-up station.
Exploring the north and south of New Zealand by rental car
Discover New Zealand's North and South Islands flexibly with a rental car. Some exciting sights await you!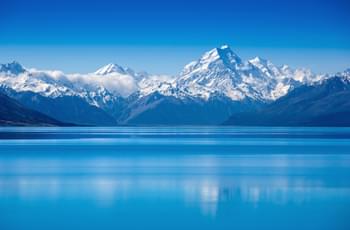 Lake Tekapo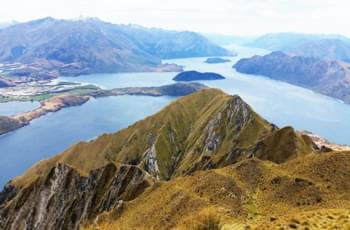 Wanaka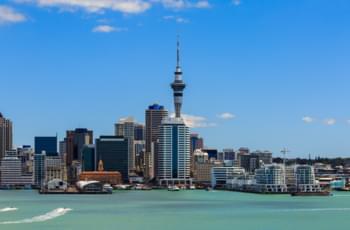 Auckland
On New Zealand's North Island you can experience vast farmland, enchanting coastlines and active volcanoes. Take a boat trip, go kayaking or sailing and above all, hike through breathtaking nature. You should also visit these highlights by rental car:
The South Island is known for its fascinating nature and untouched landscapes. Discover mountains, glaciers and lakes by rental car! Here you will find some suggestions for excursions and activities:
Hiking on the Hooker Valley Track
Birdwatching on Stewart Island
Visiting Larnach Castle
Bicycle tour through the Marlborough Sounds
Sightseeing flight over Wanaka
Wine tasting in Central Otago
Dolphin watching in Abel Tasman National Park
Driveboo tip:
Fancy some action and adventure in New Zealand? Then do a bungee jump, a canyon swing or go whitewater rafting!
Rental car roadtrip through New Zealand
New Zealand and its breathtaking attractions are perfect for a round trip by rental car. The North and South Islands can also be perfectly combined. Experience the natural spectacles of New Zealand up close and get ready to immerse yourself in one of the oldest cultures in the world - the Maori culture.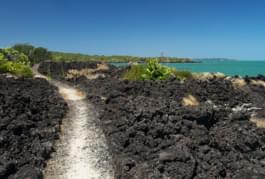 Walking on Rangitoto Island
Most flights from the United States and Europe land in Auckland (North Island). Your pre-booked rental car will be waiting for you and ready for pick up. Spend a few days in Auckland and visit for example the volcanic island Rangitoto Island. There are beautiful hiking trails on the black sand and volcanic rocks, as well as beach and swimming areas.
Drive with your rental car to Whangarei in the north. Have a nice, relaxing day on the beach. Many tourists leave their rental cars here before they group together to save fuel and drive up to Cape Reinga. It is worthwhile to form carpools, because this way you not only save money and Co2, but also get to know other travelers. On the way to Cape Reinga you will pass the Bay of Islands. Take a night break here and go on a dolphin boat ride. Here you have the possibility to swim with free dolphins in the open sea - for me one of the most beautiful experiences.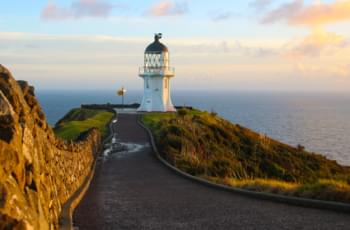 Lighthouse at Cape Reinga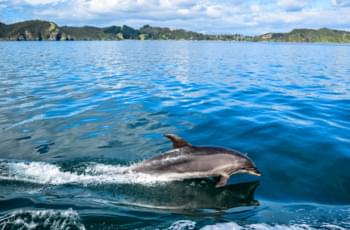 Dolphins in the Bay of Islands
It's just south for now. Drive to the Coromandel Peninsula, taste the wine and take a shovel with you to Hot Water Beach. Dig a hole here and watch how it will fill with hot water, a natural hot tub. But be careful, the water can be extremely hot. Continue to even hotter springs in the geothermal wonderland of Rotarua. The city is known for its smell of rotten eggs and sulfur, but you get used to it very quickly. Thanks to sulfur and other chemical substances, you can see orange lakes, geysires, turquoise and yellow lakes, boiling mud, and much more in Rotarua. It is definitely worth it!

Champagne Pool at the Geothermal Wonderland, Rotorua
Continue south into Tongariro National Park. There are beautiful hiking trails here. The most exciting and very recommendable is the famous Tongariro Alpine crossing. This is a day hike. It is best to leave early in the morning to start your hike in time. The hike is 19.4 kilometers long and takes between 9 and 11 hours, depending on your physical condition. The best time to start the hike is at 6 a.m. to be back and safe before dusk. On the summit are the famous emerald green lakes and a very rewarding view.