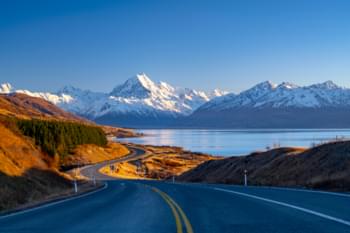 Traveling by rental car in New Zealand
Minimum age
The minimum age for a rental car in New Zealand is 21. For drivers under 25, many car rental companies charge a so-called young driver fee. An international driver's license is advisable, but not mandatory.
Speed limit
The maximum speed limit is 50 km/h in built-up areas and 100 km/h on highways. If the speed limits are disregarded, a fine of between NZ$ 30 and NZ$ 630 is to be expected.
Further road traffic regulations in New Zealand
In New Zealand, as in Great Britain, driving is on the left. In addition, seat belts are compulsory for all passengers. In New Zealand, many roads are narrow and winding, so caution is advised even on less frequented roads. The drink-drive limit in New Zealand for drivers over the age of 20 is 0.8.