Car rentals in Netherlands: Most popular car rental destinations
Car rental Netherlands - Land of cheese and windmills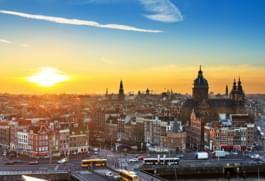 Sunrise in Amsterdam
The Netherlands lies on the North Sea and, together with Luxembourg and Belgium, forms the Benelux countries. Simply rent a car in the Netherlands on the internet portal Driveboo.com. Here you can compare the prices and offers of the different car rental companies and book your dream car at the best price. The many attractions in the Netherlands are best explored by rental car. In this way you will always be independent and flexible.
Where are the pick-up points for my rental car?
These are some of the places where you can pick up your rental car in the Netherlands:
Netherlands: Activities and Highlights
In Rotterdam many activities have to do with water. Park your rental car and stroll along the port of Rotterdam. The capital, Amsterdam, is also a popular tourist destination and should definitely be visited when renting a car.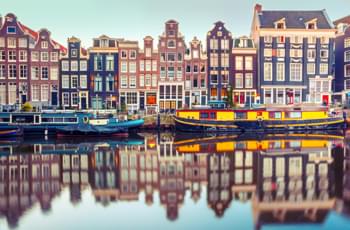 Amsterdam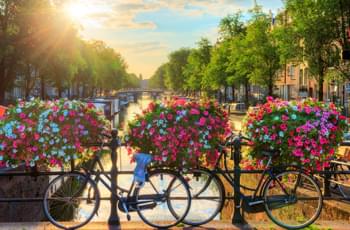 Bicycles in Amsterdam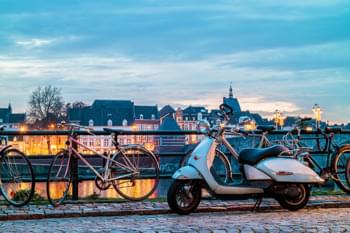 Bicycles in Maastricht
The Netherlands has some cute student towns like Utrecht or Maastricht to offer. Here the student nightlife pulsates in the evenings. The Hague also has a variety of coffee shops, bars and pubs. There is definitely no time for boredom in the Netherlands!
Park your rental car and stroll through one of the beautiful villages. Alternatively you can rent a bike and discover the places on your own.
The Netherlands is the cheese country par excellence! Whether Gouda, Edamer, Limburger, Maaslander or other types of cheese - if you are travelling in the Netherlands by rental car, you will definitely pass a typical cheese market.
The Netherlands is also characterized by windmills and the canals of Amsterdam, which should be visited by rental car as well. In addition, it is a good idea to visit the following highlights by rental car:
Keukenhof
Van Gogh Museum
Rijksmuseum Amsterdam
Dam
Jordaan
Traffic Netherlands: What should I look out for?
In the Netherlands, the road network is very well developed and covers over 125,575 km. The speed limit depends on the signage and is often 80 km/h. You should pay attention to this with your rental car. Since the roads in the Netherlands are very busy, you have to expect unusual methods of traffic regulation. A traffic light at a motorway entrance is therefore not uncommon.