Discover Namibia by rental car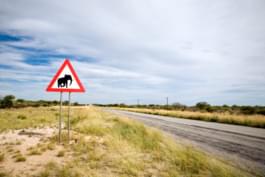 On the road in Namibia
Namibia is located in the southwest of Africa and is the perfect destination for every nature lover and the ones seeking peace. Book a rental car and discover Namibia on your own. It is one of the most sparsely populated countries in the world and combines bushland, savannah and desert. In addition, the capital Windhoek offers something for lovers of city trips. Due to its past as a German colony, many German-speaking inhabitants still live in the country. The best way to pick up your rental car in Namibia is directly after your arrival at Windhoek Airport. From there you can drive your rental car either to the city center or directly to the wilderness of Namibia.
Rent a car in Namibia
With a rental car you can comfortably reach the different vegetation zones of Namibia. In contrast to the rest of Namibia, the capital Windhoek is very European. Get into your rental car and make an excursion to the capital. Exploring Namibia by rental car is the most comfortable way as there is almost no public transport.
Renting an SUV is very popular in Namibia. In this way you will travel safe and comfortable even if the roads are no asphalted.
Which cities in Namibia should I visit?
Besides the capital Windhoek, these cities of Namibia could also be of interest:
Namibia: holiday destination for nature lovers and those seeking peace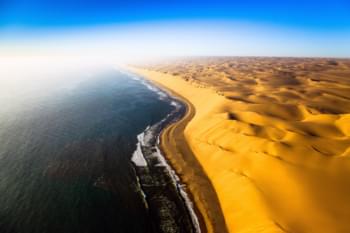 Skeleton Coast in Namibia
In Namibia you can enjoy the breathtaking landscape and let your soul dangle. Don't miss these highlights:
Etosha National Park
Sossusvlei
Skeleton Coast
Twyfelfontein
Dadvlei
Dune 45
Things to know about traffic in Namibia
The "pads" (roads) mentioned in Namibia are in good condition and cover a length of 45,000 km. Approximately 5,000 km of the roads are tarred and therefore easy to drive.
In Namibia there is left-hand traffic.
During the drive with the rental car, you should pay attention to the lateral grooves.
Whoever is first at the crossroads is allowed to drive.