Car rentals in Namibia: Most popular car rental destinations
Rental car Namibia: Experience Africa first hand

Discovering Namibia
The distances from one place to another are very long in Namibia. So what is better than a trip by rental car? In that way you are always flexible and can even enjoy the enchanting landscape during your rental car journey. You can find a suitable rental car for Namibia on Driveboo.com. Our portal compares the offers of the car rental companies and transparently shows you the best price. You can then book your dream car for Namibia directly at the lowest price on our portal. Look forward to varied cities, a diverse wildlife and a breathtaking landscape in Namibia.
The most important information about Namibia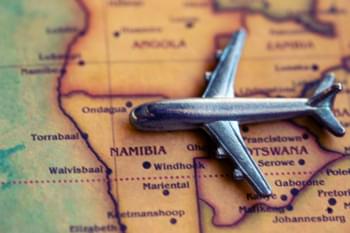 Information about Namibia
Location: Southwest Africa
Capital: Windhoek
Populatoin: 2.5 Mio.
Neighbouring countries: Angola, Botswana, South Africa
Official languages: German, English
Currencies: South African Rand, Namibia Dollar
Where can I pick up a rental car in Namibia?
In Namibia you can pick up a rental car in the capital Windhoek. If you arrive by plane, you can reach the centre of Windhoek in about 40 minutes by rental car. As public transport in Namibia is very poor, a rental car is recommended.
Driveboo tip:
Do you want to be flexible from the moment you arrive? Then book your rental car at Windhoek Airport. So you don't waste valuable holiday time waiting.
Here are the options for your rental car in Namibia
An unforgettable journey through Namibia of course includes the perfect rental car. On our portal you can choose your car rental model, equipment and much more according to your wishes. Like that you can be sure that the rental car suits your needs.
The options additional driver and one-way rental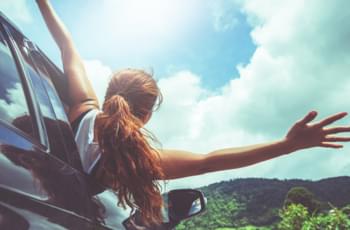 Take turns in driving the rental car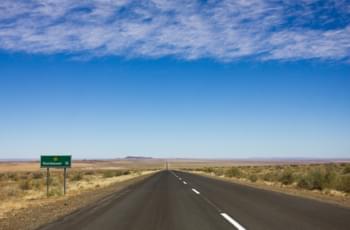 Benefit from the one-way rental option
Additional driver
Long car journeys are exhausting, especially for the driver. Book an additional driver for your rental car and take turns driving. In this way, the driver can also lie back, relax and enjoy the Namibian countryside. The additional driver only has to present his identity card and driving licence. Let the adventures start.
One-way rental
Namibia is so vast that you probably won't want to return to your starting point at the end of your trip. We have a solution for this problem: the one-way rental. Pick up the rental car at your desired location and simply return it to another location at the end of your road trip. In that way you can travel independently and unbound. The road trip Namibia can start!
What can I do in Namibia?
There is plenty to see and discover in Namibia. Since you are flexible with a rental car in Namibia, you can put together your individual list of attractions. What do you think of the following ideas?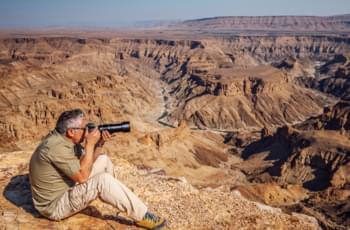 Photographer in the Fish River Canyon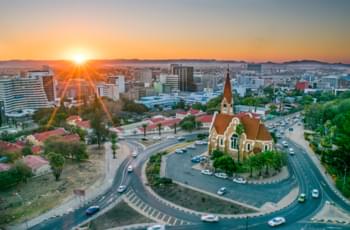 Sunset over Windhoek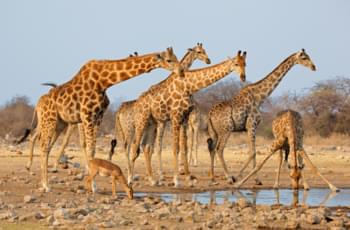 Giraffes in Etosha National Park
THE CAPITAL WINDHOEK
Windhoek is the varied capital of Namibia. Churches, palaces, parks, museums and castles are waiting to be explored by you. Set off and discover the numerous buildings on your own. Whether by rental car or on foot, there is something to discover at every corner in Windhoek.
Etosha National Park
Etosha National Park is Namibia's most famous national park. Go on a game drive with the rental car and observe numerous different animal species. Look forward to majestic lions, large herds of elephants, clumsy giraffes and much more. You will never forget this safari again.
Fish River Canyon
The Fish River Canyon is the largest canyon in Africa and is located on the border to South Africa. The canyon is particularly popular with hikers. If you wish, you can hike through it as part of a guided tour. From the numerous vantage points you have a gigantic view and can take impressive photos against a dreamlike backdrop.
MORE SIGHTS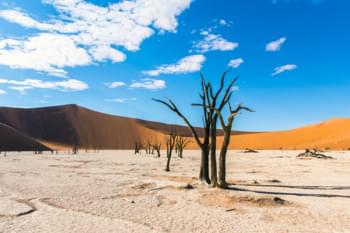 Deadvlei, Namibia
On your road trip with a rental car through Namibia you should not miss these highlights:
Sossusvlei
Twyfelfontein
Deadvlei
Dune 45
Caprivizipfel
Waterberg Plateau Park
Skeleton Coast National Park
Duwisib
Road trip Africa: Explore Namibia's neighbouring countries by rental car
Angola
Angola is located north of Namibia and has a lot to offer. Especially nature lovers get their money's worth in Angola. Visit the Ruacan Falls or take a rental car to the beach in Mussulo. Another highlight not to be missed is the Viewpoint of the Moon. From here you have a fantastic view over the Angolan countryside.
Botswana
If you want to get to know the real Botswana, you should rent a car and drive to Jack's Camp. Here, adventurers and explorers will get their money's worth. Take the wheel of your rental car and explore the area at the edge of the Makgadikgadi salt pans. You should also visit the Okavango Delta, which is also called "The largest oasis in the world". Here the Okavango River meets the desert and creates a unique scenery.
South Africa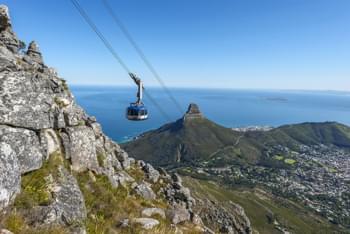 Cable car to Table Mountain
South Africa is easy to reach by rental car. If you're not tired of safaris, don't miss the famous Kruger National Park. Go on a game drive and observe wild elephants, lions, giraffes and much more. Durban on the Indian Ocean is also a great place to visit. A perfect mixture of culture, bathing pleasure and entertainment awaits you here. Of course you should also visit Table Mountain. Leave your rental car at the cable car station and take the gondola to Cape Town's landmark. From above you have a wonderful view.