Rent a car in Windhoek
You are looking for a rental car with which you can explore Windhoek and its surroundings? Then look on Driveboo.com to get the best offer for your stay in Africa. With our price comparison service, you can compare the different offers and then select the best fitting one for your trip.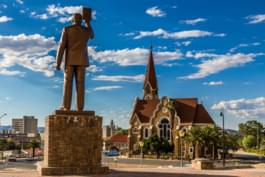 Windhoek offers a variety of beautiful destinations that you can explore with your rental car. Moreover, it is the capital of Namibia, in the country's central highlands where you can explore several sights with your rental car.
Where can I pick up the rental car?
Depending on how you arrive in Windhoek, you got several options from where you can pick up and return your rental car.
For example, if you arrive by plane at the Windhoek Airport (WDH), you can directly pick up your rental car after landing at the airport rental station. Other options would be:
Eros Airport (ERS)
Windhoek City
Sights you can visit with your rental car
Christ Church

Daan Viljoen Game Reserve

Tintenpalast

Independence Memorial Museum

Heroes' Acre

National Museum of Namibia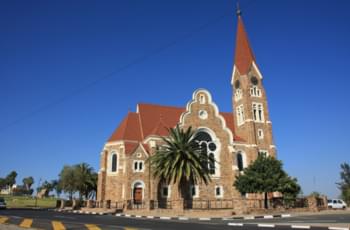 Christ Church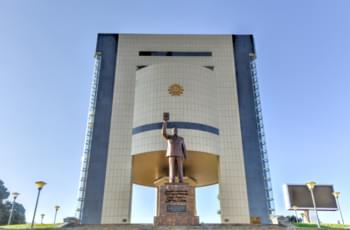 Independence Memorial Museum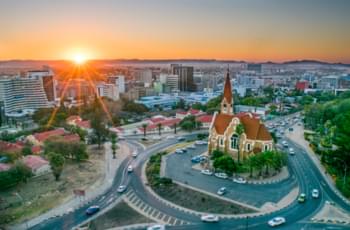 Windhoek
General information about driving in Windhoek
However, the four-wheel-drive is generally not required. An all-wheel-drive off-road vehicle can be useful during the rainy season, as rivers that are dry most of the year occasionally carry water, bridges are only common on expressways. Since SUVs are more robust than passenger cars, they are less prone to breakdowns on bad roads. An international driving licence is required. Although credit cards are widely used, cash is usually required for refuelling. Petrol is about 10% cheaper than in South Africa. Outside of the big cities (especially in the desert areas), you should take every opportunity to refuel because there are not public gas stations in every small town.
Put together your dream car individually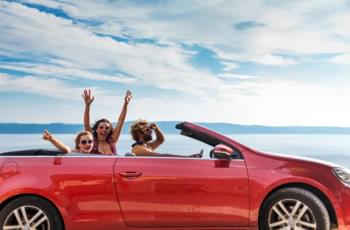 Fun in the convertible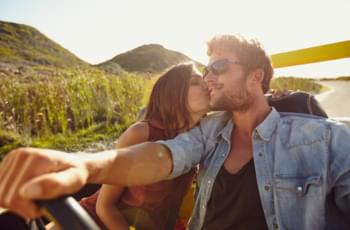 More fun with the additional driver option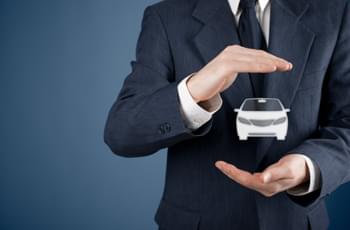 The right rental car insurance
VEHICLE CATEGORY
What could be nicer than driving with an SUV through the savanna of Namibia? Pack your friends in the rental car and jet off! Or do you prefer a minivan? Here, your loved ones are guaranteed to have enough space and you can also stow your suitcases without much effort. Also, you can select the automatic, all-wheel drive and air conditioning for your rental car via the search mask. This guarantees that you won't sweat when driving through Windhoek.
OPTIONS
INSURANCE BENEFITS
If you are not in the mood for stress in the event of damage to your rental car, you should take out fully comprehensive insurance without excess. An accident can happen quickly, even if you are a safe and careful driver. Play it safe and choose the right insurance for Windhoek in advance. You can also take out passenger accident insurance or glass and tyre insurance.
Explore Windhoek by rental car
Namibia is located in Southern Africa and borders Angola to the north, Botswana, Zimbabwe, Zambia to the east and South Africa to the south. The cold South Atlantic is the country's western border. Namibia is one of the most visited countries on the continent due to its unique geography and wildlife and is an ideal destination for safaris. The often untouched nature is protected and preserved by ecological and sustainable tourism.
Namibia was the last country in Africa that achieved its state independence in 1990 and has a history that is often marked by oppression. Namibia is a multi-ethnic state with different influences of ethnic groups and history. Some of Namibia's African cultures are among the oldest in the world. Prior to the First World War, Namibia was colonized by Germans, after which it was part of South Africa for over 70 years.
German and African cultures have the strongest influence on life in Namibia, which is evident in many areas: various festivals (in Windhuk carnival is celebrated), food (mix of German and African dishes), Wilhelminian architecture. Approximately 30,000 of the 2 million Namibians speak German as their mother tongue; this means that if you have to ask for the right direction, you can ask in German or English.