Car rental at Mytilene International Airport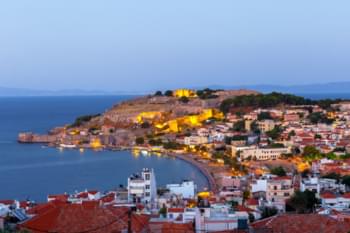 View on Mytilene
If you land at Mytilene International Airport (MJT) and want to explore Mytilene and the island paradise Lesvos, rent a cheap rental car. You make a very good decision if you rent your rental car directly at the airport to be mobile immediately after your arrival. With Driveboo.com, choose the rental car that best suits your plans before you start your trip and compare the offers of all car rental companies at Mytilene Airport in terms of price, insurance and equipment and set off for a carefree vacation in Lesvos right after your arrival.
Start your vacation in autumn from Mytilene Airport
Port of Mytilene
Do you feel like getting some sun in autumn before the cold months come? We have something for you: How about a rental car tour on Lesbos in autumn? In the autumn months, the large crowds of tourists have disappeared and you can explore Mytilene comfortably with a rental car. Visit charming villages and enjoy typical Greek specialties. Embark on hikes, go for walks or help with the olive harvest in autumn. If you stay long enough on Lesvos, you can even participate in the pressing and take home your own olive oil as a souvenir. Your autumn is guaranteed to be unforgettable. Start your trip at Mytilene Airport and book a rental car online from home. Then nothing can stand in the way of your dream trip.
How to rent a car correctly?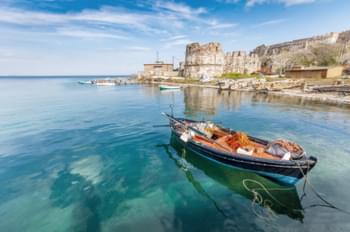 You can choose different car rental models, but equally you have the option to set filters for vehicle features and services that are important to you in a rental car. Be sure not to forget the additional driver option in case you are not traveling alone. This is because they make it easier for you to swap drivers, so your travel companion is also eligible to drive the rental car and you don't have to take on the entire trip on your own. Remember that you have the possibility to cancel the rental car free of charge up to 24 hours before the rental. Just send us an email.
Are all pick up locations at Mytilene Airport?
If the car rental company you have chosen does not have a counter at Mytilene Airport (MJT), you should check with your car rental company if they will provide you with a free transfer to the rental station or if you need to add a shuttle service. However, some providers will also deliver your rental car to the airport, so it's worth taking a look at the fine print.
Which car rental companies operate at Mytilene Airport?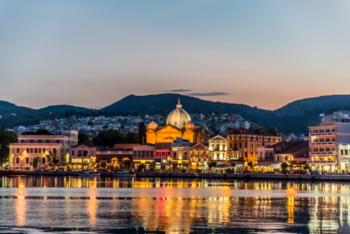 Mytilene at night
As there are currently only three car rental companies operating at Mytilene Airport, you would be well advised to book your rental car as early as possible so that you do not have to leave the airport without a vehicle once you arrive, as supply can be very limited, especially in the summer months, which is the high season:
Is there a gas station at Mytilene Airport?
Should you have chosen a vehicle with a fair refueling policy when renting your rental car, then you have made a good choice, as there are no gas stations in the immediate vicinity of the airport, so you do not have to go in search of a gas station right away. The nearest Shell gas station is located in the direction of the island's capital on "El Venizelou", although you will find two more gas stations there.
The transport connections at the airport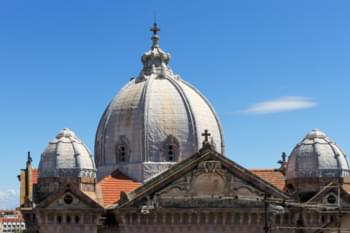 If you don't want to start your island adventure with your rental car, you can reach the island capital Mytilene by bus or cab. Cabs equipped with taximeters can be found in front of the terminal and the journey takes around 15-20 minutes, with a one-way ticket costing around €10. By bus you can also reach almost every other place on the island for a fare between 10€ (Mytilini) and 115 € (Skala Eressos), whereby at the latter fare the rental of a car is already worthwhile in any case.
Mytilene Airport - some facts at a glance
With just over 6,000 aircraft movements and almost 500,000 passengers per year, Mytilene Airport is not one of the largest airports in Greece, which is why the services offered at the airport are not particularly extensive. At least you can choose between sandwiches, pizza and salads as well as various coffees in the so-called Aircanteen, so you don't have to start your flight hungry. In addition, there are a few stores in the terminal and free Wi-Fi, it is also not lacking.
Rental car round trip from Mytilene Airport along the coast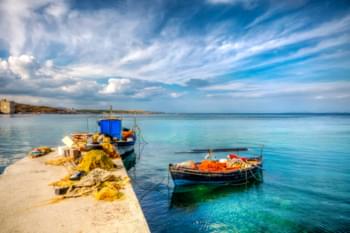 Port of Mytilene
Flowering oleander, rugged coastlines and fishing boats gently swaying in the water make up the charm of the predominantly agricultural island of Lesvos with its more than 40 different stretches of beach.
Reason enough to go on a round trip over the island of philosophy and art with your rental car or at least to make some side trips to the most beautiful sights.
Starting from Mytilene with the rental car towards the north, you could, for example, head for the fortress in Molyvos and continue your journey via Petra towards Sigri and take a look at the Museum of Natural History of the Petrified Forest and the Petrified Forest itself, before heading via Kalloni to the Temple of Messon and the hot springs in Lesvos.
But also a side trip to the Barbayannis Ouzo Museum in Plomari should be on your to-do list, because, who would have thought it, Lesvos produces about 50% of the total Greek ouzo production, so here, in one of the best distilleries you might want to buy a bottle of this Greek anise spirit as a souvenir.