Summer holiday in Germany - Lake of Constance, Lindau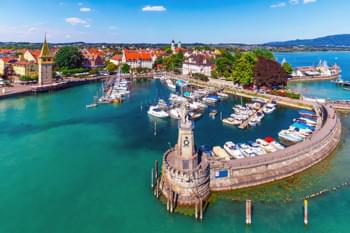 The old town in Lindau
Are you planning a summer trip to Germany? Lake of Constance is not only the largest, but probably also the most beautiful lake in Germany. The city of Lindau is a place on the Austrian border. Lake Constance also borders Switzerland. Here are some tips for your trip to Lake Constance with a stay in Lindau:
1. Experience the island of the city - Yes, you have heard right. The city of Lindau is divided into different parts. One part is Lindau Island. Be sure to enjoy a drink or café along the Lindau harbor promenade. It is also recommendable to take part in a guided city tour. This way you get to know the history of the city and in the meantime, you can discover the many small alleys with their shops. A panoramic tour with a view of the German, Austrian and Swiss coast is also recommendable from here.
2. Go on a panoramic bike tour: There are different routes with different lengths. As a refreshing break, make a stop at one of the many lidos in the region.
3. Other great destinations are for example a visit to the mountain Pfänder or one of the many other mountains. You can also easily reach other destinations on Lake Constance, such as Constance, by taking a boat trip. In Constance you can also visit the famous flower island Mainau.