Car Rental Larnaca Airport LCA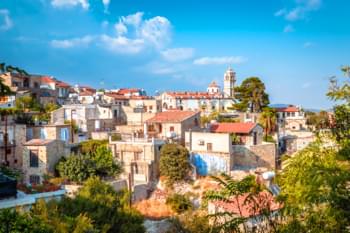 Discovering Larnaca
You can reach Larnaca quickly and comfortably by plane and get a rental car right at Larnaca Airport. The international airport of Larnaca is only five kilometres outside the city centre. At Larnaca International Airport Cyprus LCA, the flights of renowned European airlines land and take six million passengers to Cyprus every year. Ideally, you have decided to rent a car on our portal. You can pick up your reserved rental car at the pick-up point of your car rental company on arrival at the airport.
The third largest city on the island of Cyprus is Larnaca, which has a port and thus plays an important role in regional trade and local industrial enterprises. In addition, Larnaca is one of the most famous health resorts on the Mediterranean island, with a population of about 52,000 inhabitants and 70 km from Limassol. Numerous beaches invite you to swim, dive, paragliding or windsurfing. The shore road, which is planted with palm trees throughout, then encourages you to take a leisurely walk with a perfect view of the sea yachts anchored in the bay. Larnaca offers a wide range of historical buildings and other natural attractions await you as travellers in the surrounding area. Find out below where to find your airport car hire company and where to pick up your rental car.
Pleasant temperatures in Larnacas autumn
Would you like to spend your autumn holiday swimming and tanning in the sun? Then off to Larnaca! In Larnaca you can look forward to pleasantly warm temperatures even in the autumn months. But also those who want to be a little more active will get their money's worth in Larnaca in autumn. Go hiking, visit wine villages and stop at one of the taverns for a snack. In order to be able to explore Larnaca and the surrounding area in autumn, we recommend you to rent a car. This way your holiday will be much more fun.
General information about the International Airport Larnaca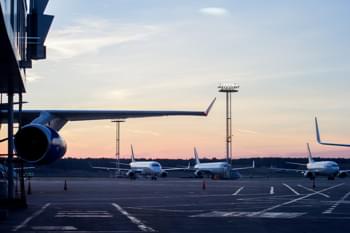 Flughafen Larnaca
Only five kilometres from Larnaca, LCA airport is located on the Mediterranean coast. Operator is the Cyprus Dept of Civil Aviation. At present, the airport has only one terminal, which is less and less able to cope with the ever-increasing number of passengers. The airport is mainly served by flights from Europe, but also by airlines from North Africa and the Middle East. More than 30 airlines are present at Larnaca Airport, including Lufthansa and British Airways.
The only airport terminal is divided into a departure area and an arrival hall, with restaurants, bistros, cafés, ATMs and bank branches on both levels. You arrive in the arrivals hall after landing, you can take your luggage off the treadmill and after that you only have to walk a few steps to the counter of your car rental company.
Car Rental and pick-up station at Larnaca Cyprus Airport
In the arrivals hall you will find all known international car rental companies and surely also the car rental service of your choice. The switches from Hertz, Avis, Europcar or Budget are not far apart. If you have taken advantage of our offer to rent a car at the airport of Larnaca, you will be expected to arrive there. The tenancy agreement is ready and only your signature is missing. Please do not sign until the details have been thoroughly checked. You could not only rent a car at low prices, but also order the desired accessories, determine the scope of insurance, decide on a tank control system and much more.
If all your wishes are included in the rental agreement, sign it, have the rental car keys handed over and explain the way to the pick-up station. Every car hire company present at Larnaca LCA Airport has its own pick-up point, where you can pick up your rental car and return it before departure. The pick-up station is usually only a few minutes' walk from the terminal on one of the car parks. If the pick-up station is more than one kilometre away from the car rental, you can use a free shuttle bus or the landlord will take care of the transfer on request.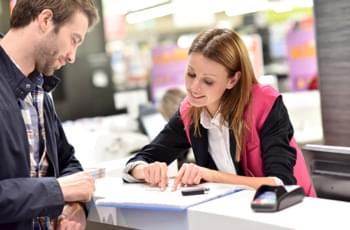 Mietvertrag prüfen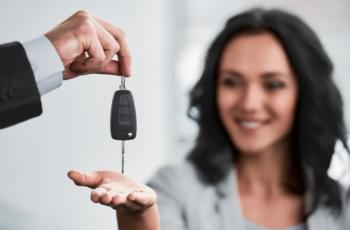 Schlüssel annehmen
Rent a Car Larnaca Airport: check for defects at the pick-up station
You will always find a suitable car on our comparison portal and can rent it with the desired accessories at a very reasonable price. The process is very transparent, convenient and quick. At the pick-up station at LCA airport, however, you must take a close look at your rental car, ensure that all operating elements, especially brakes and lighting, are in working order and check its visual appearance.
If you discover any technical defects or damage to the bodywork, make sure that these are noted in writing in the acceptance protocol. In the case of complaints that lead to limited traffic safety, you require a replacement car in your own interest. Because you also bear full responsibility for your rental car in Cyprus during use. If the car is in perfect condition, you can pick it up without any worries and explore Cyprus from the airport.
What do I have to consider when renting?
Which vehicle class do you prefer and for which duration?
Which insurance benefit should be specified for the rental car?
What is the expected mileage?
Do you also need a navigation device or child seat?
What are the fuel options at Larnaca Airport?
How to rent your car at the International Airport Larnaca yourself
Even if you have not booked your vehicle cheaply via our portal, we are happy to give you some suggestions for the optimal rental. Decide on a rental car that suits you and pay attention to low-cost long-term rental offers. Always choose a comprehensive insurance policy with no excess and an additional policy for damage to tyres and glazing. If you rent a car with unlimited mileage, you can discover Cyprus's idiosyncratic beauty. According to our experience, every time you rent a car at the airport pick-up station, you take over a full tanked car and have to return it as well.
Drive from the pick-up station to the city of Larnaca or other destinations
You leave LCA airport after the roundabout on the well developed A3 and reach the city centre of Larnaca by turning right after about 2 km onto the B5. Alternatively, turn right at the roundabout after the airport exit onto the B4, drive along a large lake and then onto the B3, which runs directly along the beach in Larnaca.
Also well signposted are the roads from the International Airport LCA Cyprus to Limassol (just under 70 km) and to Nicosia (52 km). Ideally, your car rental company can inform you about other destinations in Cyprus. The island offers beautiful sandy beaches and at the same time rustic mountain landscapes with hidden sights. Your rental car will take you anywhere comfortably, but there are some special features to be observed in road traffic.
Rental Car Cyprus: traffic rules
At the International Airport Larnaca Cyprus you have to turn left at the pick-up point of your car rental company and overtake on the right. The left-hand traffic is a bit unfamiliar at first and requires your full attention. The good intention to rent a car cheaply can become considerably more expensive by following traffic offences, because the police are everywhere very active.
Which traffic violations should be avoided at all costs?
Exceeding the speed limit of 50 km/h in villages, 80 km/h on country roads and 100 km/h on motorways
Ignoring the alcohol limit at 0.5
Do not wear seat belts on the front seats
Do not have a child seat in the car for children under 12 years old
Park at yellow marked kerbstones or use the mobile phone without hands-free system
As your rental car is marked with a red number plate, you will be able to meet car drivers everywhere on the road who are considerate and helpful. Driving on the island is therefore a stress-free pleasure.