By rental car through Innsbruck and the surroundings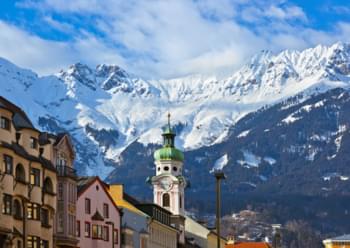 Discovering Innsbruck
Take a rental car and get to know Innsbruck and the breathtaking Tyrolean mountains in comfort. Innsbruck, the capital of Tyrol, is one of the most important cities in Austria and can be explored on your own with a rental car. Already in the Middle Ages Innsbruck was an important junction between southern European Italy and the German principalities and still stands out for its special location in the center of Europe. Innsbruck has a lot to offer for tourists and the surrounding alpine landscape is perfect for discovery tours with a rental car. Find the cheapest rental car online in the price comparison and secure it by online booking.
Summer, sun & fun in Innsbruck
The summer in Innsbruck will be varied, because there is something for every taste! If you like hiking, you can enjoy the mountains and the wonderful summer sun directly from Innsbruck. Another highlight of the summer in Innsbruck are the numerous events and festivals. Dance under the summer sun to the best beats and most popular summer hits or relax with a beer with friends at the Inn. Innsbruck has a lot to offer, especially in summer. Look forward to an unforgettable time with lots of sun and fun in Innsbruck.
Innsbruck and the Tyrolean Alps
Architecturally and historically Innsbruck alone is worth a visit. Numerous buildings from the time of Emperor Maximilian I. shape the historic cityscape. In Innsbruck's old town you can visit the world-famous Golden Roof, the Hofburg and church, the cathedral of St. Jacob and the Helblinghaus. Not only lovers of historical buildings and culture will find a wide range of possibilities in Innsbruck - the city is also the perfect starting point for excursions and longer tours into the Tyrolean Alps. Visitors who enjoy the impressive mountain landscape and want to do sports will find a very wide range of activities in Innsbruck. With the cities of Salzburg and Kempten only a short distance away, Innsbruck is also the perfect starting point for a trip by rental car to other destinations.
Tips for booking your rental car in Innsbruck
You can pick up your rental car either in Innsbruck city center or at the nearby Airport Innsbruck-Kranebitten INN. A research in advance is worthwhile. Compare different offers and car rentals regarding available models, conditions and special equipment and reserve your rental car before you arrive to get started immediately in Innsbruck. You will find the largest selection of available rental cars and agencies at Innsbruck Airport. If you want to rent a car in an uncomplicated way, this is the best option.
Car rentals at Innsbruck Airport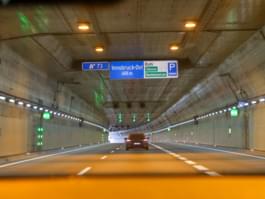 Car rental from Innsbruck Airport
If you arrive at the airport Innsbruck-Kranebitten (INN), you can pick up your rental car here. The airport Innsbruck-Kranebitten is located about 5 km from the center of Innsbruck. We recommend a direct comparison of rental cars - so you get an overview and can easily decide and reserve your rental car model in advance. So nothing stands in the way of your discovery tour through Innsbruck and Tyrol!
Speed limits in Austria and Innsbruck
What traffic rules do I have to follow?
Alcohol on the wheel is not welcome in Austria either. The blood alcohol limit is 0.5 per mille - it is best to simply stay sober, so you are on the safe side! Think about winter tires when you are on the road in Austria during the cold season - winter tires are mandatory between November 1 and April 15.
Do I have to pay tolls in Austria?
In Austria there is a general toll obligation, so you should make sure you have a valid vignette. You can buy these, for example, at customs stations, gas stations, automobile clubs or at the post office. Ten days currently cost 7.90 euros, two months 23 euros, and the annual vignette costs 76 euros. The vignette is affixed to the inside of the windshield or to a front side window and should be clearly visible. Anyone who is on the road without a valid vignette will be asked to pay and will face unpleasant penalties. For some tunnels and roads there are also special fees which you will be advised of if necessary.
Innsbruck - experience culture with a rental car
Innsbruck has a large number of theaters, museums and cultural sites. With the Innsbruck Card, visitors have free admission to all museums and sights in the region and can also use the Sightseer Bus and IVB lines. The practical card also includes numerous price reductions for various activities and participation in a free city walk with a city guide. If you feel like going shopping afterwards, Innsbruck offers a wide range of stores for every taste as well as numerous inviting cafés and restaurants to take a break and relax.
Important sights in Innsbruck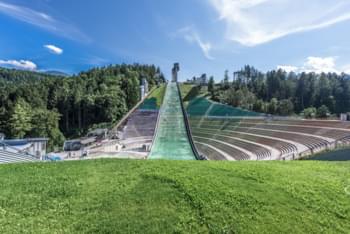 Bergisel ski-jumping stadium, Innsbruck
If you are traveling in Innsbruck and rent a car, you should not miss the following destinations:
The Golden Roof
The Hofburg
The old and new country house
The Helbing House
The historical old town
The Hungerburgbahn
Ambras Castle
The cyclorama
The Bergisel ski-jumping stadium with an enchanting view
Discover the Tyrolean Alps with a rental car
With your rental car you can travel comfortably and quickly in Innsbruck and discover the Tyrolean mountains on your own. Enjoy the fresh sound of the mountain landscape as well as picturesque views and travel according to your own wishes - your rental car will take you safely and quickly from A to B.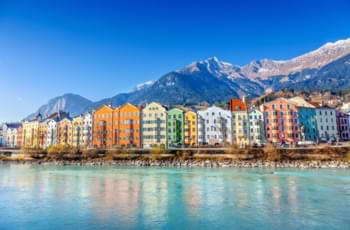 Colourful houses in Innsbruck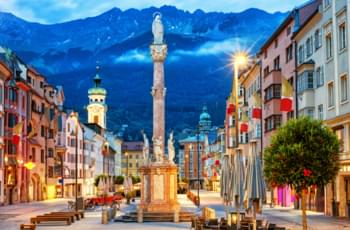 Evening in Innsbruck