Car rental Grantley Adams International Airport (BGI): Barbados awaits you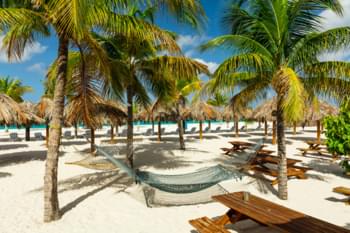 Total relaxation in Barbados
Book the perfect rental car at Grantley Adams International Airport BGI and look forward to a wonderful holiday in Barbados. If you pick up your rental car at Grantley Adams International Airport immediately after your arrival in Barbados, you will be mobile and independent from the start. You will find the right rental car for Barbados on Driveboo.com. Here you can compare car rental prices and book the best deal. Look forward to fascinating nature and breathtaking beaches in Barbados. With a rental car you have the possibility to explore all your favorite places on Barbados individually. Driveboo wishes you a safe and pleasant journey and lots of fun in Barbados.
Vehicle models and other options for your rental car at BGI
CAR RENTAL MODEL
For a perfect trip to Barbados you need the right rental car. On our portal you can choose between a small car, a compact or middle class, an SUV, a minivan as well as a convertible. Depending on your preferences, one model is better suited to your plans than the other. For example, if you are travelling with the whole family or have a lot of luggage with you, a minivan is suitable. Here you will find enough space and storage for everything. On the other hand, if you're in Barbados with friends and want to feel the wind in your hair with the roof down, the best choice is a convertible.
INCLUDED SERVICES
Fair tank regulation means full/full
On Driveboo.com you have the possibility to select inclusive services via the filters. You can choose from the following options:
All kilometers free
Fair tank regulation (full/full)
Immediately available
Additional driver included
VEHICLE FEATURES
You can choose not only the vehicle model, but also other equipment features. As it can get very hot on Barbados, an air conditioning system should not be missing in the rental car. In addition, you can also decide on automatic transmission. As you can see, Grantley Adams International Airport has something for everyone when it comes to finding the right rental car for your holiday in Barbados.
If you take out fully comprehensive insurance without excess, you will not incur any further costs even in the event of damage.
Things to know about Grantley Adams International Airport
Opening: 1939
IATA code: BGI
Location: Seawell, Christchurch, 13 km east of Bridgetown
Passenger volume: approx. 2 million annually
What should I look out for when renting a car in Barbados?
Discovering Barbados
If you are travelling in Barbados by rental car, you should always follow the traffic rules. In Barbados, on the one hand, left-hand traffic applies. If you are not used to it, you can practice on a somewhat unused road first. The speed limit in Barbados is 40 km/h in the city and 60 km/h outside the city. If you have an accident with your rental car, please contact the appropriate facilities immediately. The police, ambulance and fire brigade can be reached at the following emergency numbers:
By rental car to the sights of Barbados
Bottom Bay
If you take a rental car to Bottom Bay in the south of the island, a stunning scenery awaits you. Look forward to a bay framed by rocks with palm trees, turquoise blue water and hardly any visitors. Feel the Caribbean sand between your toes and the fresh sea breeze in your hair. Here you can completely relax and come to rest.
Harrison's Cave
Fancy a little adventure? Then leave your rental car behind and take a tour of Harrison's Cave. Here you have to crawl, swim and squeeze through the narrow alleys of the cave. This is not for the faint of heart, but definitely worth a visit.
More Highlights
Parliament in Bridgetown
George Washington House
Carlisle Bay
Animal Flower Cave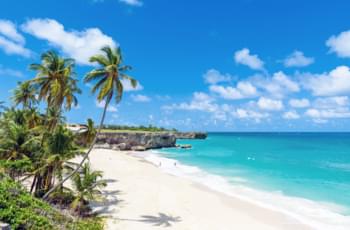 Bottom Bay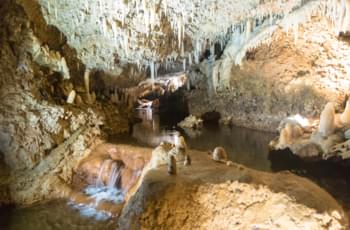 Harrison's Cave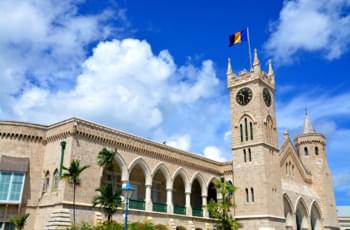 Parliament
Culinary highlights in Barbados
The cuisine of Barbados is as varied as the culture of the island. During a holiday on Barbados you should not miss the culinary highlights. Fish is particularly popular here. No wonder, because the sea is right on your doorstep. Therefore, flying fish can be called the national dish, which is often steamed or grilled with the typical bayan spices from Barbados. Conch should also be on your list of specialities. This is a shellfish that resembles a sea snail. It is either eaten raw in salads, grilled, braised, as a soup or even fried. You can look forward to a varied cuisine in Barbados.