Rental car Glasgow: Flexible through the Scottish port city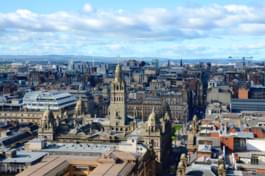 View over Glasgow
Fancy a rental car trip through the Scottish port city of Glasgow? Then let's get going! Book your dream car online in advance on Driveboo.com and explore Glasgow in Scotland on your own. Drive with the rental car to the places worth seeing in and around Glasgow or leave the rental car and explore the city on foot. Glasgow awaits you with great sights and cultural highlights. The cities in the surrounding area can also be reached quickly with a rental car. Whatever your perfect trip to Glasgow looks like, with a rental car you are always flexible and independent.
Can I pick up my rental car at the airport in Glasgow?
There are two airports in Glasgow where you can collect your rental car. It is best to book your desired vehicle in advance. In that way you can pick up your rental car directly after your arrival at the airport in Glasgow and are not dependent on public transport. If you want to relax after the flight, you can of course take a taxi to your hotel first and pick up the rental car later in the centre of Glasgow at one of the car rental companies.
The following airports are located in Glasgow:
Rental car models: You can book these rental cars in Glasgow
VEHICLE CATEGORY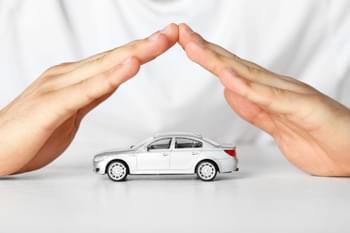 The perfect rental car for Glasgow
Depending on what your plans for Glasgow look like, different rental car models are suitable. Do you mainly travel around town and need an agile rental car? Then a small car would be something for you. It is guaranteed to fit in even the smallest parking space. If you are coming to Glasgow on a business trip, a middle class model or SUV is the best option. This is guaranteed to convince your business partners. Who travels with the whole family should bet on a minivan. This offers enough space for all travelers and the luggage.
INSURANCE BENEFIT
Nobody wants to have stress on holiday and certainly not because of an accident. Since accidents can occur despite careful driving, we recommend a fully comprehensive insurance without excess. In this way, even in the event of damage, you will not incur any further costs and you can enjoy your journey with the rental car through Glasgow stress-free.
If you want to play it safe, you can also take out a glass and tyre insurance as well as a passenger accident insurance.
VEHICLE EQUIPMENT
You can select the following features in the search screen when making a booking:
Air conditioning
4-5 doors
Automatic
Manual switching
Diesel
Electric drive
With the rental car to the highlights in Glasgow
Discover the highlights in and around Glasgow on your own. Drive with the rental car to your desired places and stay there according to desire and mood. You should not miss the following sights in Glasgow: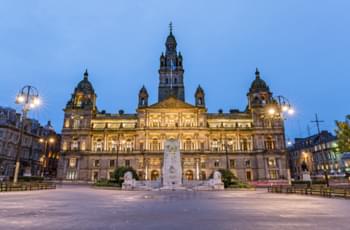 George Square in Glasgow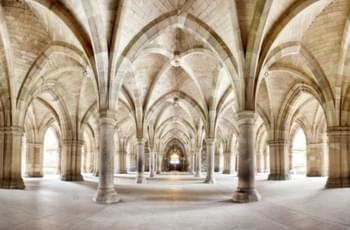 Glasgow University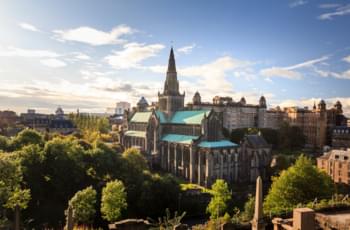 Glasgow Cathedral
George Square
Start your discovery tour of Glasgow at George Square. It's best to leave the rental car and set off on foot. This central square is also home to many events that regularly attract young and old. Stroll across the square, enjoy the delicacies in one of the cafes or restaurants and watch the hustle and bustle. The following highlights await you at George Square:
Statue of Robert Burns
Sir Walter Scott Statue
James Watt Statue
Glasgow University
Make sure you take a look at the walls of Glasgow University. The university is a real highlight, especially for Harry Potter fans, as it is reminiscent of Hogwarts Magic School. If you like, you can also join one of the student guided tours and learn more about Glasgow University.
More Highlights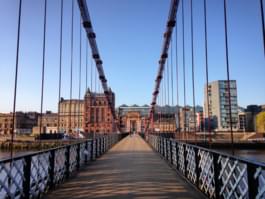 Discovering Glasgow
Glasgow Cathedral
Kelvingrove Art Gallery
Riverside Museum
Gallery of Modern Art
Glasgow Science Centre
Reach other places from Glasgow by rental car
If you take a rental car in Glasgow, you can explore the area flexibly. Take a rental car out into nature or explore the neighbouring towns of Glasgow. The following places are worth a visit: