Rent a car at Funchal Airport in Madeira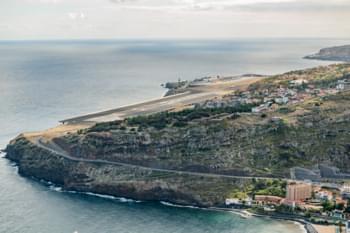 View of Funchal Airport
A rental car from Funchal Airport (FNC) is ideal for exploring the Atlantic island of Madeira on your own. Madeira attracts with a fascinating nature and extraordinary landscapes. The best way to travel on Madeira is by rental car. You can pick it up directly after your arrival at Funchal Airport and are therefore flexible and independent at all times. You can find the car rental companies based at the airport easily and conveniently with Driveboo.com and book your desired rental car online. Experience the island independently and flexibly with a rental car from Funchal Airport.
Experience summer in Funchal on Madeira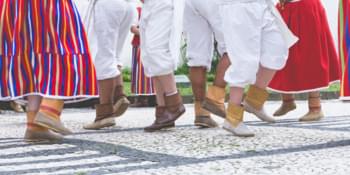 Traditional dance in Madeira
Look forward to the perfect summer in Funchal, Madeira. Pleasant summery temperatures are waiting for you. With a rental car you can drive flexibly to your individual desired destinations and make the summer your highlight. Take long walks through the enchanting landscapes of Madeira or relax on the beach. If you take a convertible as a rental car, you can enjoy the warm temperatures even better. Especially in July and August some events and festivals in and around Funchal await you. Do not miss the following highlights:
Madeira Wine Rally
Black Scabbard Fish Festival
Monte Festival
The right car rental at FNC Airport
The car rental companies at the airport carry the latest models of cars to make your trip as pleasant as possible. Recognized companies, local and international, offer a safe and reliable driving experience. Choose from a wide range of vehicles. You will find your reserved rental car right outside the terminal. With a rental car you can travel independently and flexibly on Madeira Island.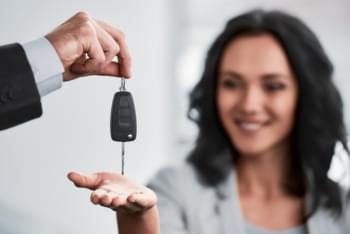 Car rental at Funchal Airport
At Funchal Airport in Madeira, you will find the following car rental companies directly after your arrival:
Avis
Europcar
Enterprise
Hertz
Sixt
Information about Madeira Funchal Airport
Madeira FNC Airport, also called Funchal Airport, is the international airport of the Atlantic island of Madeira, which belongs to Portugal. It is located in the east of the island, directly at the city of Santa Cruz and 13 km northeast of the capital Funchal, after which it is sometimes colloquially named. It mainly handles flights to European metropolitan regions due to the importance of Madeira as a leisure destination and is crucial for air freight to and from the Madeira archipelago. It is the fourth largest airport in Portugal.
THESE AIRLINES FLY TO FUNCHAL AIRPORT
The transport links of Funchal Airport
THE AIRPORT SHUTTLE BUS
The Aerobus runs from FCN Airport to Formosa Beach and stops at numerous hotels along the way. The journey time to the final stop Formosa Beach is approximately 45 minutes. From there you can also continue to Funchal in 20 minutes.
The City Bus
There are daily bus connections from the airport to many different destinations in Madeira. You can find the timetable at the airport and online. As a guide: a trip from the airport to Funchal costs €3.35.
Shopping and eating at Madeira Airport
You will find cafés, international and Portuguese cuisine, an ice cream parlor, a tapas bar and a Pizza Hut at the airport. At the airport you can buy gifts, fashion and accessories, sports and soccer equipment, travel goods and delicacies.
Explore Madeira sights by rental car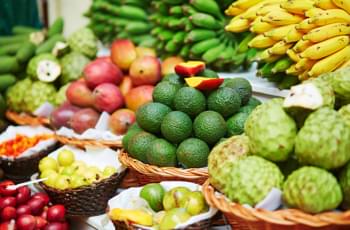 Market hall in Funchal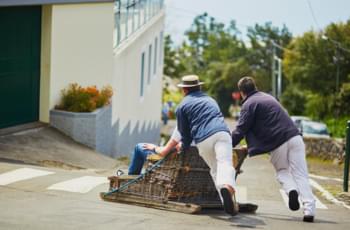 Basket ride in Funchal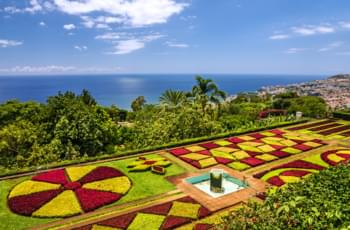 Botanical Garden Madeira
Visit the market hall in Funchal and enjoy fresh fruit, vegetables and many other products.
In the old town "Santa Maria" in the eastern part of the city, there are many old buildings in the magnificent architectural style "Emanuelism", which was typical for Portugal at that time.
Don't miss the chance to ride down the narrow streets of Funchal with a basket sledge. This is fun for the whole family!
A visit to the Madeira Botanical Garden is also definitely recommended. Here you can relax and enjoy a picnic.
If you want to rent a car to go on your own, you should not miss the aquapark in Santa Cruz.
The sea swimming pool in Porto Moniz on the other end of the island can be reached from FNC in less than an hour by rental car.
Another tourist attraction is the lava cave "Grutas e Centro do Vulcanismo" in Sao Vicente. It can be reached from the airport in 45 minutes by rental car from the car rental company.
Explore Portugal's mainland by rental car
After your trip to Madeira, haven't you had enough of Portugal? Then your next destination should be the mainland of Portugal. You can find car rental agencies in almost every major city and airport with cheap offers for a rental car. Take a road trip along the coast and let yourself be carried away by the Portuguese joie de vivre. Your route for Portugal could look like this: Porto - Lisbon - Lagos - Faro.
Porto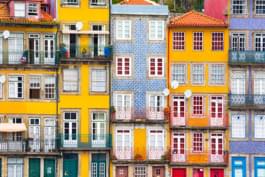 House facades in Porto
If you travel by plane from Funchal Airport in Madeira to Portugal, you can start your road trip in Porto. Porto is the second largest city in Portugal and is often referred to as the "Capital of the North". It is one of the oldest European cities and delights its visitors with a variety of art and culture. If you rent a car, be sure to visit the Clerigos Tower, the Palacio da Bolsa and the Zona Ribeirinha.
Lisbon
The next destination on your road trip is Lisbon. Lisbon is the capital of Portugal and attracts countless visitors every year. And no wonder: Lisbon awaits you with a multitude of fantastic sights. The Cristo Rei statue, the Torre de Belém and the Mosteiro dos Jerónimos monastery are just a few of them, which you can easily reach with a rental car.
Lagos & Faro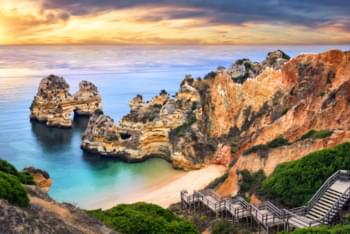 Lagos
Your trip continues via Lagos to Faro. In Lagos, dreamlike beach sections in the middle of bizarre rock formations as well as a fascinating old town are waiting for you. Starting from Lagos, you can go on a discovery trip with your rental car along the beautiful Algarve coast and explore the untouched and almost deserted bays. Finally you will reach Faro, "the gateway to the Algarve". Stroll through the streets and alleys and enjoy some Portuguese delicacies.