Rental car: Being flexible in Lagos and around the Algarve
Dreamlike beach sections amidst bizarre rock formations, a fascinating old town and a gigantic fortress are some of the things you shouldn`t miss when on a road trip by rental car in Lagos, Portugal. On Driveboo you can compare offers of regional and supraregional providers in order to book a suitable rental car. Collect your rental car in Lagos and discover the beautiful Algarve coast. Explore the untouched and almost deserted bays of the area in your rental car. That way you will be flexible and independent. Have a great time with your rental car in Lagos!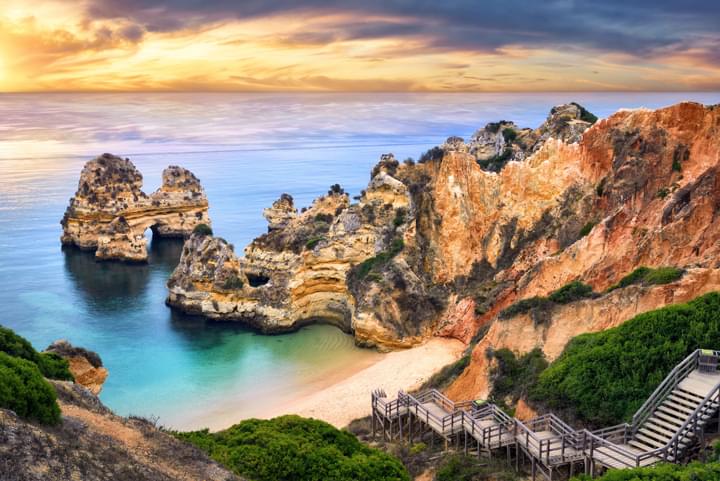 Camilo Beach, Lagos
Pick-up points in Lagos or Faro Airport
Travel around Faro in an open jeep and enjoy an unforgettable driving experience. Book an air-conditioned small car in order to always finding a parking space. Compare the rental car offers in and around Lagos on Driveboo and find the best option for your trip. If you arrive at Faro Airport (FAO) you can collect your rental car directly after your arrival. That way you won`t depend on public transport. At the airport you will even find a larger selection of rental cars and special offers.
Booking an additional driver for your rental car in Lagos
If you want to take turns in driving the rental car, choose the option additional driver. That way both you and your companion may enjoy Lagos and its beautiful surrounding while the other one is driving. Pay attention to the rental car offers. Some already include an additional driver in the rental price, others don`t. If that`s the case, just register an additional driver. The additional fee isn`t too expensive. On Driveboo you can find an offer that will meet your wishes best.
Being flexible with a rental car all year round
Portugal lovers agree that Lagos is one of the most beautiful cities in the region Algarve. Angled alleys, shady market squares, a sophisticated marina and above all the dreamlike coastline attract numerous tourists from all over the world every summer. The original hinterland with its untouched fauna and flora is a favorite destination especially of nature lovers. They often travel around in a rented car and stay in the Algarve for several weeks. It would be a pity if spending your time in one place only. You would miss the natural beauties of the surroundings. With a rental car you are flexible and able to get to know the country and people in and around Lagos on your own whenever you want to.
On the road with a rental car: In and around Lagos
Start your holidays with a refreshing jump into the Atlantic Ocean. Stroll through the market hall and enjoy a cup of coffee under a shady tree. Visit the fortress, the marina or the old town and drive to the lighthouse in your rental car. Visit one of the excellent restaurants of Lagos in the evening and let yourself be infected by the serenity of the people in Lagos. With a rental car you`ll always be flexible and able to spend your holidays according to your wishes.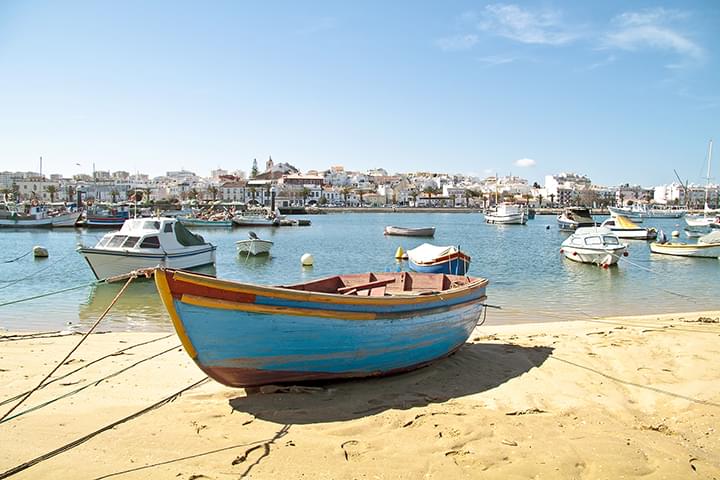 port of Lagos
Don`t miss these highlights in Lagos with your rental car
Ponta da Bandeira fortress
Lighthouse of Ponta da Piedade
Old town of Lagos
Church Igreja de Santo Antonio
The most beautiful excursion destinations around Lagos
Hardly any other landscape in Europe offers such bizarre rock formations, rugged cliffs and dreamlike bays as the Algarve. Reason enough to go on an exploration and photo tour along the coast in your rental car. The variety of small churches in the remote places are definitely worth a detour. If, after all the scenic beauty, you feel a bit like a thrill, you can make your way to the winding race track in Portimao and, if you're lucky, watch a young racer do his laps.