Car Rental at Dubai Airport: Discover the Emirates
Flugzeug über Dubai
With more than 2.3 million inhabitants, Dubai is the largest metropolis in the United Arab Emirates and can be easily explored by rental car. Most of the inhabitants of the Emirate of Dubai live in the city centre and it is here that most of the social, cultural and political life takes place. Dubai is attracting an increasing number of tourists from all over the world with its sightseeing attractions, and by 2013 the number of arriving travellers had reached 40 million. The desert metropolis offers a unique blend of highlights, where oriental traditions meet spectacular architecture in perfect sunshine. In Dubai, the tourist attractions are scattered all over the city, so ideally, as a holidaymaker, you should use a rental car to get to the hotel and highlights.
Important information about Dubai DXB Airport
Dubai International Airport is located about five kilometres southeast of the city centre. It is one of the world's largest airports - 80 million passengers per year. Dubai's airport, which began operating in 1960, reaches the limits of its capacity every few years, and there are always extensive expansions to follow. Its future is strongly linked to the rise of Dubai as a business metropolis, and the number of flights and air travelers is also increasing.
Dubai's airport is very extensive, the terminals are difficult to reach on foot because of the distances. You can travel back and forth between the terminals with the airport shuttle, the transfers are free of charge and take place every 20 minutes. Terminals 1 and 3 are also connected by subway. Dubai International Airport's IATA code is DXB, operated by the Department of Civil Aviation of the United Arab Emirates.
Winter in Dubai: endless sunny days
It is winter and you dream of sun, beach and sea? We have a great idea for this dilemma: winter in Dubai! With the warm to hot temperatures in Dubai, you can easily stand the winter months. The best thing to do is to rent a car in Dubai. This way you are always mobile and independent and can discover Dubai on your own. In winter, it is not quite as hot in Dubai as in midsummer. For this reason, you can not only relax on the beach in winter, but also do a lot of activities and explore the highlights of the city. What are you waiting for? Book a winter holiday in Dubai, pack your bags, book a rental car and off you go on your trip into the sun.
With the rental car to the highlights in Dubai
In the table below you will find an overview of sights in Dubai and their distance by rental car from Dubai Airport.
Cheap Car Rental at Dubai Airport - DXB
As an independent comparison portal for car rental providers, we at Driveboo.com work with every car rental company at Dubai International Airport. You can compare all the car rental companies with us and book a cheap car at the preferred company. On our website you can rent your vehicle not only at a low price, but also with all the necessary accessories (navi and child seats) as well as the preferred insurance package.
A reservation made through us means for you to arrive relaxed at the international airport and to pick up your rental car after a few formalities at the car rental company or at their pick-up station. Afterwards you can relax in the hotel, which has already been booked.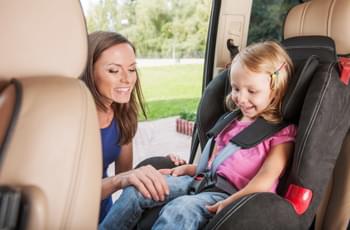 Bookable accessory: child seats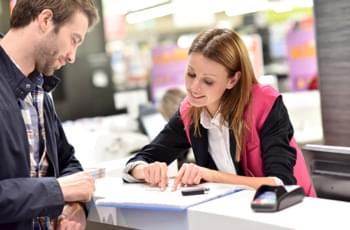 Booking a rental car at Dubai Airport
Which car rental model can I rent at Dubai Airport?
At Dubai Airport you can choose between these car rental models:
SUV
Small car
Convertible
Sports car
Minivan
Car Rental suppliers and pick-up stations at Dubai Airport
You will find the counters of every car rental company in all the terminals of Dubai International Airport, so it doesn't matter which terminal you arrive at. Your rental car company or your car rental company is present either in Terminal 1 (international flights of different airlines except Emirates) or in Terminal 3 (travel with Emirates or Quantas).
Your car rental company is already waiting for you at Dubai DXB Airport with the completed rental contract. All you have to do is check if you could rent the car with extras and insurance as cheaply as you promised. According to our experience, most of the time everything is fine, now only your signature is missing before the inspection at the pick-up station. Every car rental company has a pick-up station at Dubai Airport in one of the car parks of the corresponding terminal. Car rental companies with counters in each terminal have multiple pick-up points. Ask your car rental company about the pick-up station and use the free shuttle bus if necessary.
What do I have to consider with my rental car in Dubai?
Take a look at the rental car at the pick-up station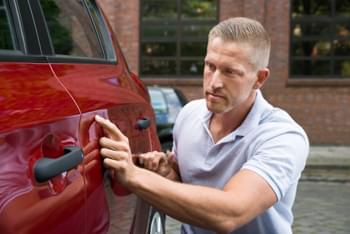 Take a close look at the rental car
Irrespective of how cheaply you could rent your car from us, you must critically examine the rental car at the pick-up point. Please check the functionality of the lights and brakes, all other controls should also undergo a short test. Checking the bodywork is just as important. If you discover old dents or scratches, have them noted in a list of complaints. If you generously overlook such deficiencies, the car rental company can hold you responsible as the alleged perpetrator when you return the car. In case of technical defects resulting in reduced traffic safety, you should immediately request another car from your car rental company.
Which fuel option to choose?
In any case, we recommend that you choose the tank control "full-full". You will receive the rental car with a full tank and will drop it off the same. This means that you only pay for the fuel you actually use and do not have to bear any extra costs for tank services. The nearest petrol station is only 1 km away from the airport (DXB).
Things to know concerning traffic in Dubai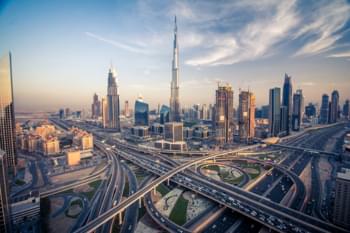 Motorway Dubai
From the pick-up station of your car rental company you drive to the exit and arrive on the six-lane city highway, which takes you to the hotel in a few minutes.
You need an international driver's license to rent and you have to get used to the fast driving style of the locals during the first few kilometres.
Although the streets of Dubai are very well developed, please keep to the speed limits, as the police control foreigners in particular.
In the Emirates people drive to the right and overhaul on the left, there are many free parking spaces, but also zones where unauthorised parking can bring the tow truck onto the road.
Avoid driving during the rush hours and be absolutely sure to avoid driving during the previous alcohol intake, as the alcohol limit in Dubai is zero.