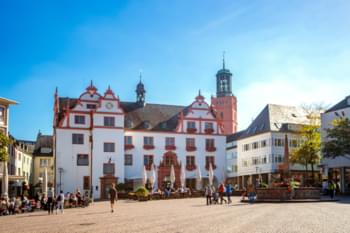 Book a cheap rental car in Darmstadt
A cheap rental car is available from as little as 254 $ per week. We compare the prices of all reputable car rental companies and show you the best offer, so you have the right rental car for every occasion at the best conditions.
Book a car for your business appointment
If you are traveling to Darmstadt for a business appointment, you can rent a station wagon or an SUV from 42 $ per day. This way you will surely impress your business partners.
Book a family car

A family car is already available for 317 $ per week. Here, everyone will find enough space and you can look forward to an unforgettable trip.
Book a convertible or sports car

Moreover, you can also rent a sports car or a convertible for 335 $ per week if you want to spend an unforgettable city trip with your friends or partner.

Book a rental car for one day
If you only need a rental car for one day, you can rent it for as low as 37 $ per day.