Exploring Mannheim and its surroundings by rental car
The university city of Mannheim is the third-largest city in Baden-Württemberg. With 2.35 million inhabitants, Mannheim is the economic and cultural centre of the European metropolitan region Rhine-Neckar. With a cheap rental car, you are always flexible on the road in Mannheim. You can explore the city square with a rental car just as quickly and easily as the entire Rhine-Neckar metropolitan region around the border triangle of Baden-Württemberg. Take advantage of the online price comparison and find the right offer for you from the local car rental companies. Use the search mask to select the best offer for the desired collection location. If you would like to travel by plane and want to pick up your rental car directly at the airport you should directly type in the desired airport in the search form on our website. In addition to Mannheim City Airport (MHG), you can also pick up your rental car at the nearest major Frankfurt am Main Airport (FRA). Moreover, from the Airport Stuttgart, you can reach Mannheim in two hours by car. Simply select the desired pick-up station when making your booking.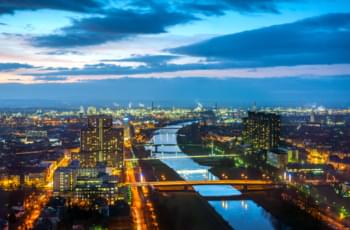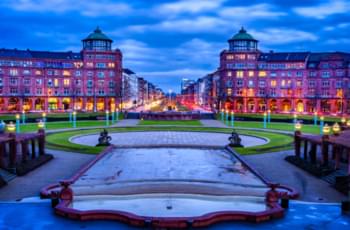 Travelling by car in the Rhine-Neckar Metropolitan Region
The metropolitan region offers you important economic hubs as well as popular touristic destinations. From the metropolis of Mannheim with its metropolitan charm to nearby Ludwigshafen and Heidelberg as a beautiful pearl on the Neckar River, you can rent a car anywhere, anytime, quickly and comfortably. Design your excursion destinations with a flexible means of transport according to your needs. Go to Mannheim for shopping or enjoy a stroll through the city centre. Visit Heidelberg Castle, the beautiful old town or take advantage of one of the rich cultural offerings. Mannheim is located at the northern end of the federal state of Baden-Württemberg, but also Hesse and Rhineland-Palatinate can be reached quickly by rental car.
Driving with a rental car in Baden-Württemberg
The city of Mannheim is one of the largest metropolises in the state of Baden-Württemberg. Not every part of the federal state has a good infrastructure for public transport. With a rental car, you are independent and particularly flexible on the road. Also, a rental car offers you the possibility to store your luggage or shopping comfortably in the car during transport. You don't have to pay any attention to public transport timetables - and you can easily reach every town in the federal state of Baden-Württemberg without having to walk long distances, even in rural areas.
Rental car Mannheim: Getting to airports quickly
Even if you have booked a flight or are only in Mannheim and the Rhine-Neckar metropolitan region for a short period, a rental car can still be worthwhile. It is available to you at the appropriate time. Equipped with a car, you can make optimal use of your time and avoid unnecessary waiting times. You can also safely and promptly reach a flight in Frankfurt am Main, Baden-Baden Airport or Mannheim's small city airport. Many of our customers use our offers specifically in connection with flights and firmly booked time slots. If you need to reach your flight and don't want to take any risks, you can use a rental car. We serve both private individuals and larger companies. Of course, you can also book several rental cars at a reasonable price and reliably through us.
Take advantage of the Driveboo rental car price comparison and benefit from our price-saving offers. In this way, you will be safe and inexpensive on the road in the city of Mannheim and throughout the state of Baden-Württemberg.
Experience Mannheim's cultural offers with a rental car
Mannheim is many cultural highlights to offer. Visit the various museums with a rental car or plan an evening at the Mannheim National Theatre. The Mannheim Kunsthalle is famous and the stage of the National Theatre also enjoys an excellent reputation. You can also reach the nearby Schwetzingen with its famous castle and baroque garden. Renowned performances of baroque operas take place here at regular intervals. Premieres will also be shown, attracting visitors far beyond the region. From Mannheim, you can reach the beautiful town of Schwetzingen quickly by rental car. A rental car allows you to be particularly time efficient on the road. In this way, you can easily combine several excursion destinations and enjoy a pleasant time in Mannheim.
Rent a car in Mannheim and return it somewhere else
You can rent in Mannheim a car for business as well as private purposes. This saves you expensive taxi rides and allows you to decide spontaneously where you want to go to. If you would like to take a tour of Baden-Württemberg, the rental car is also a good choice. The special thing about the rental car is that you don't have to bring the car back to the starting point in every case. When you book your rental car, you can choose where you want to pick it up and where you want to drop it off. For example, start in Mannheim and drive south to Heidelberg, Heilbronn or Stuttgart.
What to consider when returning a rental car: When returning your rental car at the local car hire company, simply follow the contractual rules laid down in the rental conditions. No matter whether you want to hand in your rental car at the airport or one of the stations in and around Mannheim, make sure that you adhere to the drop-off point, return time, return date and return station - as listed in your offer. Simply start a price comparison by yourself and convince yourself of our favourable offers. With your rental car, you are flexible and independent of public transport. And if you don't need a rental car at short notice - no problem - just use the free cancellation up to 24 hours before rental.
Explore Mannheim in the beautiful Sommer month by rental car
Mannheim is especially beautiful in the Sommer month, where you can explore the different destinations of Mannheim and its surroundings with your rental car. It gives you the freedom of travelling independently and flexible. You don't have to rely on public transport and can arrange your stay by yourself.
In the list below, you will find some beautiful destinations that you can easily explore with your rental car.