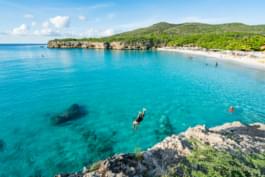 Discover the Caribbean with a rental car
With a rental car you will drive to the most beautiful beaches of Curação .
A rental car at Curação Airport costs on average 40 $ per day. For a week you can get the car rental for 277 $. Currently you can get the cheapest Curação Airport car hire at Sunny Cars.
Small cars are particularly popular on the Caribbean island of Curação. With a small car you will always travel flexibly and comfortably for as little as 40 $ per week.
If you need more space to travel with the whole family, you can also book an SUV for already 415 $ per week.