Car rentals in Costa Rica: Most popular car rental destinations
Pura Vida in Costa Rica - On the road with a rental car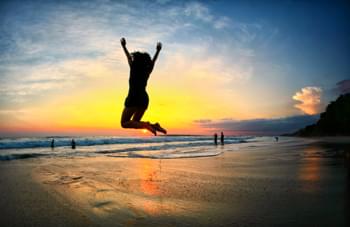 Sunset at the beach of Costa Rica
Costa Rica is considered to be the happiest country in the world and is best discovered by rental car. Pura vida is an expression of happiness, joy and pleasure. If you feel like experiencing the philosophy of life of the Costa Ricans up close, then rent a car and explore the country on your own. Go on a jungle hike in one of the national parks, relax on the beach or dance to reggae beats late into the night. No matter how you imagine your perfect holiday in Costa Rica, with a rental car you will always be flexible and independent. Book your dream car on Driveboo.com and start your trip through Costa Rica!
Car rental Costa Rica: Where can I get my rental car?
In Costa Rica you can pick up your desired car at one of these locations:
If you want to be flexible and independent of public transport from the first moment you arrive, you can pick up the car of your choice directly after your arrival at a car rental company at one of the following airports in Costa Rica:
Sustainable tourism in Costa Rica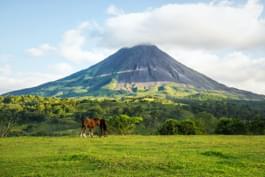 Arenal Volcano
Costa Rica is committed to sustainable ecotourism in order to preserve its unique natural landscapes. Drive through Costa Rica with a rental car and experience nature in its most beautiful untouched form.
For the adventurous, Costa Rica offers rental car tours to the partially still active volcanoes in the mountain ranges of the Cordilleras. The most popular destinations for an excursion by rental car are the Poás, Arenal and Irazú volcanoes.
Driveboo tip:
The Costa Ricans attach great importance to the human connection with nature. If you are travelling in Costa Rica with your rental car, you will almost exclusively find organic products, some of which are called "mood-food" because they are considered healing and detoxifying.
Discover more highlights in Costa Rica by rental car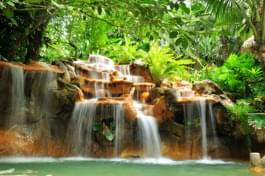 Hot Springs in Costa Rica
Manuel Antonio National Park
Tortuguero National Park
Corcovado National Park
Rincón de la Vieja
Bahía Drake
La Fortuna Waterfall
Playas del Coco
La Paz Waterfall
Sights and natural spectacles you can explore in Costa Rica with a rental car
Costa Rica is known for its breathtaking scenery and mighty volcanoes. Many of the volcanoes are still active. Some of the most popular, beautiful and spectacular volcanoes are listed below:
Vulkan Arenal

Vulkan Irazú

Vulkan Poás
For example, take a trip with your rental car to the Poas volcano. The volcano is 2704 meters high and its crater collects turquoise rainwater. A road allows you to drive your rental car almost to the edge of the crater, but access to that road is often closed for tourists.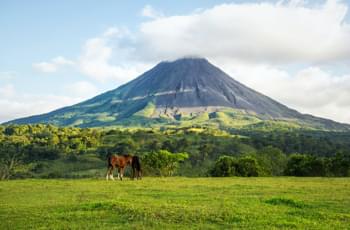 Arenal Vulkan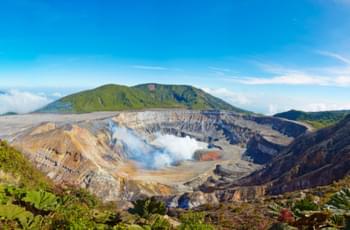 Poás Vulkan
Take your rental car to the Manuel Antonio Nationalpark
Drive your rental car from San José south to the Manuel Antonio National Park. There are two routes you can choose for this trip. The faster route has more kilometers (171 km), but takes only 2 hours and 35 minutes. First it leads to the west and then down to the south. In addition, the route partly runs along the coast. One thinks there are only advantages on this route, so why imagine another one at all? Therefore:
This should be noted:
Tolls are charged on the route. These vary between 360 and 750 CRC.
The second route goes directly from San José to the south. It is only 111 kilometres long, but takes at least 3 hours and 36 minutes. Often there can be delays due to increased traffic on this route. Though there are no tolls charged on this route.
When you arrive at the park there are some things to consider. For example:
You are not allowed to bring alcoholic beverages into the park.
You are only allowed to take prepared fruit with you and sandwiches that do not produce any waste or fruit residues such as apple slugs could not affect the environment.
Water and soda are allowed in the park.
The park is closed for visitors on Mondays.
Opening hours are from 7:00-16:00 o'clock.
Admission costs about 16 Euro per person.

Sundown at Manuel Antonio Nationalpark
The park was declared a National Park in 1972, because the Costa Ricans were looking for a way to protect and conserve their nature for future generations. It is one of the most beautiful and most bio-diverse parks in the world. Although it is one of the smallest natural parks in Costa Rica, its beauty and diversity is priceless. Visitors to the park can walk on trails through rainforest landscapes, relax on Costa Rica's most beautiful beaches, marvel at coral reefs and see animals in their natural habitat. For example the sloth, which Costa Rica is well known for. There are also iguanas and rare species of monkeys.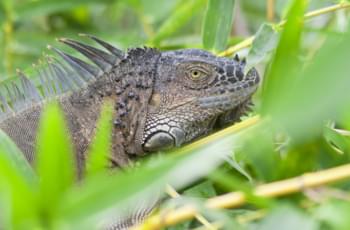 Lizard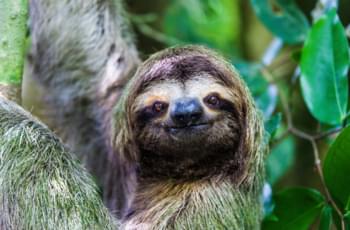 Sloth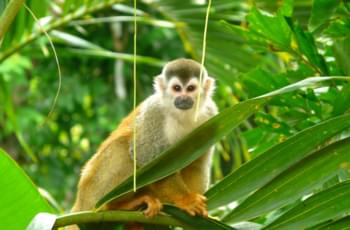 Capuchin Monkey
How do I get to the Rio Celeste waterfall by rental car?
By rental car you can reach the area where the Rio Celeste waterfall is located from San José in only 3 hours and 30 minutes if you drive on toll roads. The rental car is parked in front of the Tenorio Volcano National Park and the adventure begins. From here various hiking trails start into the national park and one of these trails will lead you through the woods, through small rivers, through mud and over roots to the waterfall Rio Celeste. Bring a sturdy pair of hiking boots and deposit clean, comfortable shoes for changing in your rental car. The adventurous way to the waterfall is worth it and definitely recommended. Check out Park Info and maybe get a GPS tracker or a map of the area if you need to. But there are also signposts leading the way. The waterfall has a beautiful turquoise color and falls down about 30 meters. It is worthwhile to follow the river to its source. Here two rivers meet and by a chemical reaction the Rio de Celeste gets its turquoise-blue color.