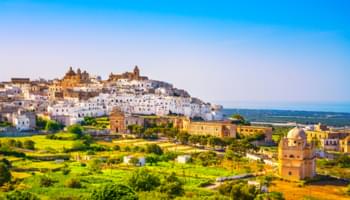 View over Brindisi, Italy
A cheap rental car is available from as little as 174 $ per week. We compare the prices of all major car rental companies and show you the best deal so you can enjoy every moment in Brindisi to the fullest.
Small cars are particularly popular and you can rent them from as little as 191 $ per week. If you are traveling to Brindisi with the whole family, a family car is also suitable from 282 $ per week. Here everyone has enough space and also the suitcases can be packed in the trunk. On the other hand, what do you think about a convertible for Brindisi? These are available from 690 $ per week.
If you only need a rental car for one day, you can rent it for as low as 25 $ per day.