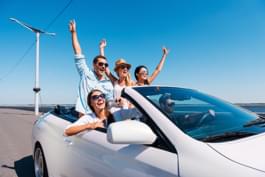 With the convertible through France
Different car categorys at Bordeaux airport
Particularly popular are the small cars, with which you can always travel comfortably in the big cities and easily find a parking space. Book a small car at Bordeaux Airport from as little as 215 $ per week.
If you are traveling with a larger group, such as your family or a few friends, a larger rental car is suitable. You can also find SUVs at Bordeaux airport for 261 $ per week.
In summer, renting a convertible for only 547 $ per week is a good option.