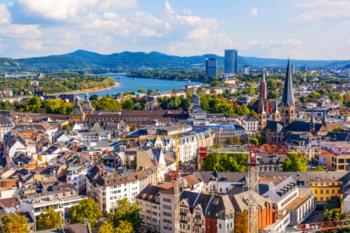 Book a cheap rental car in Bonn
Rental car for one day
You can rent a car in Bonn for as little as 44 $ per day. The former federal capital can be ideally explored with a day trip by rental car.
Rental car for one week
You can rent a car in Bonn from as little as 305 $ per week. If you want to explore North Rhine-Westphalia beyond Bonn, a rental car is the perfect way to get around. With your vehicle, you can easily reach cities like Cologne, Düsseldorf, Dortmund, Bochum and more.
Small car rental in Bonn
Especially in cities with a lot of traffic and limited parking, a maneuverable small car is recommended. You can book a small car in Bonn for as little as 45 $ per day.
Rent a van in Bonn
If you are planning to move to Bonn, a van is the perfect moving helper. There are a lot of cheap vans for rent in Bonn.