Rent a car at the airport of Belfast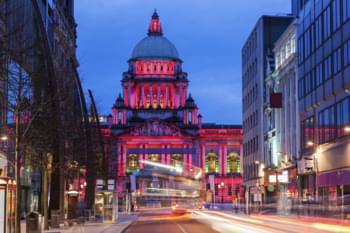 Belfast City Hall
Belfast is the capital of Northern Ireland. Nearly 300,000 people live in the city. Are you planning a trip to Northern Ireland? Why don't you experience the northern part of the United Kingdom on your own? The most individual way to travel is with a rental car. Make your own plans and be an independent tourist. Belfast International Airport is the larger of the city's two airports. Many flights arrive here. You will just need 30 minutes to drive to the city center of Belfast. There are several advantages of booking a rental car at the airport.
What are the advantages of renting a car at the airport?
Opening hours: Opening hours at city stations are usually limited. If you would like to pick-up your rental car earlier or later than these hours, usually there is an additional charge. At the car rental stations at the airport, you will be able to find open stations even if your flight arrives relatively early or late in Belfast.
Attractive prices: As there are many providers in one place at airports and train stations, there are competitive prices. Often, you will be able to book special discounts.
No transport costs: As the rental car stations are either directly at the airport or in the immediate surrounding, you won't need to pay for shuttle services or public transport. An expensive taxi ride can also be avoided in this way.
Immediate independence: Be independent immediately upon arrival. If Belfast City is not your final destination, you don't have to change trains, wait for trains or worry about transportation to the other city.
Explore Northern Ireland by rental car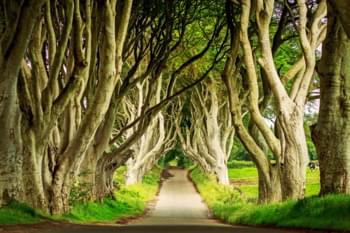 Trees in Armoy
The distance between the city center and the airport is about 23 kilometers. Belfast is the perfect place for an exciting city-trip, yet Northern Ireland has much more to offer. Here you will be able to find some places in Northern Ireland and Ireland, the distance from Belfast airport and the travel time with your rental car. It is very easy to cross the border with your rental car to Ireland. However some car providers will charge a fee for this. Check the terms and conditions of your booking for the exact fee and talk to the employee of the station if you want to cross the border.
Here you can find some interesting places in Ireland and Northern Ireland.
Further places you should not miss:
Giant's Causeway
Bushmills
Glenarm
Cushendun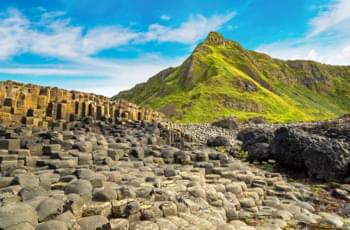 Giant's Causeway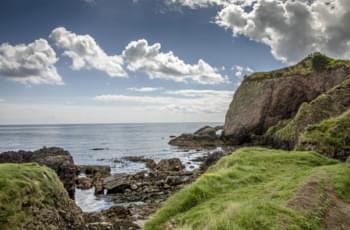 Cushendun
How do I pick-up my rental car?
How does it work to pick-up a rental car? After you successfully booked your car online on Driveboo, you will receive two emails. The first mail is a confirmation of reservation, the second a confirmation of the booking. You will find a PDF-file with all important dates as well as the exact address of the rental car station. If you have any further questions about the rental conditions or further services, our service team will be happy to help you by phone or e-mail.
Please don't forget to bring the following documents to the station with you:
Drivers license
Credit card
Car voucher (PDF-file or printed)
Passport or ID-Card (EU)