Rental car Bandaranaike International Airport (CMB): On the road in Sri Lanka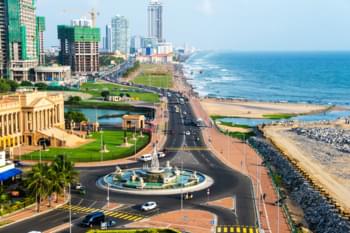 By rental car to Colombo
Would you like to get a rental car directly at Bandaranaike International Airport in Sri Lanka? No problem! At Driveboo.com you will find everything you need for an exciting journey with a rental car through Sri Lanka. You can pick up your rental car immediately after your arrival at Bandaranaike International Airport. This will save you waiting time for public transport or a taxi. Explore Sri Lanka's capital Colombo, which is only 35 km from Bandaranaike International Airport, by rental car. Get to know a new culture and look forward to a few days in the spice metropolis of the island. Colombo has a lot to offer: colonial buildings, high skyscrapers, bazaars, temples and much more. Or take the rental car to the beach or to one of the national parks. Whatever your plans for Sri Lanka are, with a rental car directly from Bandaranaike International Airport you will be mobile and flexible from the start.
Information about Bandaranaike International Airport
Reopening: 1967
IATA code: CMB
Bandaranaike International Airport is located 35 km north of Colombo.
The CMB is served by international scheduled flights.
Passengers: 11 million annually
Airlines: 37, including AirAsia, Emirates, Edelweiss Air, Etihad Airways and Turkish Airlines.
Terminals: 4
Shops: Duty Free Shops, Tea Shop, Café in Terminal 1
Which destinations are served from Bandaranaike International Airport?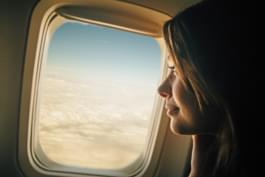 From Bandaranaike International Airport on Sri Lanka you can fly to Dubai, Doha, Delhi, Kuala Lumpur, Singapore, Bangkok and Mumbai. If you start your journey in Germany, the cheapest way is to fly from Frankfurt, Munich or Düsseldorf. In any case, you should consider booking a rental car for your trip to Sri Lanka. With a rental car you are always flexible and independent.
Explore the highlights in Colombo with a rental car
If you travel to Bandaranaike International Airport by plane, your first stop on Sri Lanka will be the capital Colombo. Take your time and explore the sights of Colombo by rental car or on foot. If the hustle and bustle of the big city is too much for you, you can drive to South Beira Lake by rental car. Here, peace and quiet are guaranteed. The small lake is a true oasis amid the hustle and bustle of the big city. Afterwards you can drive by rental car to the Buddhist Gangaramaya Temple. The interior of the temple is colorfully decorated and in the outside area there is a variety of buddha statues. Last but not least we recommend a visit to the Jami-Ul-Alfar Mosque. In that way, your sightseeing tour through Colombo is perfect.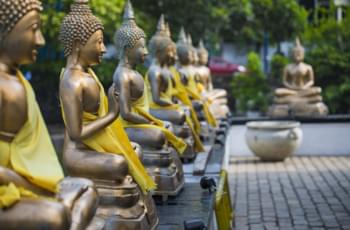 Temple in Colombo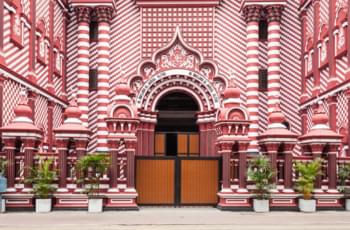 Jami-Ul-Alfar Mosque
What to consider when renting a car in Sri Lanka
Sri Lanka has left-hand traffic.
Speed limits: 50 km/h in urban areas, 70 km/h out of town, 100 km/h on expressways
Blood alcohol limit: 0.8 per mille
In the event of an accident, you can reach the appropriate facilities at the following emergency numbers:
Which beaches around Colombo are worth a visit?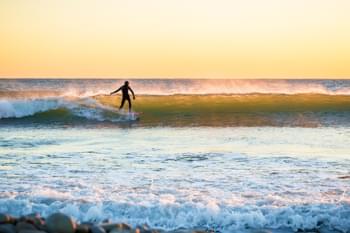 Surfen am Weligama Beach
With a rental car from Bandaranaike International Airport you are flexible and independent and can explore the most beautiful beaches of the Western Province on your own. Let your soul dangle with an ice-cold cocktail at Moragalla Beach, while you feel the sand between your toes. If you like it a bit sportier, you can rent a surfboard and plunge into the waves at Weligama Beach. The most popular beaches in western Sri Lanka are listed in the table below. You can also see the distance by rental car from Colombo:
Explore Sri Lanka's most exciting national parks by rental car
Yala National park
If you are travelling by rental car in Yala National Park, you can observe leopards, elephants, water buffalos, crocodiles, monkeys and numerous bird species. The landscape couldn't be more varied. From forests, beaches and mountains to steppe landscapes, you'll find everything.
Udawalawe National park
What is the first animal that comes to your mind when you think of Sri Lanka? Probably an elephant. Visit the Uduwalawe National Park by rental car and look forward to an unforgettable elephant safari. The park is known for its approximately 600 specimens. So you don't have to worry that you won't see any elephants.
MORE EXCITING NATIONAL PARKS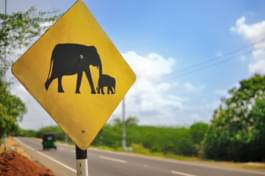 "Beware of elephants!"
As you are always flexible and independent with a rental car, you can drive to your favourite places and national parks as you wish. You should not forget the following parks on your list:
Horton Plains
Pigeon Island
Sinharaja Forest