In Baix Vinalopó we recommend the following car rental offers
Frequently asked questions about car rental booking Baix Vinalopó
What does a rental car cost in Baix Vinalopó?
A rental car in Baix Vinalopó costs on the average 9.58 $ per day.
What does a rental car in Baix Vinalopó cost per week?
A rental car in Baix Vinalopó costs on average 67.08 $ per week 9.58 $ per day).
Which rental car provider is the cheapest in Baix Vinalopó?
Record Rent a Car is in Baix Vinalopó the cheapest. A rental costs 38.33 $ for 4 days.
Can you in Baix Vinalopó rent a car without a deposit?
No, unfortunately you can't in Baix Vinalopó rent a car without a deposit at the moment.
Can you in Baix Vinalopó rent a car without a credit card?
No, unfortunately you can't in Baix Vinalopó rent a car without a credit card at the moment.
How much does it cost to cancel a rental car in Baix Vinalopó?
Up to 24 hours before the rental, cancellation during the opening hours of Driveboo does not cost anything.
Exploring Baix Vinalopó with a rental car
Baix Vinalopó is part of the popular province of Alicante. Its name comes from the scenic River Vinalopó, which flows through the land of this Spanish comarca (a smaller administrative unit in Spain).
Due to a pleasant mild climate with scarce rainfall, the area is a great holiday destination for those who enjoy the ambience of small coastal cities. It's also the perfect spot for fans of outdoor activities.
This beautiful region, together with the surrounding province of Alicante with its many hidden treasures, will be easy to explore with a rental car. With DriveBoo, you can compare offers of many different car rental companies and choose the one that best suits your needs.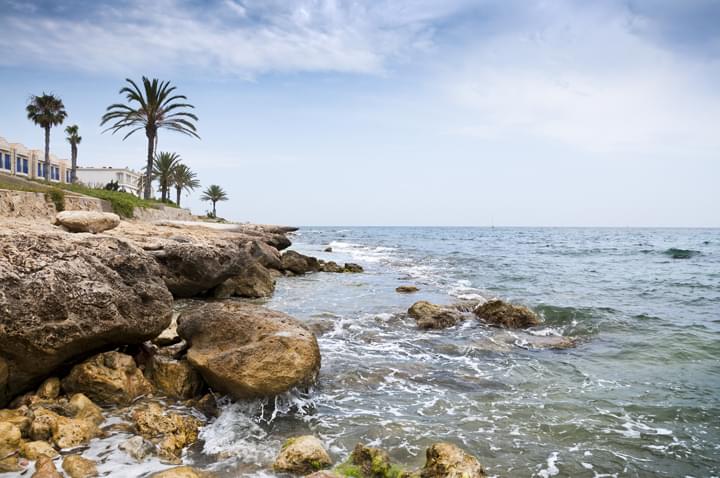 Baix Vinalopó
Where can I rent a car in Baix Vinalopó?
The choice of car rental companies in the region of Baix Vinalopó is extremely diverse. However, if you are planning to arrive in Spain by plane, the most convenient way to rent a car is to take advantage of the car rental spots at the airport.
Travellers who decide to choose Baix Vinalopó as their holiday destination often arrive by plane at Alicante Airport (ALC), which is a great starting point for the exploration of the region. At the airport, you will find a plethora of options when it comes to hire vehicles.
The choice of cars might seem overwhelming, but with DriveBoo, you will have the chance to compare a variety of cars and offers before you arrive.
Insurance for your rental car in Alicante
Every car rental company in Spain is obliged to offer its clients some kind of insurance (sometimes referred to as Excess Reduction or Excess Waiver). You should definitely opt for full insurance without non-waivable excess, which will grant you protection against accidents, theft, damage, etc. Moreover, in Spain, it is also mandatory for hired cars to have fire insurance and third party liability insurance coverage.
What are the speed limits in Spain?
In Spain, there are different speed limits for every kind of road and vehicle. Passenger vehicles are obliged to follow the speed limits included in the table below:
*Only if it is a one-way road, a road with more than two lanes for at least one direction of traffic, or a road with shoulders more than 1.5 m wide.
What about speeding fines in Spain?
Speeding is punishable by fines that vary from several hundred to a few thousand Euros. The fine depends not only on your income, but also on the degree of your offence.
Legal alcohol limit while driving in Spain
The legal blood alcohol content in Spain is 0.05% (breath alcohol content: 0.25 mg/l), and 0.03% (breath alcohol content: 0.15 mg/l) for drivers with less than two years of experience.
Are there any other offences that are punishable in Spain?
It is mandatory for the driver and any passengers occupying the front and rear seats of the vehicle to wear seatbelts. Fines for not wearing seatbelts amount to EUR 90 per person.
When parking in unauthorised places, you will be given a ticket that will cost you up to EUR 300.
Is my driver's licence valid in Spain?
Of course—all driver's licences issued in the European Union are valid in the country.
What about toll roads in Spain?
In Spain, it is only necessary to pay a toll on motorways.
Tolls are collected at toll gates.
The payment is dependent on the type of vehicle that you are driving and the length of your journey.
You can pay with cash or use your credit card.
You can also use a dedicated payment system, known as "Via-T", which allows you to pass through toll gates without stopping.
The average price while driving a rental car is € 9.5/100 km.
Motorways in Spain are marked as "AP-X", where "X" is the road number (e.g., AP-7).
Emergency numbers in Spain
Explore the gems of Baix Vinalopó with a rental car
Travellers often choose the most bustling Spanish metropolises as their holiday destinations. However, there is a lot more to explore in the less touristy regions of the country. Baix Vinalopó, together with the surrounding province of Alicante, holds a number of interesting attractions that will suit a variety of holidaymakers.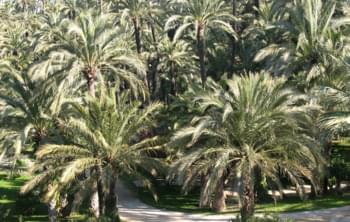 Europe's biggest palm tree forest
A good idea would be to start your exploration with a day spent in Elche, which is also known as the City of Palms. The surrounding area is Europe's largest palm forest, which adds to the holiday-like ambience of the city.
Among the top tourist highlights that can be found in Elche are: the Archaeological Museum MAHE, the La Alcudia Museum, the Basilica de Santa Maria, the Palm Grove Museum, and the Municipal Park.
Those who search for some peace and quiet should head to Santa Pola, a small seaside resort which offers plenty of great restaurants and a number of beaches.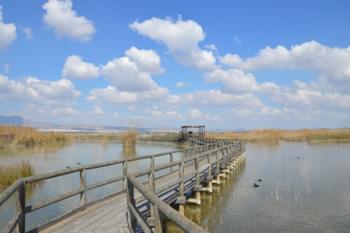 If you are into natural gems, you should also consider a visit to one of the preserves, El Fondo Natural Park and Salines de Santa Pola Natural Park. Both are examples of Ramsar sites, which are wetlands and swamps characteristic of this region.
Crevillent is another of the most interesting highlights of Baix Vinalopó. Located at the foot of the Serra de Crevillent, the city is a great place to start any one of a number of hiking and cycling trips.