Explore Alvor by rental car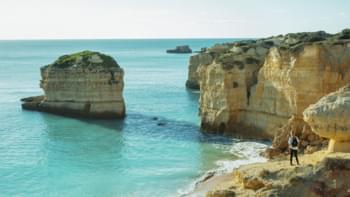 Exploring Portugal by rental car
The charming fishing village of Alvor is located in the south of Portugal and can be optimally explored with a rental car. Compare car rental offers in Alvor before you leave and book your dream car at the best price. Alvor has so much to offer its visitors, so with your own rental car you are always mobile and can drive to your desired destinations. Discover the most beautiful beaches and also visit the neighboring towns in the Algarve. Look forward to bars, fish restaurants and an enchanting landscape in and around Alvor. With a rental car you travel flexible and independent of public transport at any time.
The advantages of winter in Alvor
If you travel to Alvor in winter, you can look forward to the following advantages:
In winter, you can take long walks on the beaches around Alvor. Look forward to empty beaches that invite you to relax.
In winter, not so many people travel to Alvor. Therefore, you can enjoy the beach, the town and the surroundings in peace.
In the winter months you can really save in Alvor, because both accommodations and rental cars are cheaper than in the high season.
Where can I pick up my rental car in Alvor?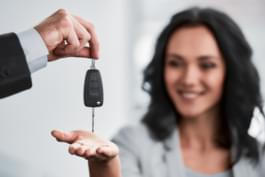 Car rental in Alvor
If you are traveling to Portugal by plane and want to spend your vacation in Alvor, then you will probably land at Faro Airport (FAO), where you can directly pick up a rental car. Alternatively, there are car rental agencies - besides Alvor - in the following locations:
The traffic rules in Portugal
Those traveling by rental car in Alvor and the rest of Portugal should adhere to the following traffic rules:
GENERAL
Talking on the phone while driving is only allowed with a hands-free device. If you are caught on the phone, this will result in a fine. Also, all occupants of the vehicle must wear seat belts. Overtaking another vehicle from the right costs between 250 to 1250 euros. The driving style of the Portuguese is typically southern temperament. Don't get rattled and drive as defensively as possible.
Speed limit
OTHER TRAFFIC RULES
Blood alcohol limit: 0.5 per mille
Right-hand traffic
In case of an emergency, you can reach the appropriate facilities under the following emergency numbers: Police, ambulance and fire department at 112, the breakdown service at 707 509 510.
What you should know about insurance and deposit
Insurance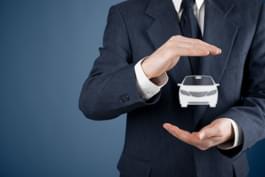 Rental car insurance
When it comes to insurance for rental cars, it is easy to lose track of everything. We want to prevent this, which is why you will find all relevant insurance options displayed transparently on Driveboo.com. We always recommend our customers to take out a fully comprehensive insurance without excess. This way you travel stress-free even in the event of damage. Other insurances you can opt for are glass and tire insurance, underbody insurance and third party liability.
DEposit
By paying a deposit, car rental companies in Portugal can protect themselves and get the rented car back safely. The deposit amount here can be up to 2,000 euros and varies from car rental company to car rental company. Make sure that your credit card has a sufficiently high limit. Of course, as soon as the rental car is back at the rental company undamaged, you will get the money back.
What are the highlights to discover in Alvor?
Alvor is a charming town with whitewashed houses, narrow streets and fishing boats in the harbor. Here you can spend some wonderful vacation days, because there is no lack of fish restaurants, boutiques and bars. Especially the breathtaking beach of Alvor invites you to linger. Take a good book with you and spend the days under the sun with the sound of the sea. In addition, if you are traveling with your own rental car in the Algarve, you should not miss these sights:
Ria Alvor
Castle of Alvor
Praia João de Arens
Igreja do divino Salvador
Explore Alvor's surroundings with a rental car
Since you are always mobile with a rental car, you can explore other exciting places in Portugal besides Alvor. No matter if day trips or a whole road trip - with a rental car you will always reach your destination comfortably.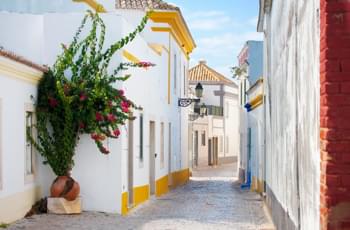 Exploring Faro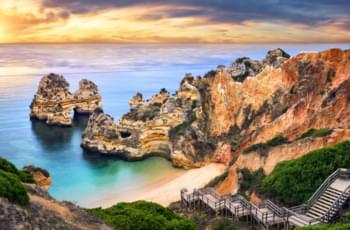 Wonderful Lagos
Faro
How about a trip to Faro? The old town of Faro and the market located there are definitely a highlight. Stroll through the market or watch the hustle and bustle from a café. If you have had enough of the hustle and bustle of the old town, you can still drive with the rental car to the Ria Formosa Nature Park and let your soul dangle.
Lagos
Be sure to visit the coastal town of Lagos with its breathtaking coastline. Here you can discover hidden caves or just walk along the beach. But not only the beach in Lagos is breathtaking, also the city center has some highlights to offer. For example, visit the beautiful church Igreja de Santo António or the Mercado dos Escravos. With a rental car you can reach all destinations in Portugal in a short time.