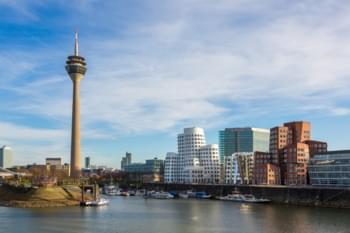 Your cheap rental car is taking you easily to Dusseldorf
Rent a car to drive around Aachen and explore the Rhineland. Park your rental car and go for a hike in the Eifel, which is part of the Rhenish Slate Mountains. For example, visit the Rurtalsperre or the Vulkaneifel Nature Park. A trip to the Jülich-Zülpicher Börde is also recommended. In this vast stretch of land, you can discover Roman milestones, historic windmills and several moated castles, among other things. If you want to get to know other cities, you can reach Cologne, Bonn and Düsseldorf, for example, quickly and cheaply by car from Aachen.
Also explore the versatility of Europe with your rental car and drive to Liège or Verviers in Belgium, for example. You can also drive comfortably to neighboring Maastricht in the Netherlands. Other Dutch cities such as Heerlen are also just a short drive away. However, notify your car rental company in advance if you plan to drive abroad.