Monaco by rental car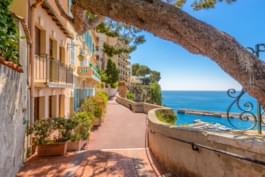 Discover Monaco on your own
Visit Monaco with your rental car - a magical place between the rocks of the Alps and the blue Mediterranean Sea, dream home of all the rich people and epitome of independence. Monaco's cultural and scenic attractions can be ideally visited by rental car. You will find the right vehicle for your trip to Monaco on Driveboo.com. Compare the offers of the car rental companies and find your dream car at the best price for your holiday in Monaco!
Good to know about Monaco
As a small principality, Monaco, enclosed by its powerful neighbor France, lies on the French Riviera. With only 1.97 km², Monaco is the second smallest state in the world after Vatican City. Despite its size, Monaco is one of the countries with the highest population density.
Compare car rentals in the Principality of Monaco
Compare the offers of car rental companies in Monaco online on Driveboo.com. We collaborate with all major car rental companies in the Principality of Monaco. The car rental stations are located in the following locations:
Activities in Monaco
When you explore Monaco by rental car, you will experience a lot of variety as there are many entertainment options. Whether it's sports activities, shopping, culinary delights or cultural inspiration - Monaco has a lot to offer. As the highlight of the day, you can enjoy Monaco's entertaining evening programmes with your rental car. Leave everyday life far behind by enjoying the unique atmosphere in the numerous casinos, bars, cinemas and discotheques while dancing or having a cocktail.

Sunrise in Monaco