Exploring Westerland and Sylt by rental car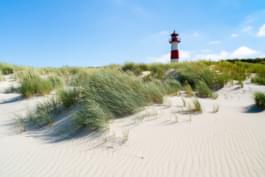 Sylt is the most popular North Frisian island in Germany. With just under 20.000 inhabitants, it is also the largest. For vacationers and visitors, the unique dune landscape and the famous flair of Westerland have a special charm. The good roads of the island invite to extensive exploration tours with the rental car. With Driveboo you can find the best deals on Sylt car rental with price comparison and direct booking!
Touring Sylt in Winter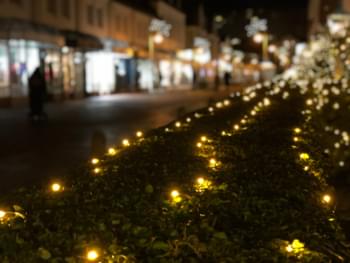 In winter, many visitors are drawn to Sylt because of the harsh, Nordic climate combined with relaxing wellness baths. The Frisian coast and the rough sea have their own special charm. In the period between Christmas and New Year's Eve, many events take place on Sylt, which will make your stay anything but boring. Especially the cliff mile Wenningstedt attracts with a varied event program. Visit swimming and leisure pools, which you can also enjoy in winter, such as the Sylter Welle. Experience the underwater world in the Syltaquarium, or do some sports in the Sylt4Fun hall. What must not be missing in Sylt is the classic mudflat hike and if that is not enough for you, you can learn more about the Wadden Sea in the Erlebniszentrum Naturgewalten. In winter, of course, no visit to the Christmas market should be missed either, so make sure you definitely explore one of Sylt's Christmas markets. With a rental car you can get everywhere even in winter, so you do not have to wait in the cold for public transport and get everywhere easily from your accommodation.
How do I best rent a car on Sylt?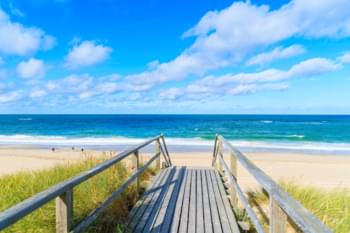 There are numerous car rental companies on Sylt, mainly placed around Westerland train station and around Sylt Airport (GWT). Just decide on the location that best suits your travel plans. If you are traveling by plane to Sylt, a generous selection of providers awaits you directly at the terminal. The variety of providers ensures that enough rental cars for every need and every category are available on Sylt. Thanks to Driveboo you get a detailed overview of the available cars from all providers. Compare the prices and save money in the end!
Rent a car Sylt: Where can the rental car be parked?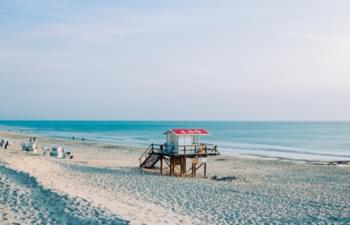 Due to its popularity and crowds, Sylt residents often struggle with crowded parking lots. Accordingly, parking on Sylt can be expensive if not known how. Therefore, it is cheaper to avoid parking at the roadside. Since March 2017, the parking fees were increased in Westerland at parking ticket machines for roadside parking. Therefore, it is important to avoid these parking places and park in official parking lots and parking garages. The fees are significantly lower. Outside the city, you will find plenty of parking at popular hot spots.
Do I need to pay a deposit?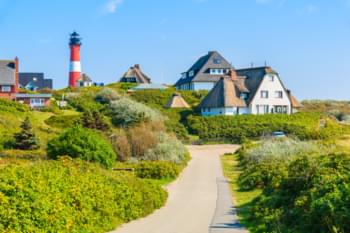 Whether you need to pay a security deposit depends on the type of insurance you choose and your rental agency. In most cases, you will be expected to pay a security deposit. The amount of the deposit also depends on several factors. Some providers generally charge first-time customers a deposit, even if "full coverage with no deductible" is chosen. Others charge higher deposits for higher-value car types. If there are no complications during the rental period, the deposit is returned to the credit card. Most of the time, the credit card holder must also be the driver, which is why you should bring a credit card with your name and sufficient coverage.
Rental car Sylt: refueling
Fueling on Sylt is generally not a problem. Although the supply of gas stations is not really abundant, the island is small enough to to find a gas station even with an almost empty tank. Unfortunately, gasoline and diesel prices on Sylt are somewhat higher than on the mainland. If you are on the island for a longer time, it may well be worthwhile to fill up the canister on a day with cheaper gasoline prices.

Who can I contact in an emergency?
On Germany's roads, the ADAC is an excellent contact when it comes to minor breakdowns or problems. If your insurance package includes an emergency service, you can contact your rental agency directly. In case of accidents, of course, the police must be called. In case of injuries, you should notify the local emergency service and call an ambulance.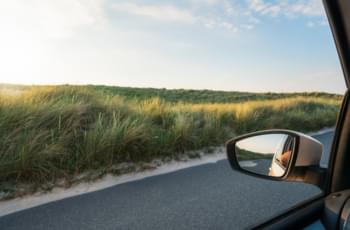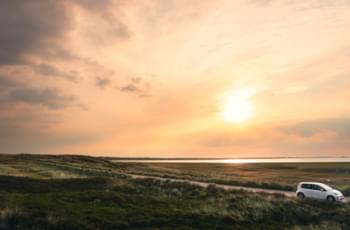 Discover Sylt by rental car
A rental car is the perfect companion for an eventful Sylt vacation. It is fantastic to drive down the coastal roads behind the dunes and discover the beaches. There are numerous parking lots on the island at popular starting points for hikes and the most famous sights. If you are planning a round trip, for example with continued travel to Denmark or Schleswig-Holstein, you can leave the island relaxed by car train or ferry. Talk to your car rental company beforehand, especially if you plan to travel abroad.