Find and book cars for your trip to Québec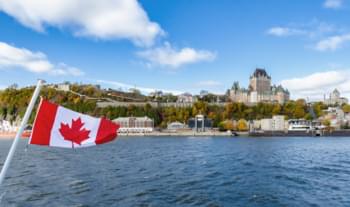 Autumn in Quebec
Quebec is a city in the french-speaking part in Canada. What can I expect from Québec? Museums, waterfalls, ski or snow and a lot of interesting architecture. If you are interested in these things, Quebec is definitely your destination. The city can be beautiful during winter and summer. With a rental car, you have the flexibility to discover and enjoy the beauty of this city. Driveboo will help you to find the cheapest possible offers. Simply filter out the perfect rental car and explore Canada on your own. Don't forget to book an additional driver. If you want to drive longer distances, you will always have another person authorized to drive the rental car.
When booking on Driveboo, you enjoy flexibility. You have the possibility to cancel the already booked rental car for free up to 24 hours before you have to pick up the rental car. You also have the freedom to choose between three different service packages.
The national EU driver's license is generally accepted in Canada- However, we strongly recommend the international driver's license. Getting an international driver's license is very easy. You just have to go to the road traffic licensing office in your area. Don't forget to bring your national driver's license. Usually, you will also need to bring a valid passport photo with you. Please also remember that if you have an international driving license, you must always carry the national license with you. Please take care of the speed limits in Canada. Penalties for exceeding them is quite high. The speed limit is usually 50 km/h and on the motorway 100 km/h. Petrol in Canada is quite cheap and costs only about $0.90 (€0.65) per liter.
What can you discover in Quebec?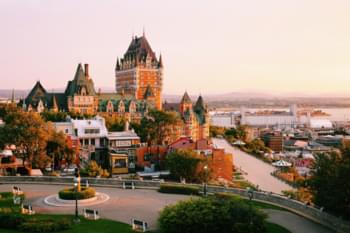 The best viewpoint in Quebec is called "Observatoire de la Capitale". From there you can have a breathtaking view of the whole city. The viewpoint is located on the 31st floor of the Marie Guyart building, about 221 meters above sea level. With the help of 3D images and touch screen terminals, visitors can be taken back to Quebec's rich past. If you are in the mood for shopping, entertainment, and dining, the Quartier du Petit Champlain is the place to be. This is a small and old commercial zone in Quebec that offers music and theatre activities. For example in the Petit Champlain theatre. The quarter is especially nice to look at in winter when the streets are decorated with beautiful fairy lights and the air is filled with magical Christmas spirit. The Petit Champlain is located in the historic center of Quebec, which is called Vieux-Quebec (Old Quebec). The area is under historical protection and has been a UNESCO World Heritage Site since 1985.
Besides the Petit Champlain, the Vieux-Québec has many other attractions, some of which are listed below.
Notre Dame de Québec Cathedral-Basilica
Governors' Promenade
Unusual Passages Outdoor Art Exhibition
Dufferin Terrace
Fairmont le Chateau Frontenac
Ramparts of Québec City
Observatoire de la Capitale
Parliament Building Québec City
Morrin Centre
Canyon Sainte-Anne
Visit sights in Quebec with your rental car