Discover Penang Island and Georgetown by rental car
Penang is an island on the west-coast of Malaysia, which capital is called Georgetown. The island itself is a backpacking paradise and its capital Georgetown is a beautiful colonial city, with European influences from previous colonization throughout the history of Malaysia by the Portuguese, Dutch, Britain and Japanese. We at Driveboo, will find you your best renting car, to explore the beauty of Penang island, visit the sights, beaches and landscape. We compare directly available cars, where you often don't have to pay any excess or at least get a refund of your excess. Based on your search, we will present you offers for several different vehicle types for a car during your journey. You can pick up your chosen car directly at the Penang International Airport (PEN). As Penang Island is connected with two bridges and one ferry, which you can also enter with your car, to the mainland and the state Penang. Our flexible option to choose another drop-off point, enables you the option to extend your travel through Penang and Malaysia without any hesitation.
Reasons why Penang Island is best to explore by car
Penang Island has an amazing road system and infrastructure, which is easily comparable to western standard. The size of the Island is big enough to never run out of exploring things, but small enough so you don't have to ride your car for hours. As you will be able to see and explore plenty of things, you will soon realize that having your own car around Penang is the best choice you can take to get from A to B.
What can you see on Penang? Penang Island is full of mystical temples, which are best to reach by car and are offering a lot of parking spaces. Malaysia is often referred as truly Asia, which you will see best in Penang's and especially Georgetown's diversity of different religious buildings living in peace side by side. For those of you who need a day off on the beach, Penang offers some pretty decent beaches, where a day is well spent.
Temples and Mosques on Penang:
What can you do in Penang? Beside hanging around beaches or exploring temples/mosques, you can visit the tropical fruit farm/spice garden of Penang, where you can taste tropical fruits like mango, pineapple, passion fruit, dragon fruit and many more. Go on the top of the Penang Hill for a beautiful overview over Penang. You can either hike there, if you are fit enough, or simply use the Penang Hill Railway. The newest attraction of Penang is the recently opened, longest waterslide of the world which you can find in the ESCAPE theme park.
If you buy your tickets for the ESCAPE theme park online in advance, you can save up to 30%.
What is Penang and Georgetown famous for? Penang and Georgetown are especially famous for their streetfood and hawkers. Georgetown's streetfood was a lot of times voted as the best streetfood of the world. As Malaysia is a diverse country with three main ethnics, Georgetown cuisine has influences from India, China and Malay. Oftentimes the dishes are appearing as a Fusion cuisine.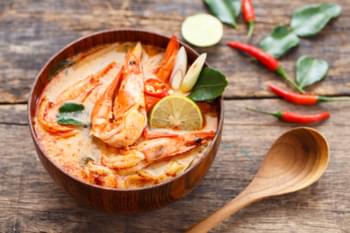 Tom Yam, a famous Malaysian soup
Tom Yam is a famous soup in Malaysia, which you shouldn't miss out when you are on Penang, or Malaysia in general. Be aware, as the soup can be really spicy. The locals will adjust the soup, as best as they can if you ask for a less spicy version. Typically the soup is served with seafood, but can be also served with chicken, or as vegetarian/vegan option. While it is in many western countries typical to serve soups with bread, in Malaysia it is common to serve any kind of soup with rice.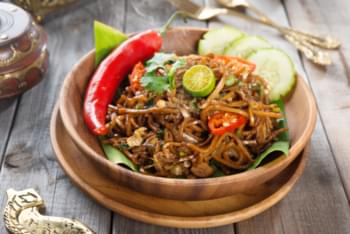 Mee Goreng typical Malaysian fried noodles
When you were already quite a time in Southeast Asia, you are probably fed up with rice. A good alternative to rice are the typical Malaysian fried noodles called Mee Goreng. The dish is also served in Indonesia, which culture and religion is pretty similar to Malaysia. The dish can come with chicken, seafood, or vegetarian option.
What else can you visit in Malaysia with your rental car from Driveboo
As Penang is connected to the mainland Malaysia, and the fact that Malaysia is a relatively medium-sized country, you can easily extend your trip to explore more of the country.
Places to visit in Malaysia:
Penang
Kuala Lumpur
Langkawi
Perhentian Island
Tioman Island
Redang Island
Cameron Highlands
Melaka