Rental car Meissen: Discover Saxony mobile and individually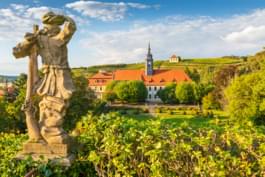 Beautiful vineyard in Meissen
Would you like to explore the beautiful city of Meissen in Saxony by rental car? Then book the right rental car for Meissen easily and conveniently on Driveboo.com. You can already book the rental car from home and then simply pick it up at the car rental in Meissen. Take a rental car to the vineyards, visit Meissen Castle or simply stroll through the enchanting city centre. Since you are always flexible and independent with a rental car in Meissen, you can also explore the surrounding region and landscape.
Car model: Which rental car is best suited for Meissen?
Depending on what you have planned for Meissen, one or the other rental car is more suitable. Are you travelling to Meissen with the whole family and need a lot of space for luggage? Then you can book a minivan as a rental car. These are large enough for all passengers and even the luggage can be easily stored in the trunk of the rental car. A small car is a good option if you are mainly travelling in the city centre, as you are guaranteed not to have any parking problems. If, on the other hand, you plan to drive into the surrounding countryside, then an SUV might be something for you. With an SUV, you won't get stuck even in rough terrain.
On Driveboo.com you can also select the following options:
With the fully comprehensive insurance without excess, you will not incur any further costs even in the event of damage. So you are guaranteed to remain stress-free during your holiday in Meissen.
Facts worth knowing about the city of Meissen in Saxony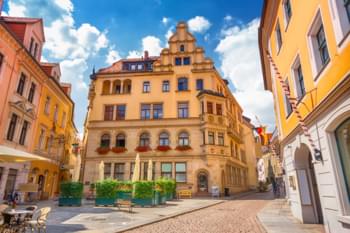 Discovering Meissen
Number of inhabitants: 28,000
Area: 30.92 square kilometres
Divided into 12 districts
Internationally famous for its porcelain
Neighbouring communities: Klipphausen, Käbschützal, Diera-Zehren, Niederau, Weinböhla, Coswig
Dialect: the Southeast Meissen dialect, a special form of the Saxon dialect
Meissen Porcelain: With the rental car to the Meissen Manufactory
Take a rental car to the Meissen Manufactory and discover the craftsmanship behind the production of the world-famous Meissen porcelain. Embark on a journey through 300 years of porcelain history and look forward to works of art from the past and present in the Meissen manufactory. Actually Johann Friedrich Böttger was supposed to produce gold for the Elector of Saxony. Instead, he invented European porcelain. Immerse yourself and let yourself be carried away by the history of Meissen porcelain.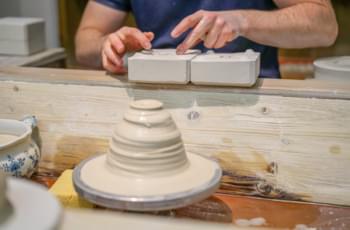 Meissen Porcelain Manufactory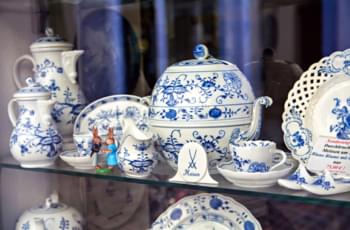 Meissen porcelain
With the rental car to the highlights in Meissen
Albrechtsburg Meißen
During your trip to Meissen in Saxony, a visit to Albrechtsburg Castle should definitely be on the agenda. Take a rental car to the castle and explore one of the most famous late Gothic architectural monuments. During a visit you can not only explore Albrechtsburg Castle itself, but also visit constantly changing art exhibitions. Look forward to a varied day in Albrechtsburg Castle Meissen.
Meissen Cathedral
The Cathedral of Meissen is actually named St. Johannis and St. Donatus. Park your rental car and enter the breathtaking building. If you wish, you can take a cathedral or tower guide who will then lead you through the cathedral. If you would like to experience the organ, you can take part in one of the church services in Meissen Cathedral.
FURTHER SIGHTS
Proschwitz Castle
Colourful houses in the city centre
Church of Our Lady Meissen
Meissen Zoo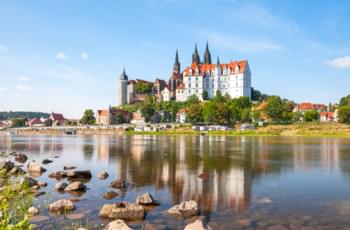 Meissen Palace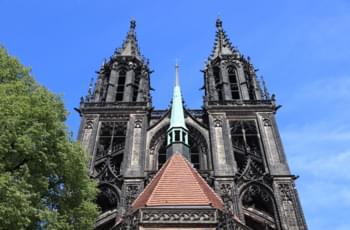 Meissen Cathedral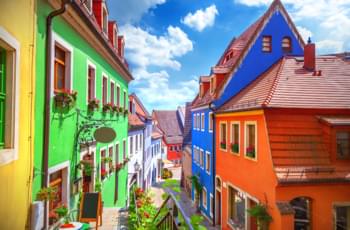 Colourful houses in Meissen
Which cities can I visit with a rental car from Meissen?
Take a rental car from Meissen to Leipzig, for example. Visit the Grassi Museum or the Nikolai Church there. You can also reach Dresden from Meissen after only a short drive by car. Many of Dresden's famous sights can be found in the old town. Other exciting destinations from Meissen are Chemnitz, Bautzen and Cottbus. As you can see, a rental car is the ideal way to explore Meissen and its surroundings.