Explore Marseille with a rental car
Marseille is a popular town in South of France and can easily explored by rental car. On Driveboo.com you can compare and book the car rental offers for Marseile. We advice you to rent your rental car in Marseile already from home, as the prices are usually cheaper when booking early. Through our website you can compare the prices of all major car hire companies in Marseille.
With approximately 860,000 inhabitants, Marseille is the second largest city in France after Paris. It is located on a Mediterranean bay, the Gulf of Du Lion. Since Marseille is such a big city, it can be explored wonderfully by rental car. Car rental companies in Marseille offer car hire with Driveboo where you can compare their offers and complete your booking online.
Roadtrip Frankreich - Sommer in Marseille
Almost all holidaymakers who travel to the south of France also want to enjoy the great sea. Are you planning a trip to Marseille in the summer? Then we advise you exactly the same. With a rental car, you can not only explore different cities and places easily and quickly. You can also make yourself independent. You might even find a secluded bay for a swim for some privacy. There are some of these in the surroundings of the city of Marseille.
Here you can find some great beaches that you should not miss during your trip to Marseille
Plages Escale Borely
Plage de la Grand Mar
Calanque Port Pin
Calanque d'En Vau
Plage des Catalans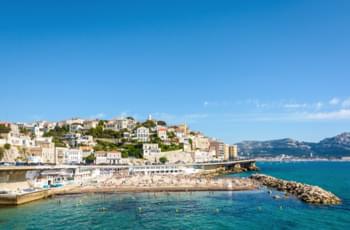 Propet Beach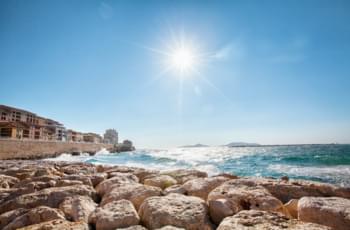 Plage des Catalans
The best pick-up points for a rental car in Marseille
If you want to rent a car and make sure that the car that suits you is available in the desired period, you should book it in advance using Driveboo.com. In this way you save the unnecessary stress of renting a car on site.
Do you attach particular importance to certain vehicles? At Driveboo we offer you a large, varied selection of SUVs, convertibles, family cars or sports cars. Choose a rental car at your leisure and then book online.
Those arriving by plane from Marseille Provence Airport (MRS) can go directly to the car rental office in the arrivals hall and pick up the car you have already booked.
Would you prefer to take a taxi to your accommodation after the flight and pick up your rental car on site? Or will you arrive by train? No problem! At Driveboo.com you can also choose one of the numerous car rental companies in the city of Marseille.
What you should pay attention to when picking up your rental car:
The tread pattern of the tyres
The function of lights and luminaires
Paint and/or body damage
Any defects in the rental car at the pick-up station in Marseille should be discussed with the car rental company directly on site, even before the start of the journey.
Renting a Car Marseille: Filling up the tank in France
Biofuel E10 has been part of everyday life in France since 2009. Since not all cars can handle the new fuel, they have to fill up with the more expensive Super Plus if nothing else is offered. Petrol stations in Marseille are mainly on the outskirts of the city. There are hardly any gas stations in the city centre. The further east you are from the centre of Marseilles, the more petrol stations you will find. There are also several ways to refuel your rental car directly on the water. When picking up your rental car at the rental station, your rental car should be full. This also applies to you, if you return the rental car, it must be refueled usually by you in advance.
What parking facilities are available in Marseille for the rental car?
If you are looking for a free parking space, you should be prepared to look something outside the city. Marseille has numerous car parks, parking garages and parking spaces that can be rented for a whole day. Depending on the location, the prices vary greatly.
Which car rental insurance do I need for Marseille?
The fully comprehensive car rental insurance without excess is absolutely advised to book when renting a vehicle. Damage caused by the driver's own fault is covered. Liability insurance for rental cars with sufficient coverage is also obligatory. This should amount to at least 1 million euros. So it is better to pay a little more money for the insurance and not to be stingy here than to collect a high bill at the end.
Renting a car in Marseille: Can I book an additional driver?
If you know from the outset that you will not be the sole driver of the rental car, it is even necessary to have every other driver admitted before the start of the journey. Otherwise it could be expensive for you in the event of an accident, as insurance cover only applies if all other drivers are also registered. When picking up the rental car at the car rental agency, all drivers must be present and show their ID or passport and driving licence.
What is the best time of year for a trip to Marseilles?
The annual average temperature in Marseille is 14.2 degrees. The warmest month is July, then it will be 23 degrees on average. In general, the climate is temperate and warm. In January the temperatures reach their low point of 6 degrees. The best months for Marseille to rent a car are therefore definitely from April to September, partly also October. The months from June to September are best suited for swimming in the sea.
Discover the highlights in Marseille by rental car
The Old Harbour with its Palais de la Bourse
The Arc de Triomphe
The Notre Dame de la Garde Basilica
The Longchamp Boulevard
The Cathédrale de la Major Château D'If
Marseille has many buildings and museums to visit. There is also a wide range of leisure activities on the waves of the sea, including hiking tours.
Excursions by rental car in and around Marseille
If you have rented a car in Marseille, you now have the opportunity to get to know the most beautiful areas of Marseille and its surroundings. Take your rental car and not only look to the city with all its sights and beautiful sandy beaches, take a trip to Aix-en-Provence instead. The journey by rental car to the city of water and the arts, about 32 km away, takes about 40 minutes. It is a wonderful place of Provence with narrow alleys in the old town and golden facades. Countless fountains are scattered throughout the city, a highlight of the city is the Montagne Saint-Victoire limestone mountain range, a popular destination for mountaineers, hikers and paragliders, as well as nature and wine lovers.
The island of Île de Porquerolles is the largest island in the Hyeres archipelago, lined with pine groves and olive trees. Here you are guaranteed peace and relaxation. You can expect a great harbour panorama, an old fortress and freshly caught fish. By rental car the journey to Hyeres takes about 2 hours, for the crossing to the island you can take the ferry.