Leoben - By rental car to Styria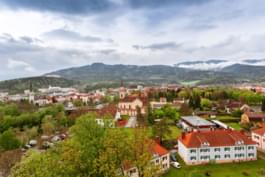 If you don't have any vacation plans yet, here's a tip: Get on a plane, book a rental car at Graz Airport and drive to Leoben. The southern neighboring country, Austria, is an excellent place to spend your vacation. All year round. Every season, the country and people have their own loving charms. Enjoy the Austrian hospitality and the culinary delights of Austrian cuisine. Take a quick and easy look at the offers of car rental companies in Leoben and compare prices.
Explore destinations with a rental car in autumn or winter
Leoben itself and also the surrounding area have a lot to offer, no matter if you want to travel through Leoben in autumn or winter, with a rental car you can explore everything at any time. Especially in the wintertime you will probably even be grateful for a rental car, because this way you can get everywhere flexibly and can warm up a little bit in the car instead of having to wait outside in the cold for public transport.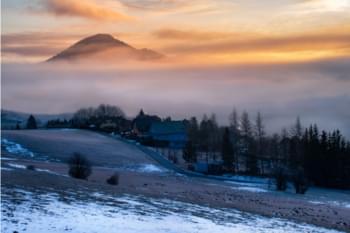 Art Gallery Leoben
Freimannsturm
Kaiserberg
Schwammerlturm
Madereck
Leo Park
Stift Göß
Eisenerz and the Styrian Erzberg
Why drive to Leoben by rental car?
Leoben is the capital of the district of the same name (comparable to a district town) in Styria, which is also called "die grüne Mark" in Austria. Where this name comes from is immediately clear to everyone when you look at the surroundings. Pure nature! Nestled in the Austrian Alps, about 25.000 people live, work and study here. But not only that. The city is characterized by a history in which the mountain and mountain hut industry played a major role and still does. Thus you will not only find the University of Leoben here, but also the most important location of the Austrian iron and steel industry. From here you can follow the important historical iron road, admire mines, museums and other sights.
What is the best way to get to Leoben?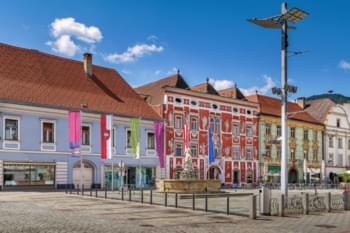 Leoben is, as already described, located in Austria. To be more precise, in Styria. The best way to arrive is by plane, land in Graz (GRZ) and drive the remaining 75 km to Leoben by rental car, where you should arrive about 50 minutes later. A rental car is recommended in several respects. On the one hand, you save yourself the long journey through Germany and the Alpine Republic, which is characterized by Alpine passes and tunnels and toll routes. This will also save your car several hundred kilometers and yourself a lot of time. You can pick up your rental car directly at the airport after booking via Driveboo, because you can expect the largest selection and the lowest prices. Then you take the freeway to Leoben, which is 75 km away.
Travel preparations - vacation in Austria, visiting Germany
No matter whether you spend your vacation in Germany or in Austria. Both are located in the heart of Europe. German is spoken in both countries, the Euro is the means of payment and the standard of living is very high. This means: Here you can expect a lot for your money in terms of accommodation, food and infrastructure. Since 2015 there are again border controls at some border stations between Germany and Austria. Of course, you can avoid them by plane. You know the conventional passport control well enough. You will not lose any unnecessary time during the check-in. Since all EU countries generally require a general identification document, it does not hurt to carry one as an EU citizen in Austria as well as in Germany, but especially as a non-EU citizen.
What do you have to consider with the rental car in Leoben?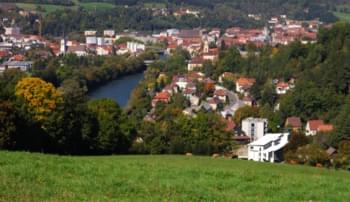 Austria's traffic laws are a bit strict and the penalties for traffic offences are high. You can follow the traffic rules quite quickly, as most things are written on the road signs. Some rules that are not on the signs are: The most important rule is that there is right-hand traffic. If you come to an intersection and you don't find any right of way signs, right before left applies! In the evening or at night you are obliged to drive with dipped headlights and during the day with daylight. But on the whole, you don't need to fear any difficulties in the changeover. One difference in Austria is, that you have to show a valid freeway sticker on your windscreen when using a freeway or expressway. However, the rental car provider should have equipped his cars with one anyway. So you only have to pay tolls for individual tunnels or pass roads on a case-by-case basis. The speed limits differ from those in other countries, especially on freeways.
Inner towns: 50 km/h
Out of towns: 100 km/h
motorway: 130 km/h
Parking with the rental car in Leoben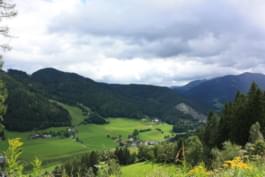 Parking in Austria is pretty similar to other countries in the EU. Fee obligation, wherever you look. Public parking lots usually have vending machines where you draw a ticket or parking ticket in advance. Guarded, private parking spaces and parking garages can be paid for afterwards with credit cards etc. But you are guaranteed to find parking spaces wherever you need them.
Insurances for rental cars
In principle it does not matter where you rent a car, "fully comprehensive insurance without deductible" is the best option because it is the carefree all-inclusive package. We recommend 7,5 million Euro total damage sum as liability coverage. You can also select the types of insurance in the car rental offers. If you would like to find out more about the insurance, then simply read through the informations given on our website.
Do I have to leave a deposit in Graz ?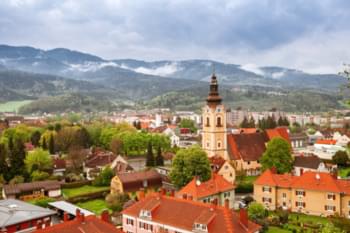 Every car rental company requires a deposit. The deposit serves as protection for the car rental company the amount of the deposit is based on the value of the vehicle. Often the amount of the deposit on your credit card is blocked exclusively for the period of the rental . If the car is returned without damage, you will get the deposit back immediately. Remember to top up your credit card with the appropriate cover charge as early as possible, as it can take up to two weeks to top up your credit card with higher amounts.
Can I register a second driver?
Just ask at Driveboo how much the surcharge for a second driver is and which conditions he should fulfill. With many offers an additional driver is even free of charge. Then you won't be the only one to have to sit at the steering wheel all the time and can enjoy long journeys with the rental car more. Remember, if you let one of your travel companions drive the rental car without this person being registered as an additional driver and something happens, all concluded insurances expire immediately and the damage will be paid from the deposit you left.
When is the best time to travel to Leoben ?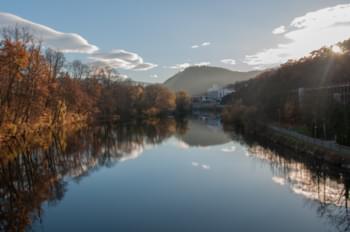 It depends entirely on what you want to experience. You are traveling here in the middle of the Alps, in a city where there is a lot to see and in the vicinity of the state capital Graz (approx. 300.000 inhabitants). Do you want to visit the city and visit museums and mines? Then come in a warm seasons. Do you want to go hiking? Then autumn is especially beautiful. All kinds of winter sports like cross-country skiing, tobogganing, ice-skating, skiing and even ski-jumping are offered in the immediate vicinity. Accordingly, winter sports enthusiasts should come in winter to get their money's worth vacation.