Getting around Meloneras by rental car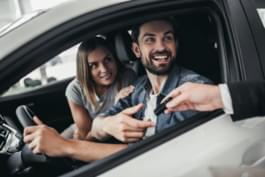 By rental car through Meloneras
On Driveboo.com you can compare all offers of the leading car rental companies in Meloneras. We offer a detailed comparison of all available rental cars, which is sure to save you a lot of stress, time and money. With us, you'll find reputable car rental companies at unbeatable prices because this is where the competition is the fiercest. Use the filter function according to your search criteria and you will be shown the best car rental deals. If you rent your rental car well in advance, you will benefit from the early booking discount.
Find the best car rental around Meloneras
Many attractive destinations are waiting for you to explore in Meloneras and on the Spanish island of Gran Canaria by rental car. With a rental car you are well served in Gran Canaria. You will find rental car stations in Meloneras city as well as at the airport Las Palmas. Depending on whether you want to rent your rental car for the whole travel period, it is recommended to pick up your rental car at one of the car rental stations at Las Palmas - Gran Canaria Airport (LPA). Of course, you also have the option to choose Meloneras car rental if you want to travel to Meloneras by other means of transport first.
When booking online, you will benefit from the following advantages:
Huge selection of vehicles
Open 24 hours
Best offers thanks to price comparison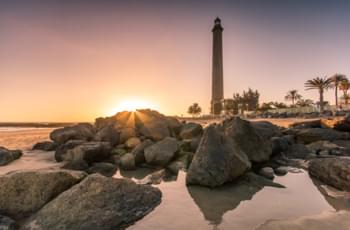 Lighthouse in Meloneras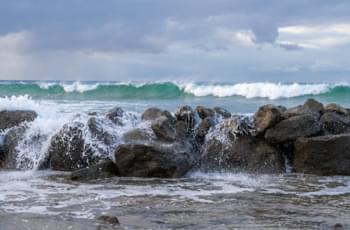 Coast in Meloneras
Explore Las Meloneras in autumn and spring
If you're not a fan of the heat, but still want to soak up some sun, a trip to Meloneras in spring or fall is ideal. At this time of year it is no longer so hot, but pleasantly warm and you can still look forward to a few hours of sunshine. In the following table you will get an overview of the temperatures you can expect in Las Meloneras in autumn and spring:
Picking up the rental car in Meloneras: what should I pay attention to?
When picking up the rental car, pay attention to:
Paint and body damage
Tire tread
Lights and lamps
Functioning brakes
Rental cars are not always in absolutely perfect condition. Sometimes, there may be a few issues that absolutely need to be brought up with the car rental company and should be included in a deficiency report before you start driving the rental car.
Rent a cheap car in Meloneras - tips and tricks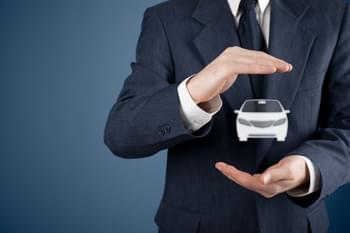 The right insurance
It is best to book your rental car already from home via Driveboo.com. Use the price comparison and benefit from unbeatable offers from well-known car rental companies. Whether it's an early booking discount or the slightly more expensive last minute promotion, you'll find the right rental car to rent online with us. We generally recommend you to take out a rental car comprehensive insurance without excess as well as a liability insurance for the duration of the rental car. In addition, any additional driver should be registered, so that the insurance in the event of damage also covers the driver who is behind the wheel at the time of the accident.
Refueling and parking with the rental car in Meloneras
Compared to other European countries, the fuel prices in Gran Canaria are very cheap. Nevertheless, you can also save money when refueling outside the towns. The network of gas stations is quite dense, so you should not have any problems finding a gas station.
On the way with the rental car - traffic rules on Gran Canaria
In Meloneras and on the rest of the Canary Island, the Spanish traffic rules generally apply. Always plan enough time for your trip, because driving in the mountains with all the curved roads requires the highest concentration. Unless otherwise stated, the above maximum speeds apply on the island of Gran Canaria.
Explore Meloneras with a cheap rental car
Meloneras is one of the newer neighborhoods near Maspalomas and one of the largest districts of the Canary town. A variety of sights and exciting, varied excursions are offered by Meloneras to its visitors. Diverse shopping opportunities are offered by the Centro Commercial Varadero with its shopping arcades. One of the most beautiful sports facilities of Gran Canaria is the golf course Meloneras Golf. Ideal conditions for sunbathing and water sports can be found at Playa Meloneras. On Faro Boulevard there are numerous restaurants with international cuisine for going out at night.
Places of interest in Meloneras and surroundings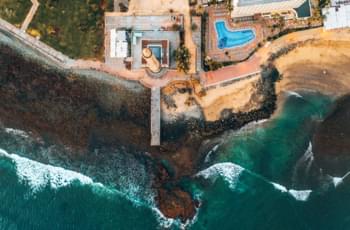 Light house in Meloneras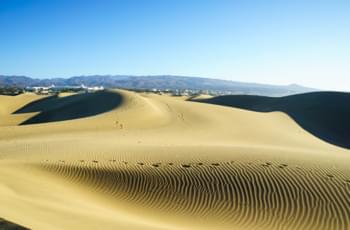 Maspalomas sand dunes
Worth seeing in Maspalomas as well as Meloneras are:
The lighthouse Faro de Maspalomas
The Playa de Maspalomas
The Museum Aparcamietos Maspalomas
The Parque Urbano Del Sur
The Aqualand
The Parque Botánico
The Maspalomas Sand Dunes
In Playa del Ingles there are many active sports to choose from. Ride jet skis, kayak, rent a surfboard or go parasailing. After an active day at the beach, you can comfortably hop in your rental car and head back to Meloneras to end the evening with dinner on the promenade.