Find and compare cheap rental cars at Airport Hannover
Vacation in Germany is especially trendy! Be flexible and book a rental car from Hannover Langenhagen Airport. Thanks to our price comparison, you'll find a great selection of Hannover Langenhagen Airport rental cars. All from the comfort and safety of your own home. Be smart and save yourself a lot of time and money.
Explore Hannover and its surroundings by rental car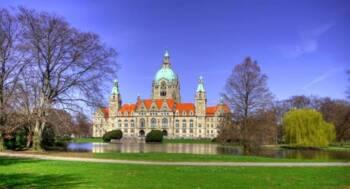 Drive to all sights including the new town hall
Hanover is the capital of the state of Lower Saxony. It has a 900-year history and 530,000 inhabitants. Hanover is a well-known trade fair city. But even beyond that, the state capital, due to numerous tourist highlights, is visited throughout the year. Particularly worth seeing in Hannover is the city's landmark, the New Town Hall. Furthermore, Herrenhausen Palace with its world-famous gardens attracts vacationers from all regions of Germany. Most of them arrive via Hannover Langenhagen Airport. The airport is the most important hub in European air traffic and the largest airport in the state of Lower Saxony in terms of passenger volume.
From Airport Hannover to the city center of Hannover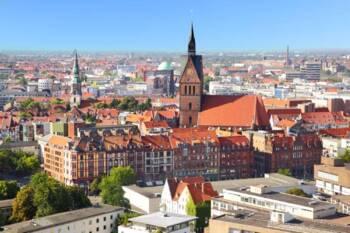 Reach Hannover's city center within minutes
You can reach the city center of Hanover from Langenhagen airport comfortably and within a few minutes with directly. Ideally, you have already booked the car online on our comparison portal. This saves you long waiting times at the car rental at the airport. Just sign the contract and then you can start right away! Hanover is already waiting for you.
Distance to the main attractions from the Airport Hannover
Popular Destinations which are easy to reach starting from the Airport Hannover:
Picking-up your rental car at the Hannover Airport
Where do I pick up my rental car at Hannover Airport? Every car rental present on our portal or at HAJ Airport has its pick-up station in multi-storey parking lot 1. You simply cross the airport road and within a few minutes you are in the multi-storey parking lot and directly at the pick-up station. If you book a rental car online through us, you will receive a reservation confirmation. In this the counter of the car rental is equally noted as the pick-up station. The good thing about Hannover Langenhagen Airport is its compact layout. You can reach everything comfortably on foot.
Driving from the Airport Hannover to the city center
At Hannover Airport, each terminal and all parking lots and parking garages are connected by a ring road. You follow the airport road from the pick-up station to the exit and drive via the excellently developed A352, A2 and A7 freeways to Hannover city center. Traffic also flows smoothly in the city center on a perfectly structured road network. On trade show days, traffic jams are to be expected on some stretches due to the large number of visitors. In view of the heavy crowds, free parking spaces are rare during a trade fair in Hannover. Inexpensive parking spaces, on the other hand, are easy to find.
Explore the main attraction of Hannover's surroundings
The region welcomes you with varied landscape, in which many sights are waiting for your visit. We present you an absolut highlight:
Travel to Marienburg Castle by rental car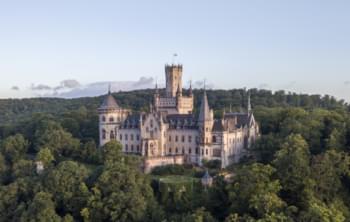 Visit the magnificent Marienburg Castle
The castle, which is absolutely worth seeing, is located just under 30 kilometers south of Hanover. It can be reached by rental car in about half an hour via the Bundesstraße 3. You can hardly miss the castle due to its towers, which are visible from afar, and your car can be parked in one of the numerous parking spaces in front of the complex. The perfectly restored castle inspires inside and outside with a fairy-tale appearance. You can explore Marienburg Castle on your own or take part in an informative guided tour. If you are lucky, you will travel to Hanover at the right time and take part in an open-air event at Marienburg Castle. Regardless, the summer residence of the Guelphs is always worth a visit. Ask your airport car rental company about events at Marienburg Castle near the village of Pattensen.