Car Rental at Gerona Airport GRO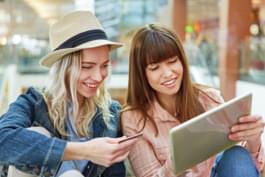 Compare prices online
There is nothing better for a road trip from the north of Spain to the south than to pick up a rental car at Gerona (GRO) Airport. On our independent comparison portal you can compare the offers of the car rental companies at Gerona Airport before you start your holiday. Find a cheap rental car quickly and conveniently, which will be ready for you on arrival at Gerona airport. You can also book additional insurance, extras such as navigation devices or child seats and much more.
Explore Gerona and surroundings in summer by rental car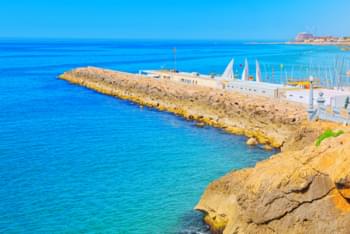 Sitges
What better way to spend your summer vacation than with a rental car in Spain? Book the right vehicle for your stay in summer and discover Catalonia on your own. Not only can you visit Gerona in the summer, but you can also drive to other resorts nearby. The warm summer months can be endured particularly well on the coast of Catalonia. Here you will find long sandy beaches that invite you to relax and also to cool down. Drive with your rental car to hidden bays and stop where you like it. This way you will experience your own personal adventure. Since Gerona is located inland, you can drive with your rental car for example in summer to Sitges, south of Barcelona. North of Barcelona you will find the town of Santa Pol de Mar, which is also located on the coast and is an ideal place to visit in the summer.
From Gerona Airport to the city centre by rental car
Gerona is located in the province of Catalonia in Spain. The city has an airport, so many tourists use it only as a stopover. But visiting this city is also worthwhile, as there are many beautiful sights here. Gerona is located in the north of Barcelona. The airport is located about eight kilometers from the city, which is called "Girona" by the Catalan. The old town of Girona is particularly beautiful. The town is located in the background of the Costa Brava and has narrow winding lanes with cobblestone paved streets. If you go for a walk here, comfortable and flat shoes are recommended. Gerona is quieter than Barcelona. Visit the Banys Arabs, which are public baths built in the 13th century by the Moors. They are still in operation today, but bathing is no longer possible there. However, you can visit them for a low price. With your rental car, which you can pick up at the airport pick-up point, you will explore not only the city but the entire Costa Brava.
General information about Gerona Airport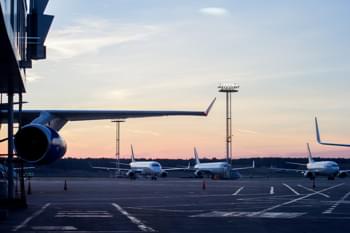 Arriving at Girona Airport
The IATA code is GRO.
GRO Airport was opened in 1967.
There are five bars and restaurants located at the airport of Gerona (GRO).
Outside is the Food Gallery, which is open 24 hours a day and provides you with delicious drinks and food.
There are ATMs all over the airport grounds. Exchange offices are also on the spot.
You can shop in the five stores and shops. There are two supermarkets, a bookstore and a magazine store with international and national magazines.
Where is the pick-up point of the rental car?
At Girona Airport there are six different counters in the car rental area. These include Europcar, Avis, Atesa, Hertz, AurigaCrownand Goldcar Rental. The car rental counters are located in the arrival area of the airport and are signposted everywhere. Follow the instructions after picking up your luggage. At the car rental counter, you can take care of all the necessary formalities and find out where the pick-up station for your rental car is located. It is recommended to rent your car cheaply online before the flight.
Which tank regulations apply to myrental car?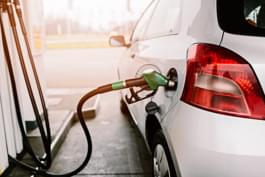 Tank regulations for the rental car
The exact tank regulations of the individual car rental companies can be found in the offers. There is no petrol station on the airport site itself. So if you need to give the rental car back with a full tank, coming from the A2 motorway, drive past the airport and take the next exit. There you will already see the desired petrol station. If necessary, you can fill up your rental car there and then drive to the sights of the city and the surrounding area. Rent a cheap rental car at the car hire company of your choice and travel comfortably and flexibly through Girona and the surrounding area.
Rental car in Spain: Speed limits
Discover the sights around Gerona Airport by rental car
If you want to discover Gerona with your rental car that you picked up at the airport, don't miss the Cathedral of Santa Maria, which is a popular photo motif for tourists. Behind it is the town wall, which is still in good condition. If you want to see Girona from a different angle, you should drive to Passeig de la Muralla, which is open from 8 am to 10 pm. You can also take part in guided tours of Girona. A very interesting variation is the Jewish quarter. With your car it is of course also possible to make a detour to Barcelona. Rent the vehicle you want to rent and go on a discovery tour through northern Spain.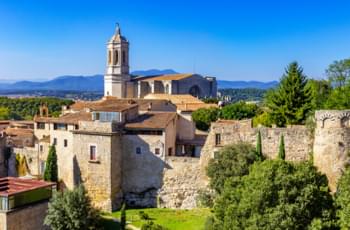 View on Cathedral of St. Mary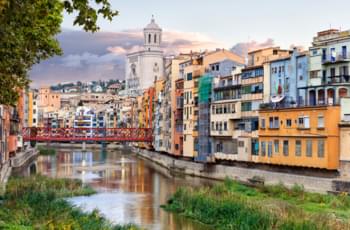 Jewish quarter in Gerona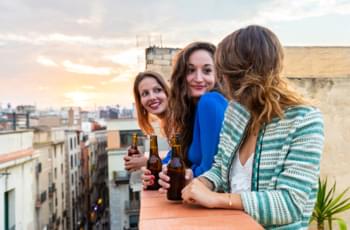 Enjoying a trip to Barcelona with friends
Shopping and eating in Gerona
There are many shops and restaurants in Girona. The restaurant "El Celler de Can Roca" is an insider's tip. It was awarded a Michelin star. High-class cuisine is also available in the restaurant with the German name "München". Here you will find regional and Mediterranean dishes. If you like shopping, Gerona is also a great place to go. Close to the motorway on the outskirts of the city there is a shopping centre with over 100 shops. Here you can buy clothing of many brands, which you can buy at reasonable prices. Parking is free of charge in the underground car park of the center. Pick up your rental car at the pick-up point of the car rental company, which you could rent online at a reasonable price.