Rent a car in the region of Extremadura
The region of Extremadura with its capital Mérida is a well-known place for car rental companies. Besides the beautiful nature, the region is also known for its excellent Iberian ham. Besides Mérida, there are other cities you should visit with your rental car, such as Cáceres or the Jerte Valley, famous in Spain for its cherry blossoms. Our price comparison service on Driveboo.com gives you a quick and easy way to compare prices of your vehicle for your holiday in Extremadura. In this way you can find a cheap rental car and explore Extremadura on your own. The Extramadura region is inland and therefore does not have a beach like Mallorca.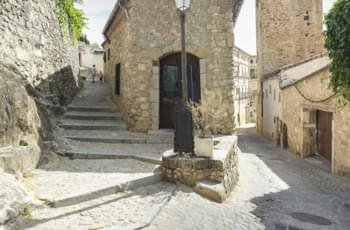 Alley in Trujillo, Extremadura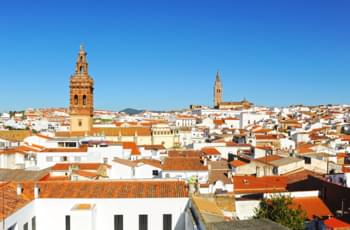 View over Jerez de los Caballeros, Extremadura
Should I take out insurance for my rental car?
If possible, everything should run smoothly and stress-free when you are on holiday. But an accident can happen quicker that you think. For this reason, we recommend that you take out fully comprehensive insurance without excess. If there is a claim, you will have to pay for the damage in advance, but it will be refunded after your return. If necessary, you can take out additional glass and tyre insurance.
Where can I rent a car in Extremadura?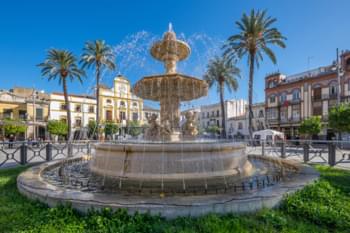 Fountain in Mérida
Book your rental car in advance online on Driveboo.com. This way you can pick it up right after your arrival in Extremadura and be mobile right from the start.
Discover the tourist attractions of Extremadura by rental car
As a holiday region, the Extremadura region offers not only the city of Mérida as a highlight, but also many other tourist attractions. The most popular cities and destinations in the region are listed in the table below: