Rent a Car at Dortmund Airport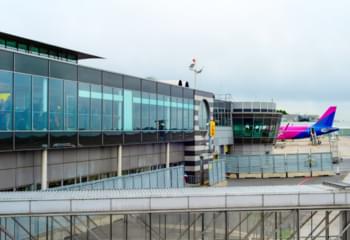 You land at Dortmund Airport (DTM) and want to explore Dortmund by rental car? Then it is best to rent your rental car directly at the airport. Compare with Driveboo quickly and easily from home the rental cars of the approximately six car rental companies at Dortmund Airport online and decide on the rental car that best suits your needs.
.
Through Dortmund in Autumn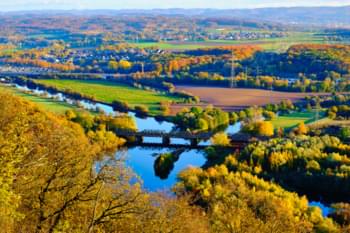 In the fall, you can try many indoor activities you've always wanted to do. You don't always enter an escape room everywhere, so autumn in Dortmund is a wonderful opportunity to finally try this out. It's a thrilling activity where you can really stretch your mind. However, if you prefer to physically exert yourself because you prefer to be sporty, then just visit a climbing park or if that is still too boring for you, just try your hand at Lasertag. Other sporty indoor activities you can try in Dortmund are a visit to the trampoline park, karting or indoor paintball. However, if you would rather do more relaxing things, then visit an indoor swimming pool and try out the sauna there. Visit one of the many museums or watch a relaxing movie in the cinema. With a rental car you can easily get anywhere even in autumn. So that you do not have to plan every day, how to get to certain places, make the vacation simply more comfortable with a rental car.
Which car rental companies are available at Dortmund Airport?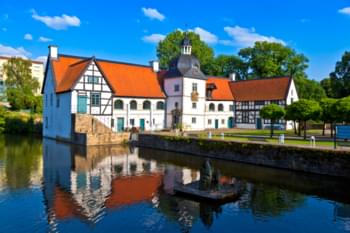 Fortunately, quite a few well-known car rental companies have now set up shop at the third-largest commercial airport in North Rhine-Westphalia, so that you do not have to forego any comfort with your rental car. Below, we have summarized the car rental companies that maintain a counter at Dortmund Airport:
Avis
Budget
Europcar
Hertz
Sixt
Thrifty
Where is the nearest gas station at Dortmund Airport?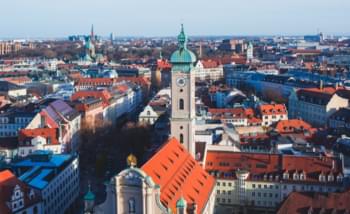 You don't have to go far if you want to fill up your rental car. This is especially important to know if you have chosen a rental car with the best fuel option (full/full). Because with this option, you get the rental car directly full of fuel directly at the airport, but you are also obliged to bring it back full of fuel. You will find a Esso gas station and another Westfalen gas station directly on the B1 or you refuel your car directly at the Esso gas station at the entrance to the airport. Note that if you return the rental car empty despite the option you chose, the rental company will keep part of the deposit you left.
Rent a car Dortmund Airport (DTM) - To the city center
Thanks to the airport's central location, you can reach Dortmund's city center in just over 20 minutes by rental car, so you can head straight out on your Dortmund exploration. While there, you should definitely take a look at the Signal Iduna Park and the Westfalenpark, while soccer-loving visitors are likely to enjoy the German Soccer Museum. In addition, the Industriemuseum Zeche Zollern and the Florian Tower are worth a detour. Would you also like to get to know the surrounding area? Then we have compiled a few places for you below, along with the distance in kilometers: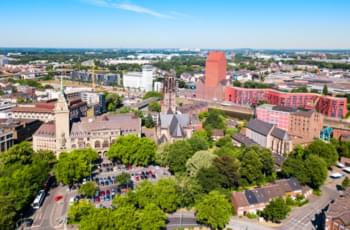 Duisburg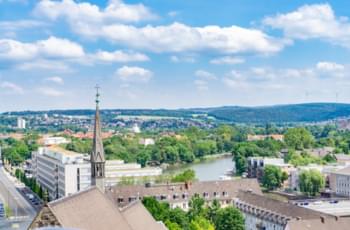 Kassel
How to get from the airport car rental to the city
Do you want to pick up your rental car at the airport later or perhaps return it earlier? Then you don't necessarily have to hire a taxi to get to the city center, as you can also take public transport, such as the AirportExpress directly to Dortmund main station or take the Airport Shuttle in the direction of Holzwickede train station.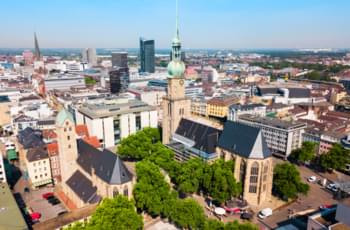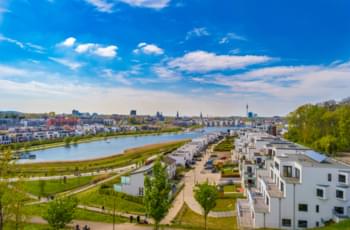 Is one-way car rental from DTM airport possible?
As the name one-way rental implies, this way you book a rental car for only one way. That is, with booked one-way rentals, you can pick up the rental car so at the place of arrival, which in this case probably would be the Dortmund Airport and later return the car at another location. Therefore, specify already when booking on the Internet, whether you pick up the rental car at the same place, or whether you choose here two different places for the pick-up and return station.
Dortmund airport - starting point for exciting car rental tours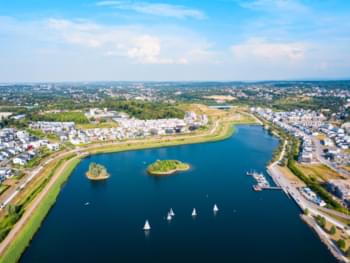 Dortmund is without question one of the cities in the Rhine-Ruhr metropolitan region, which exudes your very own charm. However, if after a few days you would also like to take a few excursions or a round trip with the small car, a sporty convertible or a family van, you have made a good choice with Dortmund, because you will find interesting destinations in every direction, which you can reach with your rental car.
Dortmund is also not lacking in culture. If you want to get an Asian feeling for a change, visit theSri Kamadchi Ampal Temple at Hamm and if you want to cruise comfortably on a ship, head to the Sorpesee at Langenscheid. But also the not too far away Castle Altena is worth a side trip, and if you are already in the region, then you should not miss a ride on the Wuppertal suspension railway. Another highlight of the region is also the Villa Hügel in Essen, which hosts rotating exhibitions, and if you're traveling with kids, you can also take a look at the Zeiss Planetarium in Bochum.