Find and compare the best rental cars at Airport Bremen
Vacation in 2021 is particularly popular in Germany. In order to make your arrival in Bremen as pleasant as possible, it is recommended to rent a car at Bremen Airport in advance. Via our independent comparison portal you can quickly and easily compare the offers of car rental companies at Bremen Airport. In addition, you have the option to choose between various additional offers such as one-way rental, an additional driver or further insurances. Secure your cheap car rental at the airport now.
Driving from Airport Bremen to downtown Bremen by rental car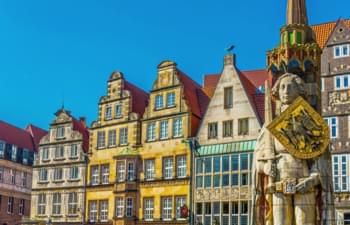 Explore downtown of Bremen independently
The Hanseatic city of Bremen is particularly diverse. Bremen is not only the tenth largest city in the country, but is also considered a historically important city where aviation and aerospace are particularly important. Old tradition and modern life become an inseparable combination in Bremen, which is also noticeable in the atmosphere of the city. Look at the imposing architecture that can be seen in the old town, but also the vibrant cultural scene of Bremen. There are many attractions in the city that you should not miss. Directly from Bremen Airport, you can explore the sights of the city with your rental car in a flexible and convenient way. Among the most famous sights of the city are of course the Bremen Town Musicians. Their bronze statue is a very popular photo motif. It is under monument protection and is a fixed point of the tourist sightseeing. Who does not know it, the statue with four animals standing on each other, which is located in the Liebfrauenkirchhof. According to an old custom, if you touch the donkey's legs and make a wish, your wish will come true. Many sights of the city are located in the old town on the market square. Your rental car will take you comfortably to all the sights of the city.
Choose from the best car rental companies at the Airport Bremen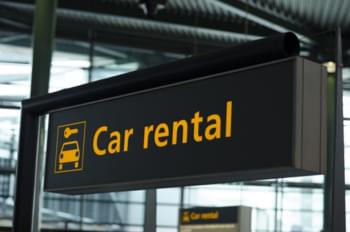 Autovermietung direkt am Flughafen Bremen
Of course, there are also various providers of rental cars at Bremen Airport, including Avis, Hertz, Europcar, Budget or Sixt. These are located in the east of the building near the parking garages. Contact the car rental company where you could rent your car cheap before and discover the Bremen sights in a comfortable way in your rental car.
Picking-up your rental car at the Airport Bremen
Where do I pick up my rental car at Bremen Airport? The car rental pick-up station is located in the first parking garage, which you can easily reach from the terminals. There you can pick up your rental car to be able to drive self-sufficiently to the Bremen attractions. Rent a car cheap online here and travel to Bremen hotels and attractions.
Filling up your rental car nearby the Bremen Airport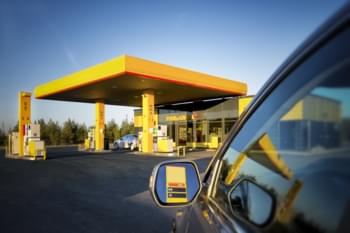 Fill up your car easily nearby the Airport Bremen
Depending on the fueling arrangement you have with the car rental company, it is important to know where there is a gas station near BRE Airport. Where can I find the nearest gas station at Bremen Airport? There is a Shell gas station about 1.2 kilometers away on Neuenlander Straße 170, where you can refuel your rental car and return it to the car rental pick-up station.
Benefit from the good connection between airport and city
After you have picked up your rental car from the car rental agency, you are off to your desired destinations by car. The traffic network in Bremen is well developed and leads with the traffic routes A27, B6 as well as the highway A281 to every place you want to visit around Bremen. Rent a car cheaply online and pick it up at the car rental pick-up location. The city in the north of Germany has plenty of different sights to offer, which are a must-see when you visit Bremen. You can reach them with your rental car from the car rental company of your choice not only comfortably, but also very flexibly, as you do not have to rely on public transport. Here you rent a car cheap.
Explore northern Germany starting in Bremen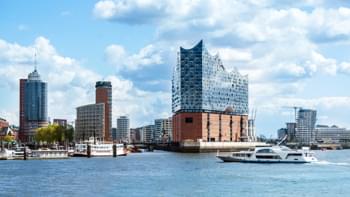 Explore all the sights of Hamburg and northern Germany
What is there to discover in North Germany? Bremen is a popular base from which to explore North Germany. With a rental car, any distance will be a breeze. Be sure to visit the beautiful Hanseatic city of Hamburg on your round trip. Bremerhaven will also delight you. Oldenburg and Hannover are both very worth seeing cities.