Rental car Bosnia and Herzegovina: Embark on an unforgettable journey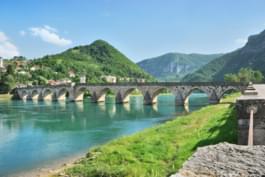 Discover Bosnia and Herzegovina
If you are travelling in Bosnia and Herzegovina by rental car, you will encounter a whole range of different cultures and religions. Drive your rental car to the sights and be enchanted by the charm of Bosnia and Herzegovina. Find the right car for your trip through Bosnia and Herzegovina on Driveboo.com. Our portal helps you to compare the prices of car rental companies and to book the cheapest rental car.
Driveboo wishes you a safe trip through Bosnia and Herzegovina!
What airports are there in Bosnia and Herzegovina?
If you are travelling to Bosnia and Herzegovina by plane, you can pick up a rental car immediately upon arrival. In that way you will be mobile from the very first minute. These are the airports in Bosnia and Herzegovina:
Alternatively, you can also find pick-up points for your rental car at these locations:
Information about Bosnia and Herzegovina
Bosnia and Herzegovina is a very young country in South Eastern Europe. It was not until 2 March 1992 that Bosnia and Herzegovina declared its withdrawal from the State Union of Yugoslavia and has since been an independent republic. It borders Serbia to the east, Montenegro to the south-east and Croatia to the north, west and south-west.
Activities in Bosnia and Herzegovina
In large parts Bosnia and Herzegovina is characterized by a wooded low mountain range landscape. In winter, skiers can enjoy snow-white pistes and sleigh rides. Jahorina and Bjelašnica are the most visited mountains, where some disciplines of the Olympic Winter Games took place in 1984.
It is also worth taking a trip by rental car to the Neretva, Una and Drina rivers. There is a wide range of rafting activities on offer, guaranteeing incomparable water adventures for the whole family.
More highlights:
Stari most
Kravica
Baščaršija
Buna
Vrelo Bosne