Finding a rental car at Bilbao Airport?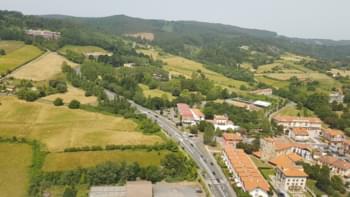 Landing at bilbao Airport
No problem at all! With driveboo you have the possibility to compare different car rentals in advance. Online you'll easily find the best offers via price comparison. If you arrive in Bilbao by airplane, it is most convenient to pre-book a rental car at Bilbao Airport (BIO). That way you can ensure it will be ready for you on your arrival and you will be instantly able to pick it up at the terminal. Use the opportunity driveboo is offering and browse through and compare the variety of rental cars.
In Bilbao especially and the Basque Country in general it is a good idea to rent a car. Depending on the places you want to visit, public transport may be minimal up to non-existent. Don't underestimate the distances neither the time a bus or train takes to reach a certain destination. By traveling with a rental car you have the opportunity and possibility to go whenever wherever you want to. Don't be bothered by time schedules and so on. Make your own trips, flexible and independent with a rental car in Bilbao.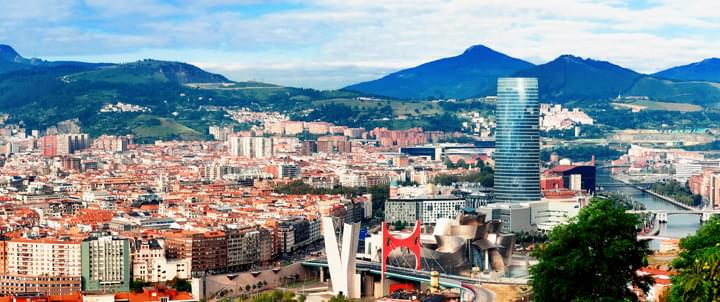 Book it online now at driveboo to make sure you have a rental car ready for you on arrival at the airport! Bilbao Airport car hire is located on floor 0 (ground floor). There you will find the following of our many partners:
Europcar
Hertz
Enterprise Rent-A-Car
Avis
Sixt
What should I know about Bilbao Airport?

Bilbao Airport
Here are some facts about Bilbao Airport.
Bilbao Airport (code: BIO, Spanish Aeropuerto de Bilbao, Basque Bilbo-Loiuko) is an international commercial airport near Bilbao in the Basque Country in northern Spain.
The new terminal, designed by the Spanish architect Santiago Calatrava, was completed in 2005. It is called La Paloma because of its distinctive shape.
Some airlines and their destinations at Bilbao Airport (BIO)
Location and links of transportation at Bilbao Airport
The airport is located 10 km north of the city of Bilbao (Bilbo) on the territory of the municipality of Lujua (Loiu).
In the arrivals area there is an information desk and a ticket office for the bus.
About every 20 minutes the yellow BizkaiBus line 3247 runs from the central Plaza Moyúa to the Termibus bus station at the western edge of the city centre. You'll be able to reach the exhibition grounds in about 25 minutes.
Of course you could also take a taxi from the airport to your hotel. At the airport Bilbao the approx. 60 taxis of the Femade (Federación Margen Derecha del Taxi) taxi company offer their service. You can book the taxis locally or in advance by telephone or via their website.
Overview of Taxi Prices from Bilbao Airport
If you are planning on doing trips around the area anyways, it will be worth it to book a rental car right at the airport and save the extra money on a taxi.
Shopping and food at Bilbao Airport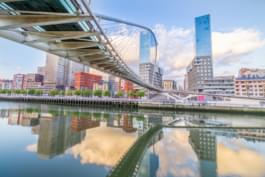 Hub Convenience: (3rd floor)
We recommend that you try the local ham, sausage, cheese, wine and sweets, which are in great demand among travelers.
Bilbao Duty Free: (3rd floor, after security check) offers spirits, tobacco, perfume, cosmetics, food and accessories at reasonable prices and with numerous special offers.
Sibarium Delicatessen: (3rd floor, after the security check) offers its customers high quality gourmet food, products with designation of origin and many regional and artisan products.
The public area offers a wide selection of articles such as magazines and newspapers, sweets, savoury snacks, drinks, gifts and other travel items.
Relay Kiosk: (3rd floor, after security check) has daily newspapers and a large number of magazines as well as a selection of books.
Pans & Company: (3rd floor, after security) offers varied meals with emphasis on sandwiches and salads. It also has a special area for good quality coffee and fresh baked goods.
Burger King: (3rd floor, after security check) world famous burger restaurant with its specialty, the Whopper.
Cafés and snacks: Arrese, MasQMenos, Santa Gloria and Starbucks, all on the 3rd floor.
San Miguel: Exploring the World, Pub and Restaurant (3rd floor, after security check). The scale of an airport restaurant that welcomes all hungry travelers departing from Bilbao and offers a concept that combines the best Basque cuisine with culinary diversity from around the world in an atmosphere that combines modernity and tradition.
Important information about Bilbao: Explore the surroundings with a rental car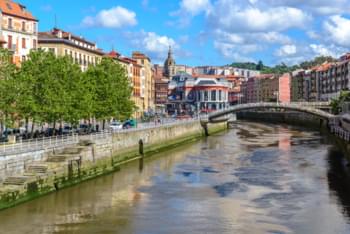 Situated on the banks of the river Nervión, Bilbao is the largest city in the Spanish Basque Country. Milder than most other parts of Spain, it is both a blessing and a curse: the climate here is like a welcome rest from the heat of the dry plains in the south but also a letdown to the hope of a day on the beach.
But the shore of the Bay of Biscay is not really the main attraction - instead, Bilbao is perhaps the best place in the world to experience the ancient culture and language of the Basque people, who have persisted for thousands of years and are now completely different from any modern culture in Europe.
What sights should I visit with my rental car in Bilbao?
Guggenheim Museum (Museo Guggenheim Bilbao)
Because of its spectacular exterior, made of titanium, limestone and glass, it is rightly a landmark of the city.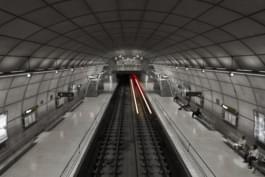 The most striking feature is its straightforward, functional design. Star architect Norman Foster not only designed a few stations, but two completely new subway lines. Foster used almost exclusively steel, concrete and glass for the stations. The architect pursued three key points: Simplicity, functionality and aesthetics.