Car rentals in Belgium: Most popular car rental destinations
Book a rental car in Belgium
Start your journey through Belgium with a rental car. Discover the highlights of Belgium on your own. With a rental car you will always be flexible and able to arrange your holiday according to your wishes. On Driveboo.com you will find the right vehicle for your trip to Belgium.

Visit Bruges in Belgium
Car rentals in Belgium
On the portal Driveboo.com you can compare the offers of all well-known car rental companies. Simply find the right offer and book the car model you desire for your holiday in Belgium. If you arrive in Belgium by plane, we recommend renting a car at one of these airports:
Alternatively, you can pick up a rental car at one of these locations:
Some information about Belgium
Belgium is located in Western Europe and, together with the Netherlands and Luxembourg, forms the Benelux countries. Belgium borders the North Sea, Germany, the Netherlands, France and Luxembourg. The capital is Brussels. Tourism plays a major role in Belgium and Brussels and Bruges are among the most popular city destinations in the country. The capital of Belgium is home to the European Union and many international institutions.
Explore the sights of Belgium by rental car
If you are travelling through Belgium by rental car, you should definitely drive to these places:
Grand-Place
Manneken Pis
Atomium
Mini-Europa
Belfried
A visit to the Museum of the European Union, where you can learn more about the origins and development of the European Community, is also recommended.
Belgium is famous for its comics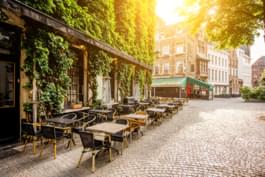 Café in Antwerp, Belgium
Belgium is home to some famous cartoonists and some internationally known comics like Lucky Luke, Tim & Struppi and the Smurfs. So it is hardly surprising that there is a large comic museum in Brussels. As the road network in Belgium is very well developed, a tour by rental car to the different cities and sights is recommendable. After an exhausting day you can relax in one of the cafés.