Compare and book a rental car at Barcelona Airport
Barcelona is the capital of the province of Catalonia and is not only a Mediterranean city, but also of cosmopolitan importance. Here you will find remains of medieval districts from the Roman era as well as breathtakingly beautiful sights and buildings of the Modernisme-Stis or the avant-garde movements of the 20th century. It is not without reason that many of the emblematic buildings by local architects Lluís Doménech i Montaner and Antoni Gaudí have been included in the UNESCO World Heritage list.
The city's origins go back to the time of the Romans. Such a long history, but also Barcelona's economic dynamism, leaves a cultural testimony of great importance. This can be seen, for example, in the city's broad art-historical heritage or in the new artistic trends that are constantly emerging. A wide range of cultural events, including exhibitions, open-air sculptures and exhibitions or a colourful music, dance and theatre programme are also part of this very special city. When you rent a car, you can explore Barcelona's attractions and the surrounding area in a cheap, fast and comfortable way.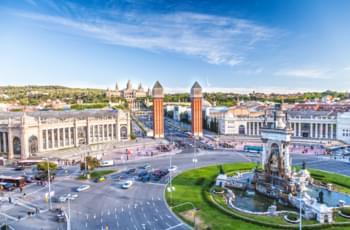 Center of Barcelona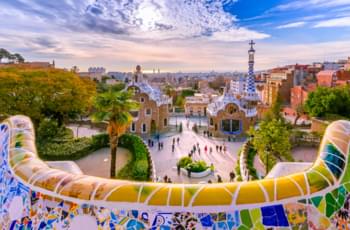 Explore the Park Guell in Barcelona
Arriving during winter at Barcelona Airport
Is Barcelona during winter worth a visit? Barcelona is a year-round good travel destinations. The city offers for every season interesting things to explore. During the winter months December until February a city trip to Barcelona is a great choice. Enjoy constant temperatures up around 15 degrees and up to zero chance of rainy days. Benefit from less crowded places and cheaper prices.
Barcelona Airport (BCN) - General information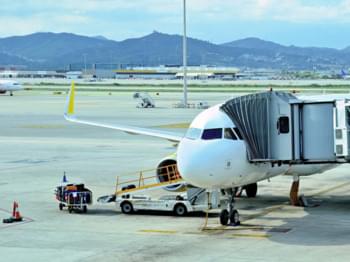 Airport Barcelona
Barcelona Airport is an airport of international importance and is also called El Prat de Llobregat Aereopuerto. The IATA abbreviation of the airport is BCN. It is located about 13 km from the city centre and has two terminals. Terminal 1 is abbreviated to T1, the second terminal consists of three separate buildings. Car hire and travel from El Prat de Llobregat airport in Barcelona to your accommodation.
BCN Airport belongs to the operating company AENA. It also owns other airports in Spain, which is why they are not only clearly arranged but also uniformly arranged. In addition, there are various exhibitions that are regularly presented on the airport grounds, such as exhibitions and guided tours of the airport's operation and history.
Picking-up your rental car at Barcelona Airport directly upon arrival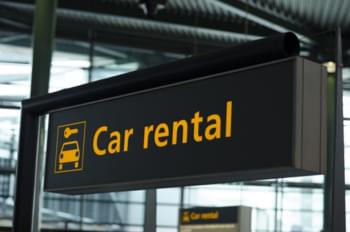 Rental station directly on the Airport
Depending on which car hire company you booked a cheap rental car with, the pick-up point is located in a different location. At which pick-up station you can pick up your car, you will be informed by an employee of the chosen car rental company. Where do I pick-up my rental car at Barcelona Airport? As a rule, the pick-up station of the respective company is located near the airport, so that you can not only rent your car at a reasonable price, but also get it directly at a nearby pick-up station. For more information, please contact the car rental service point. Explore the area with the car hire company of your choice.
Benefits of a picking-up your rental car at the Barcelona Airport:
longer operating hours and therefore more flexible pick-up options
wider range of vehicles and car rental companies
price and time advantage due to directly independency upon arrival
Nearby petrol stations at Barcelona Airport
Located directly on the premises of Barcelona Airport, there is a Galp petrol station, which allows you to fill up your rental car at the pick-up station of the car rental company. The petrol station itself is located at the airport entrance. It is easy to reach by car. At El Prat de Llobregat airport there are road signs indicating the way to the petrol station. At the airport entrance, turn right towards the terminal. The petrol station is on the right-hand side. Even if you want to return your rental car to the car rental company, you can fill up your car again and return it to the car rental company. Rent a car and drive to the centre of Barcelona.
Transport connections around BCN Airport
Would you like to rent a car so that you are mobile in Barcelona and can explore the surroundings in a comfortable way? This is no problem in Barcelona, as the airport is connected to a well-developed transport network from which you can start your rental car. The city highway C31 is also known as Autovia de Castelldefels and takes you directly to the capital of Catalonia. Depending on the traffic, it takes between 20 and 30 minutes to get to the city centre by rental car. However, you can also take the C32 southbound from the motorway. There is a large Mediterranean road connecting all towns and regions on the Costa Brava. The signposting at the airport is excellent for all routes, so you can get there quickly with your rental car.
At the service point of your car rental company, you will also find the information you need on all the routes you need. Rent a car and discover the surroundings of Barcelona.

View over the center of Barcelona
Special features of Spanish road transport - rent a vehicle at low cost and drive safely
If you are travelling with your rental car in Barcelona and the surrounding area, you can make use of a well developed route network. If you want to explore Barcelona by car, you should adhere to the prescribed speed limits. Also note the alcohol limit of 0.5 per mille in Spain.