Questions & answers: traveling by rental car in COVID times
After a long wait, traveling by rental car is finally possible again in COVID times! So that you are informed at any time about everything, we have summarized all important information around COVID-19 and traveling by rental car for you. That way you can enjoy your vacation with the rental car stress-free.
In which countries is a rental car trip currently possible without restrictions?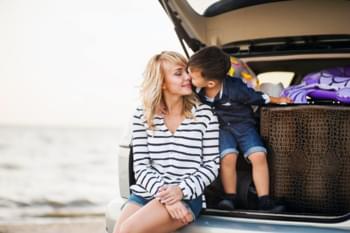 Carefree with the rental car - despite COVID
Even though some governments have lifted the travel warning for some countries within and outside the EU, there may be new country-specific travel warnings. Since the COVID-related entry restrictions can change quickly, it is important that you check the current entry regulations of your destination country with the respective Foreign Office before each trip - ideally already before booking the rental car and again shortly before departure.
Additionally, depending on the country of travel, you may have to show a negative PCR test, an online registration or a minimum number of overnight stays.
In addition, there may also be some things to consider when returning to your home country. In Germany for example, keep in mind the following points:
All travelers who have reached the age of twelve must present a negative test certificate, proof of vaccination or proof of recovery upon entry.
If returning from a high-risk area, you must complete a digital entry application.
Vaccinated, recovered, as well as negative-tested individuals do not need to be quarantined upon travel return from a risk area.
Canceling a rental car - what to consider?
Especially in COVID times, plans have to be flexible and bookings may have to be cancelled at short notice. Regarding your rental car booking, you do not have to worry with us, because you can cancel your rental car free of charge up to 24 hours before pick-up (within our opening hours). That way you remain flexible and can take care of more important things.
If you would like to cancel less than 24 hours before pick-up, fees may apply depending on the rental car provider. We will show you the fees transparently before cancellation.
A few days before picking up the rental car, check again the current travel regulations regarding COVID-19 in your destination country.
Is the rental car now cleaned more thoroughly?
The cleaning of the rental car is basically dependent on the station where you pick up the vehicle, which is why a blanket answer to this question is unfortunately not possible. However, we have spoken to many of our local partners and have been assured that they are taking the global situation very seriously and are now cleaning rental cars even more thoroughly and intensively due to the Coronavirus pandemic. For example, rental cars are disinfected inside the vehicle after they are returned.
In addition, rental car agents have been trained on the safety procedures recommended by the Ministry of Health and repeated safety checks are being conducted. Furthermore, all hard surfaces in rental offices and at customer contact points are cleaned with disinfectant, and the handover of rental cars at many has been optimized to minimize contact between customer and employee.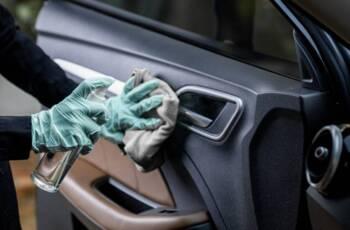 Cleaning the rental car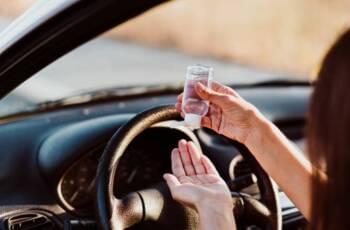 Do not forget to disinfect your hands
Always carry disinfectant with you and use it to clean door handles, steering wheel and other surfaces in the rental car.
What should I pay attention to during my trip abroad with the rental car?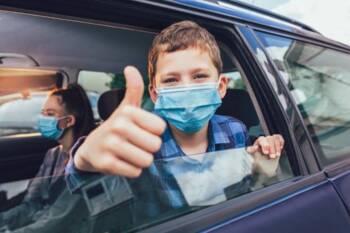 Observe country-specific regulations
While traveling abroad with a rental car, you should always be aware of domestic restrictions. In many countries there are special COVID regulations regarding the use of cars. In Italy, for example, there is a requirement to wear a mask in the car if people from different households are riding in the rental car. In this case, the passenger and middle seat must also be kept free. Specific regulations are often imposed or changed at short notice, which is why it is important that you follow country-specific developments independently. Because violations of COVID-19 regulations can be expensive.
Furthermore, you should keep an eye on entry regulations in your home country, as countries can be declared a risk or even high-risk area at short notice, which could result in a possible quarantine obligation for you.
What if I test positive for COVID-19 and have a rental car?
If you test positive for COVID-19 or show symptoms while traveling in a rental car, please notify your rental car company immediately. They will then provide you with instructions on how to proceed. Please also notify the car rental company if you become symptomatic or test positive within seven days of returning the rental car.
"These contents have been prepared with the greatest possible care and to the best of our knowledge. Nevertheless, we can not guarantee the timeliness, completeness and accuracy of the content provided. In particular, the provision of the information does not constitute legal advice."