Current rental car special-deals at Driveboo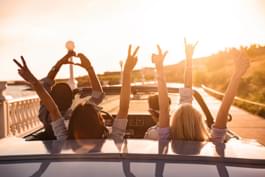 With attractive discounts and promotions you can find cheap car rentals all year round at MietwagenCheck. We compare the offers of the different car rental companies for you and help you find the right rental car for your vacation.
With our discount promotions you can quickly and easily find the cheapest offer and save money and time at the same time.
Our current special-deals at a glance:
Throughout the year MietwagenCheck offers various promotions and discounts for booking cheap rental cars. Here you can find our current promotions and coupons. Take the opportunity to book a cheap rental car for your next vacation from the comfort of your home.
How to use your Driveboo promo codes:
Find the right rental car: Enter your desired destination and travel date into the search mask and get the cheapest offers at a glance.
Enter voucher code in booking form: fill in the booking form with your personal data and enter your own voucher code at the end. Your account will be debited with the full amount, we will charge your credit separately.
Booking confirmation received: after receiving the booking confirmation, you can forward your account details to our service team. We will then take care of your credit as soon as possible.
Receive credit: no later than one week after returning the rental car you will receive the credit on your account